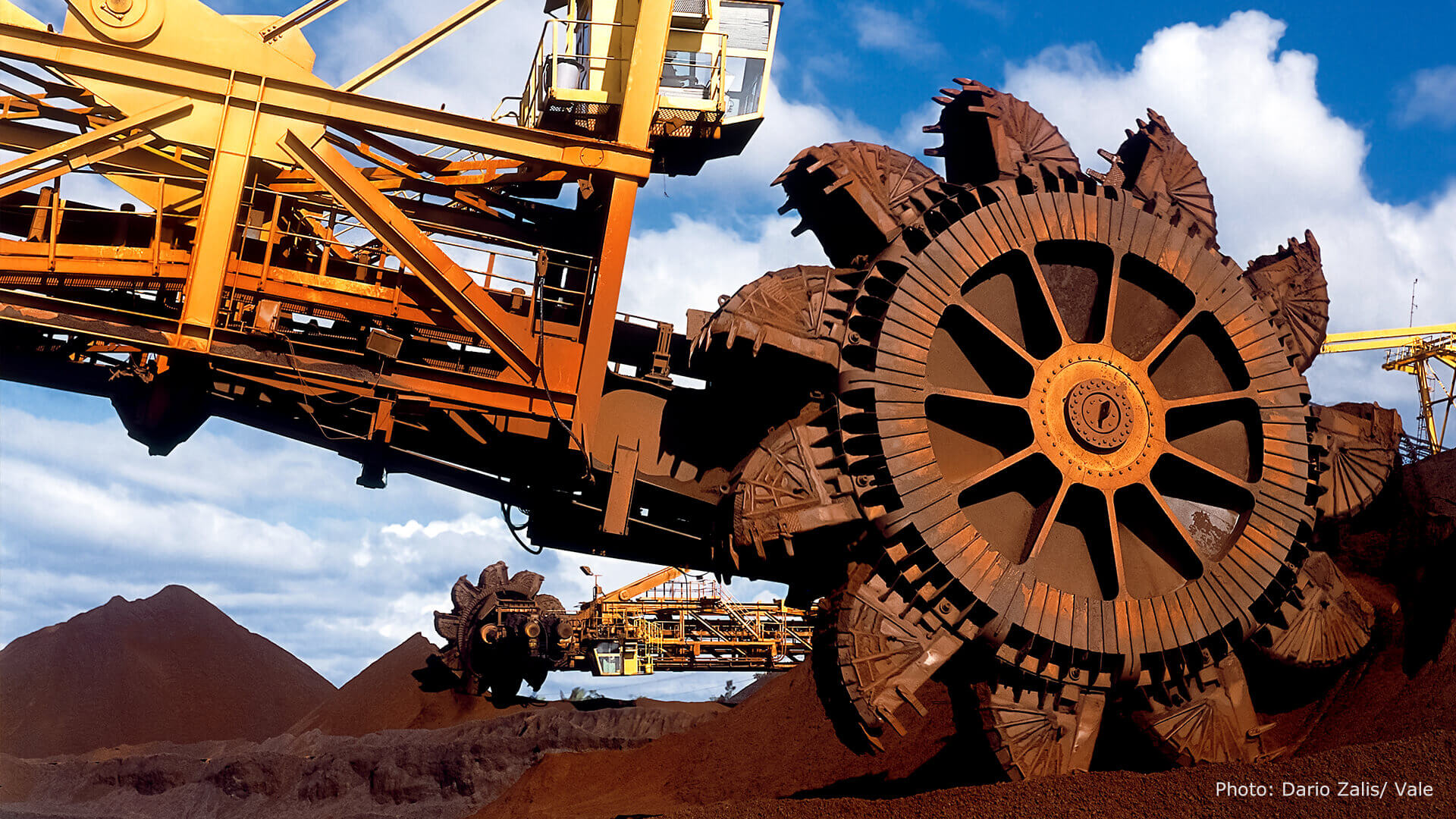 Business Innovation
Strategic Alliance with Vale
Founded upon iron ore, the relationship between Mitsui and Vale is evolving and expanding into different fields worldwide.
In 2003, Mitsui & Co. acquired a 15% equity stake in Valepar, the holding company of Vale S.A., the world's largest iron ore supplier. Mitsui and Vale already had a strategic relationship based on their joint management of the Brazilian resources company Caemi Mineração e Metalurgia S.A., but the 2003 deal brought the two companies even closer. The 15% shareholding gave Mitsui & Co. the right to appoint officers to Vale's board and to participate directly in the company's management.
Mitsui first invested in the Brazilian iron ore business in the 1970s. Its role then was that of a traditional Japanese trading company—it funded the development of iron ore mines in Brazil so their products could be sold to steel mills in Japan for a commission ("the buyer's agent model"). Over time, the scope of Mitsui's activities widened to include pure-play investment in iron ore assets (1986); participation in the management of mining companies (1997); and partnering with mining giants (2001). In this context, the broad-based strategic alliance established between Mitsui and Vale, followed by Mitsui's 2003 equity participation in Valepar, was the logical culmination of Mitsui's three decades of experience in the Brazilian iron ore sector.
Both parties to the alliance have their own distinct strengths. In addition to being the world's No. 1 supplier of iron ore and nickel, Vale has significant presence in copper, gold, coal, manganese and fertilizer. Mitsui, meanwhile, is a hands-on player in the international market with an extensive range of capabilities across multiple fields. As Vale expands, diversifies and globalizes, Mitsui and its various business units can help bring in capital, expertise and strategic partners, creating new, cross-divisional businesses of its own along the way. Currently, nine out of Mitsui's 13 business units are involved with Vale. Below are some examples of how Mitsui and Vale are developing new businesses in new regions.
Phosphate mining in Peru
With world population projected to hit 9.3 billion by 2050, global food demand is rising inexorably. Since the supply of cultivatable land is finite, the only way to produce enough food is to increase crop yields—and the best way to do that is through fertilizer. Mitsui has been marketing fertilizer in Japan since soon after World War II and built an Asia-wide fertilizer sales network in the 1990s.
It was this know-how that prompted Vale to approach Mitsui about a partnership in 2008 when the Brazilian miner wanted to start marketing phosphate rock from its Bayovar mine in Peru. (Phosphate, one of the key three fertilizers alongside potash and nitrogen, is made from phosphorous ore.) Mitsui's investment gives it a 25% equity stake and 25% off-take rights. Production at Bayovar got under way in 2010 and the mine has sufficient capacity to produce 3.9 million tons per year for 27 years.
General cargo transportation in Brazil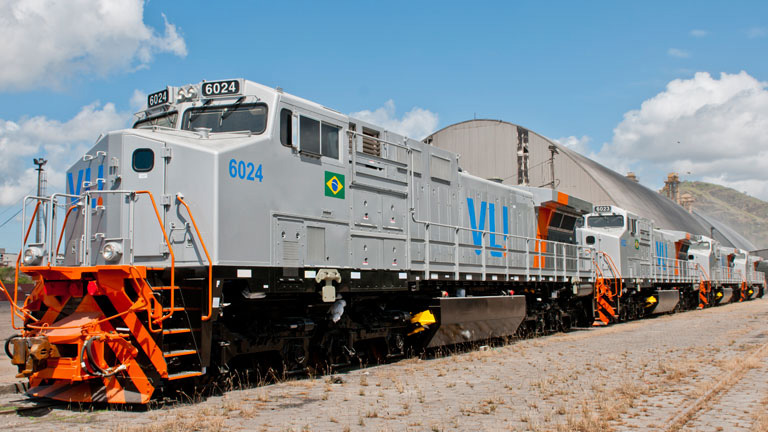 Brazil is the world's No. 1 exporter for many agricultural products including soybeans, sugar and ethanol; the country also has 36% of the world's potential new supply of arable land. VLI, the holding company for Vale's non-mining-related logistics businesses such as inland terminals, railways and ports, has the concession to operate 10,700 kilometers of rail and four ports in Brazil's southeast and northeast, where agricultural production is growing fastest but where export growth is lagging due to transport bottlenecks.
On average, crops in Brazil have to travel over 1,000 kilometers to get to port. Although rail is the most cost-effective form of transport, Brazil currently moves 60% of its agricultural produce by truck and only 20% to 25% by rail, leading to the so-called "Brazil cost." To bring these costs down, the Brazilian government is aiming to increase rail's share to around 35% over the next decade.
Mitsui acquired 20% of VLI, Vale's logistics arm, for R$1.51 billion (US$700 million) in April 2014. With Mitsui's participation, VLI aims to double its cargo-handling volume through investing R$9 billion (US$3.8 billion) in locomotives, wagons, rail network and port capacity by 2018. Mitsui is leveraging its expertise in logistics management and maintenance service in rolling stock leasing and port terminal management to contribute to the upgrading of VLI—and of Brazil's entire agricultural export infrastructure.
Coal mining and rail and port infrastructure in Mozambique
Situated in the southeast of Africa, Mozambique is one of the richest countries on the African continent in natural-resource terms. However, its economic development was stalled for three decades from 1964, first by the war of independence from Portugal and then by the civil war.
In December 2014, Mitsui signed a contract with Vale to participate in an enormous investment project in Mozambique. It involves developing the Moatize coal mine together with related rail and port infrastructure for the transport of both coal and general cargo. Mitsui is acquiring a 15% interest in the Vale subsidiary that is developing the Moatize mine and a 50% interest in the Vale subsidiaries developing the infrastructure. The Moatize mine is one of the largest open-cut coal mining projects in the world and has a huge coal reserve that is rich in the hard coking coal used by the steel industry.
Mitsui has been involved in coal mining overseas since the 1960s when it acquired coal mining rights in Australia. Mitsui has cumulatively produced a significant tonnage of high-quality coal in Australia. Recently, Mitsui decided to acquire a new supply source to secure an enhanced, stable supply of coal. With the experience Mitsui has built up over decades in the coal mining, railroad freight and port infrastructure businesses, Mitsui is confident that it can contribute to enhancing the value of the assets in Mozambique.
The coal from this project will become one of Mozambique's key exports. The 912 km railroad and the port infrastructure is sure to play an important role as key infrastructure for the entire region, assisting in the transport of people and goods, and contributing to the economic development of Mozambique and of neighboring Malawi, which the railroad also crosses.
An alliance based on trust
The alliance between Mitsui and Vale extends beyond their own immediate business concerns. Both companies are active participants in the Joint Meeting of the Japan-Brazil Economic Committee, an event established in 1973 by the Keidanren (Japanese Business Federation) to deepen economic links between the two countries and to propose ideas to their two governments on subjects ranging from trade liberalization to collaborative investment in energy, natural resources, and transportation infrastructure.
To strengthen the bonds between Mitsui and Vale at a person-to-person level, the two companies launched a unique exchange program in 2003. This usually involves around 16 Mitsui employees being sent to Vale for two to three months every year, and vice-versa. As of October 2015, around 130 people have taken part from each side. The exchange helps to reinforce the companies' relationship at the grassroots level while familiarizing participants with the working practice and cultural norms of their counterparts.
Heading into the future, Mitsui is committed to leveraging its wide capabilities and geographic reach to create even more new businesses with Vale to serve the world's evolving needs.