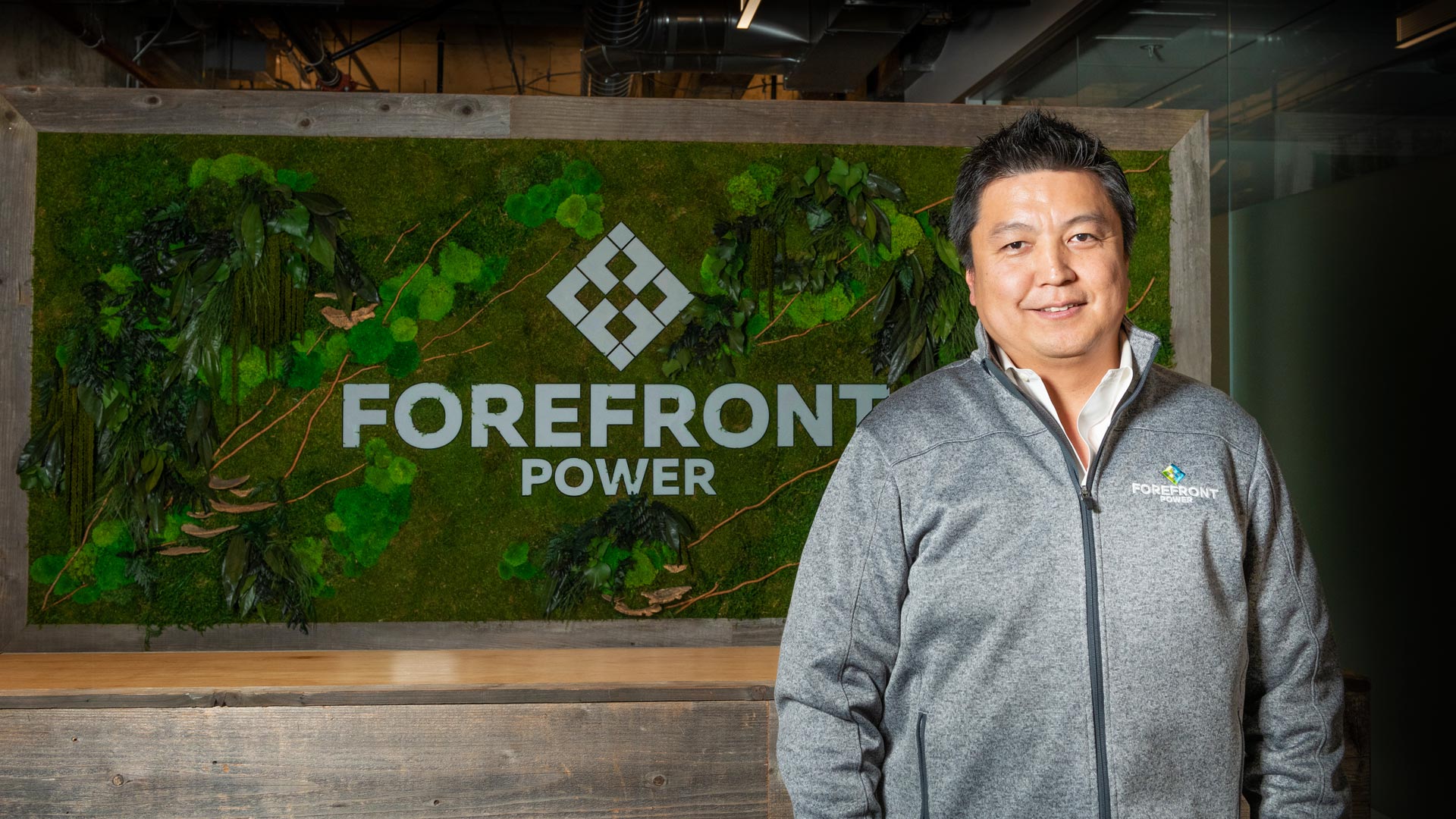 People
Go Mizoguchi
ForeFront Power LLC
Co-CEO
Distributed solar is growing fast in the United States. At Mitsui affiliate ForeFront Power, Go Mizoguchi is helping drive the renewable-energy revolution.
Riding the "solar coaster"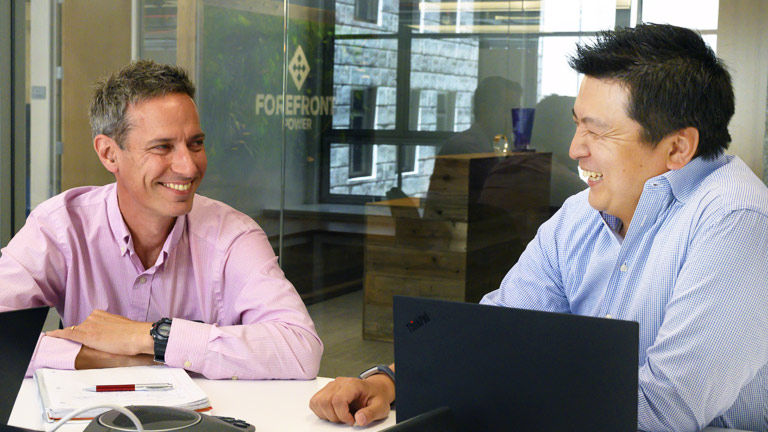 I'm one of two CEOs at ForeFront Power. I'm in charge of sales and development, plus Mexico and other new territories. On the sales side, the job involves getting contracts to supply power. That covers everything from securing sites for solar farms to negotiating power purchase agreements. Development is about getting permits, getting an interconnection and managing construction.
Most of my time at Mitsui, I've worked on large-scale—or "utility-scale"—power generation projects. Community solar is an innovative business that provides solar energy to a wide range of customers who don't currently have access to it. It's an interesting field, and a challenging one as well. Why? Because things change so fast, particularly the regulations. In recent years, increased import duties on solar modules and changes to the rate of corporation-tax both had a big impact on us. In fact, the solar business has such a reputation for boom-and-bust that people here talk about the "solar coaster"! Anyway, it's a business with plenty of challenges. I mean, with community and distributed solar together, we're handling up to two hundred projects at once, all at different stages of development, from East Coast to West Coast.
Bridging the culture gap
I moved to Mitsui & Co. USA in 2016. It was a natural progression. I started out selling components to domestic power generation companies, went to the States to study for two years, then handled utility-scale gas-fired power generation, wind, solar and storage projects in the US, Canada and Mexico based out of Tokyo, before moving to the US in 2016.
Distributed power generation in the US really came onto Mitsui's radar in 2014. We invested in Stem Inc., an energy management services provider based in California in 2015. And it was in 2016 that SunEdison, the world's largest solar developer, went into Chapter 11. Hearing that their C&I division was on the block, I teamed up with a colleague at Mitsui head office to negotiate to acquire it. The deal went through after six long months, and the company resumed operations under the ForeFront Power name in February 2017.
For Mitsui to acquire 100% of an American company is not all that common. When I started out as deputy CEO in May 2017, I was also embarking on something completely new. ForeFront Power is an American company and a significant industry player. The employees are young, able and energetic. Frankly, there was something of a culture gap. The US style is to be aggressive and make rapid decisions, while the Japanese way is more circumspect and discussion-based. I'm not saying one approach is better, just that they're different.
Now we've established new processes and systems that help us meet in the middle. The business is gaining momentum and we're rising up the league tables. People in Mitsui head office are aware of us, which makes doing our jobs easier. For my part, I see my job as listening to and supporting the frontline staff. They're the experts and I should let them get on with it.
We completed our first big projects—eight community solar projects—in New York State in 2018. With the tax equity system, you've got to complete the projects within the calendar year to be eligible for the relevant tax benefits. The winter of 2018 was brutal with lots of rain and snow, so our projects all suffered from overruns and things got pretty hairy. In the end, though, we managed to finish all our projects by December 28, the last business day of the year. How did we pull it off? By working together. It was an important experience for me and everyone here. It really reinforced our team spirit.
Meeting the needs of today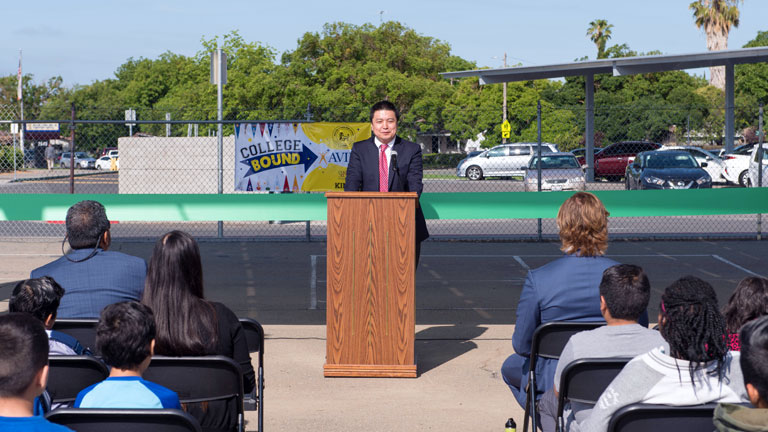 Where do I see ForeFront Power going? I want it to be a company that really delivers in terms of services for customers and financially for Mitsui, and I want it to be a fun company that serves the needs of both C&I and residential customers. Our move into the residential market was a big step toward serving regular people. We responded fast to changes in the business and regulatory environments, and to public attitudes to sustainability. And we keep on trying to do new things. We're relatively small and young, but we're already a frontrunner for community solar.
The thing I like best about this business is the way it fits with the ongoing shift from centralized power generation to distributed and sustainable power generation. Sure, I liked the big budgets and big impact of the utility-scale projects I used to manage, but I also like how this business really fits the needs of the times and is so in tune with the zeitgeist. For example, we acquire our customers directly through digital marketing. It's fun to move downstream and be so close to the customer like that.
In California, we have a lot of public-sector customers including schools. When a project is completed, there's an opening ceremony with a ribbon cutting. I often have to make a little speech alongside the headteacher. All the schoolkids are there and a camera crew from the local TV station turns up. That's not just a nice experience, it also makes me feel I'm doing something special and useful. In fact, I've got one of those ceremonies tomorrow. I must memorize my speech!
I always wanted to work in electricity generation and to work abroad. Staying in the same area for all my career means I've been able to build up plenty of knowledge and experience. Through a somewhat roundabout route, I've ended up doing what I always dreamed of.