Business Innovation
Corporate Development:
Making Change Happen from the Inside Out
Mitsui's Corporate Development Business Unit functions like an internal M&A advisor, leveraging its expertise in finance to help the company identify and acquire businesses in areas that promise next-generation growth.
---
As a believer in "continuous evolution," Mitsui has a tradition of adapting its business model to fit with the changing needs of the times. The company's ability to reshape itself is particularly crucial now as digital technology disrupts and upends old business models. Indeed, one of the present medium-term management plan's key initiatives is to deploy the cashflow generated by Mitsui's existing businesses to build a presence in new growth areas. The four target areas are Mobility, Healthcare, Nutrition & Agriculture, and Retail & Services. Because they each address a major global trend—population growth for Nutrition & Agriculture, or the transformation of the auto industry through electrification and autonomous vehicles for Mobility, to give a couple of examples—they are expected to eventually establish themselves as next-generation profit pillars for Mitsui.
But advancing into new and fast-changing markets demands a particular set of skills more typical of a financial investor than a trading company—the ability to formulate strategic investment theses and identify potential joint venture partners or acquisition targets; the ability to assess the viability of different business models; and the ability to structure financially sound deals. Within Mitsui, that stock of know-how and experience resides in the Corporate Development Business Unit.
To backtrack a little, the Corporate Development Business Unit actually carries out two missions in parallel. On the one hand, it runs its own profit-generating operations in asset management, insurance, leasing, private equity, commodity and derivatives trading, real estate and logistics management. On the other hand, it applies its considerable accumulated management consulting, investment banking, and financial services know-how and networks to all Mitsui's other business units, thus driving the group's continuous evolution. The clue is in the name: The Corporate Development Business Unit literally helps Mitsui "develop" as a corporation.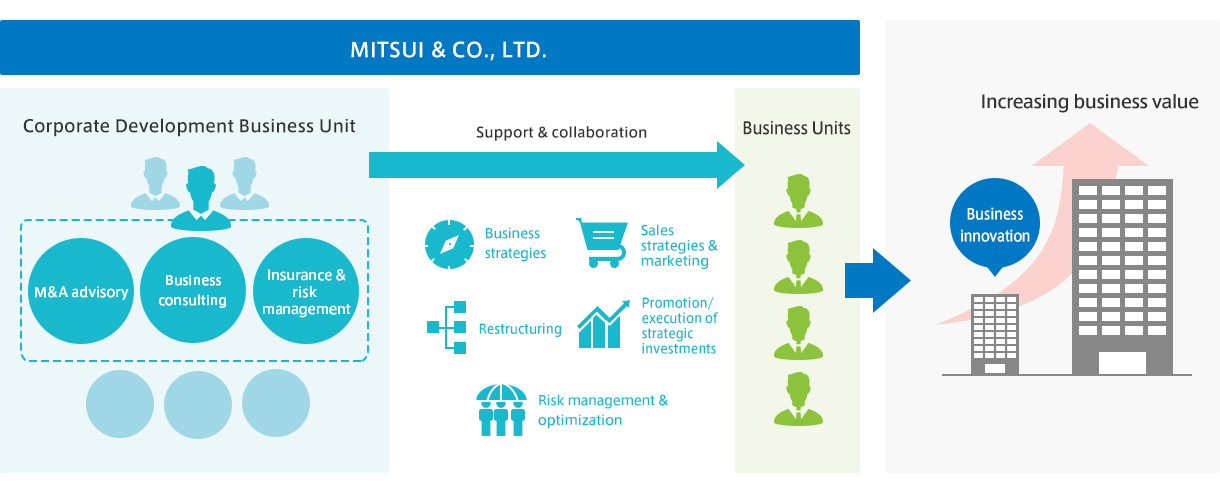 Strategic new investments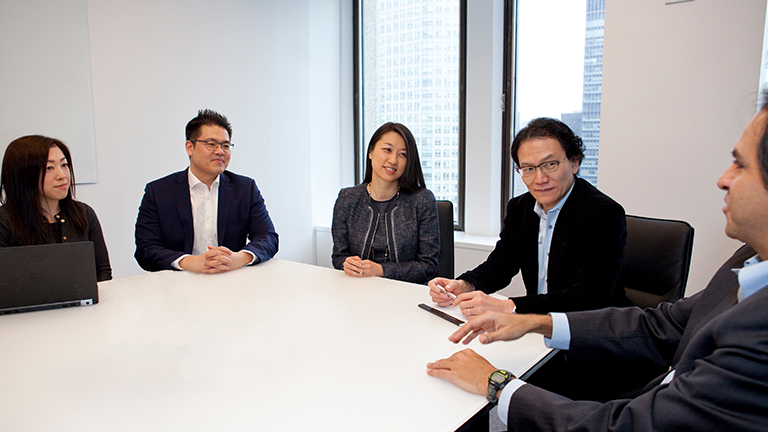 There are two aspects to this latter side of the Corporate Development Business Unit's activities. First, it helps other business units inside Mitsui pursue entirely new investment opportunities by identifying and purchasing businesses (M&A advisory). Second, it helps them manage their existing portfolio companies so as to add maximum value through bolt-on acquisitions, asset sales or business reengineering. Appropriately enough, the Principal Strategic Investments Department, or PSI team, that handles this is based in New York, home to the world's largest and most innovative financial markets.
The 2014 acquisition of The Delta Companies, a Texas-based provider of permanent and temporary staffing solutions for hospital physicians and therapists, is a great example of how the PSI team helps Mitsui develop in new directions. The Delta acquisition made strategic sense. The United States is both the largest and most sophisticated market for healthcare services in the world. Hospitals there are moving away from the traditional in-house staffing model to an approach which involves meeting a proportion of their staffing needs from outside sources. As the aging populations of developed countries and the middle classes of emerging markets expand, global demand for healthcare providers—and the sort of flexible, responsive staffing solutions provided by Delta—can only grow.
The PSI team was involved from the earliest stage of the deal. From their New York base, they helped Mitsui's Healthcare & Services Business Unit devise a strategy for entering the US healthcare staffing space, conduct industry analysis, and identify the partner that would be the best fit. After settling on Delta, one of the largest and most awarded healthcare staffing companies in the US, they assisted the Healthcare & Services Business Unit approach Delta, perform due diligence and negotiate a stock purchase agreement. Thanks to the work of the PSI team, not only did the acquisition itself go smoothly, but Delta was able to make a smooth transition from one management team to another, and effectively pursue its growth strategy.
Of course, the Corporate Development Business Unit has helped Mitsui evolve in all sorts of new directions outside healthcare. For example, it supported the ICT and Mobility teams' joint investment in Rajant Corporation, a provider of innovative wireless technology solutions that enable industrial loT applications and autonomous vehicle operations. It also helped Mitsui's Fashion & Retail team to invest in Indochino.com, an omnichannel retailer of made-to-measure clothing, and the Mobility team to invest in Penske Truck Leasing.
Mitsui's 'engine of innovation'
In 2017, when Mitsui president and CEO Tatsuo Yasunaga unveiled his new vision for Mitsui, he redefined the company as "a diverse pool of talented professionals that take the initiative to create new businesses and actively leverage Mitsui's comprehensive strengths and global network for the sustained creation of new value."
That is precisely what the in-house professionals at the various departments of the Corporate Development Business Unit do on a daily basis. By combining long experience in taking risk and making investments with a profound understanding of Mitsui's corporate culture, they can help the company evolve and build next-generation profit pillars in new areas from healthcare and e-commerce to the Industrial Internet of Things. The professionals in the Corporate Development Business Units are fully committed to make change happen. They are Mitsui's engine of innovation.