People
Arata Yoshii
Manager, 2nd Outsourcing Business Dept. Service Business Division
Consumer Services Business Unit
I became project leader for the SENDAI UMINO-MORI AQUARIUM in July 2014, almost exactly one year before it opened. My job was to manage the schedule and make sure we hit all our milestones.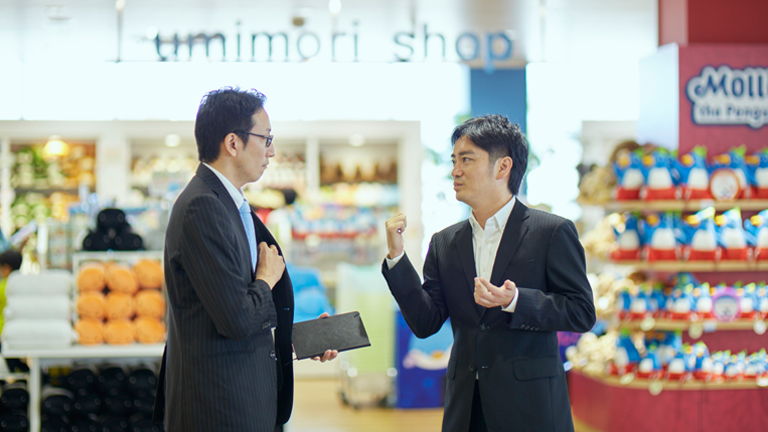 There were seven companies involved in the project, some from Sendai and some from the Tokyo region. Naturally enough, they all had their own views on what sort of aquarium we should make. My role—in conjunction with Yokohama Hakkeijima, the firm responsible for the marine exhibits—was to interpret and realize all the different parties' aspirations. It was complicated, but one thing was never in doubt: we all wanted to create something very special.
For example, there was a lot of discussion about whether to include an exhibit of the local marine life of northeast Japan. Immediately after the 2011 tsunami, people there felt understandably ambivalent toward the sea. For our part, though, we were keen to create an aquarium that had a distinct, local character, rather than something more generic. The sea off northeast Japan is very rich, and we wanted to make people aware of that. We ended up installing a giant aquarium with a northeast Japan theme. It accounts for about one third of the total exhibition space and has proven very popular.
Prior to this project, I spent several years working on the Hiroshima Carp baseball team which is based in the Hiroshima Zoom-Zoom Stadium. My job there was to sign up team sponsors. I brought that skill set up to the aquarium in Sendai. No one had sold such a large sponsorship program for an aquarium before, but I devised a variety of packages to pitch to potential sponsors. In sports, visitor numbers fluctuate according to the team's performance whereas the flow of people to aquariums is pretty constant. In the end, we managed to raise in sponsorship for the first year. The most important thing is to make sure that's sustainable and to get our partners to renew next year.
A project like this, which attracts large numbers of tourists, necessarily has an impact on the local community. One aspect of my job was to get up on stage at town hall meetings, explain our plans and reassure residents that we would do our best effort to prevent traffic jams. People generally were very supportive. I'm pleased to report that now, with the aquarium up and running, there are no major problems.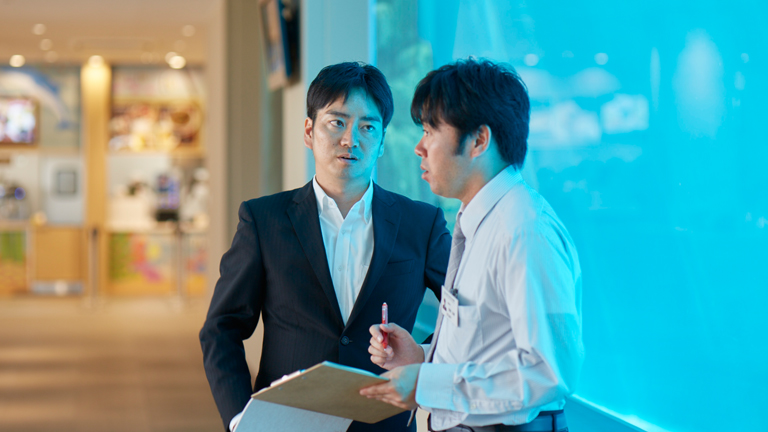 There was a lot of anticipation locally before the opening. I used to spend about half the week up in Sendai and when I was on the train or in restaurants, I'd often hear people talking about it. The aquarium actually opened on July 1, 2015, during the school holidays. It attracted 500,000 visitors in its first two months of operation. We are now expecting to exceed our original target for the first year!
I was lucky to be put in charge of this project and given so much latitude. I'm relatively young—in my mid-thirties—so it was a precious opportunity. As a B2B2C project, you actually get to see ordinary people, the end users, enjoying themselves, which is very rewarding. I took my own kids to the aquarium in August 2015 and they had a great time. I think it was one of their best memories of the summer holidays.
Now that SENDAI UMINO-MORI AQUARIUM is up and running, we are in the evaluation phase. It's a new venture for Mitsui, in the sense that we both own and operate the facility, so before we embark on another similar project, we need to verify that it works as a business and is delivering all-important value for our shareholders. If the answer to those questions is yes, we may explore working on another facility somewhere else.
Interviewed September 2015