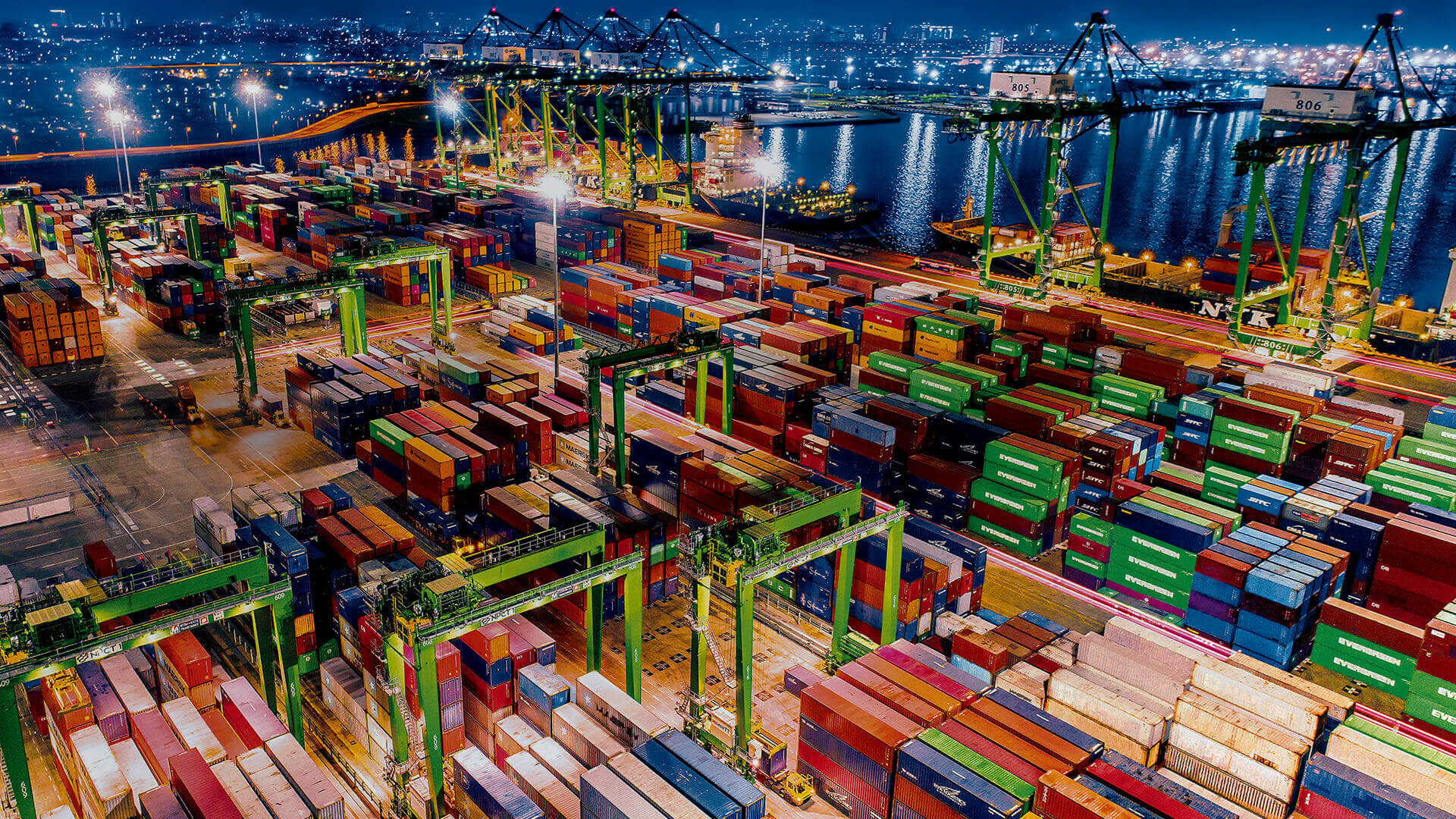 Business Innovation
Building a port. Building a nation
Within just five years of entering the port operation business, Mitsui, as part of a foreign consortium appointed by IPC, led the superstructure construction and operation of a new container terminal at a key gateway port in Asia. This project is expected to be the first of many in the same field.
---
With over 260 million people, Indonesia is the fourth most populous nation in the world after China, India and the United States. Its economy is growing at a robust clip of 5 per cent, and with half of the population under 30, growth looks set to continue well into the future.
Indeed, growth is so strong that Indonesia's infrastructure can barely keep up. The country's ports are a case in point, struggling to handle surging volumes of imports and exports. It was to resolve such bottlenecks that the Indonesian government in 2012 decided to expand Tanjung Priok Port, the country's largest gateway port in Jakarta, tapping IPC, the state-owned port operator, for the job. This involved building a third international container terminal alongside the existing two, boosting the port's overall capacity by 50 per cent from 3.6 million TEU (twenty-foot equivalent units) to 5.1 million TEU.
IPC nominated three international companies, including Mitsui, as potential partners. Of these, it was Mitsui that ended up winning preferential negotiating rights in February 2013. Considering that Mitsui was a relative newcomer to the field of port operation, this was already a remarkable achievement. The company had entered the field two years earlier when it acquired a minority stake in a Thai container terminal in June 2011 and then bought Singapore-based Portek International, a specialist operator of mid-sized port terminals in developing countries, in September the same year.

A commitment to innovation-and to Indonesia
Mitsui managed to pull off this deft sideways step into a new field for two reasons: First, the company has a culture of innovating based on pulling together people with complementary expertise from different departments (in this case, the Infrastructure Projects Business Unit and the Transportation Logistics Business Unit). Second, recent company policy has been about switching more to an operatorship model, with Mitsui seeking ownership and control of the businesses it invests in.
Three factors made relative newcomer Mitsui the most attractive candidate: local experience coordinating similar large public-private infrastructure projects (such as the Paiton Power Station in East Java); local sector-specific know-how (Portek was already running a container terminal in Jakarta focused on domestic freight); and a long-term commitment to growing the broader Indonesian economy, expressed through ventures in fields ranging from oil and gas to telecoms.
After the awarding of the priority negotiating rights, it took 13 months-rather than the expected three or four-to finalize the contract. But there were good reasons for the delay. Since the Indonesian government had never before worked with an overseas partner to build a container terminal, there was no existing framework to follow. In addition, with Indonesia's economy developing at breakneck speed, regulations governing things like accounting and taxation are still evolving. An unusual degree of flexibility needed to be built into the contract as a result.
Coordination. Collaboration. Optimization.
The two sides finally came to an agreement in April 2014. A company called NPCT1 (New Priok Container Terminal One) was set up to construct, operate and maintain the new terminal for 25 years. IPC owned 51 per cent, while the Mitsui-led foreign consortium held the remaining 49 per cent. Mitsui's two partners were Singaporean port operator PSA International and venerable Japanese shipping company NYK. Each of these partners brought invaluable assets to the table: With PSA, it was operational expertise and advanced IT suitable for large ports, as well as a sales force with links to international shipping companies. NYK, meanwhile, is one of the largest vessel operators in Indonesia, and has a global sales force.
Construction got under way in September 2014, with IPC first building the substructure-a 32-hectare artificial island supported on piles-and the foreign consortium erecting the superstructure on top. This included a three-story office building with an operations room, eight quay cranes to unload the ships, and 20 yard cranes to place the containers onto trucks.
In this phase, precision was paramount. Mitsui was one of the key entities responsible for liaising between the substructure and superstructure construction crews to get overall construction to proceed as fast as possible and for checking that the cables for power, pipes for water and IT built into the substructure interfaced properly with the superstructure facilities.
An efficient port. A growing opportunity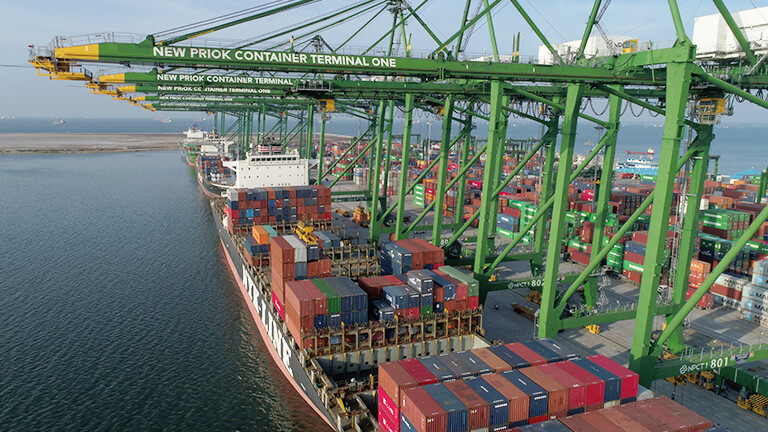 With construction completed, the new terminal opened for partial operations in August 2016. After eight months operating at half capacity, it opened fully in March 2017 ready to reach its target capacity of 1.5 million TEU. Main cargoes include components for locally assembled vehicles, consumer goods, industrial machinery and food shipped in refrigerated "reefer" containers.
The new container terminal has clear advantages over the existing two terminals: it can accommodate bigger ships which it can process 50 per cent faster. Superior throughput is due to the size of the cranes, the quality of the equipment and the skill of the operators that NPCT1 has trained up in batches.
NCPT1, which currently has over 300 staff, has organizational advantages in addition to these logistical ones. By combining the service-provider perspective of port operators IPC and PSA with the user-perspective of shipping line NYK, it can optimize its offering in a 360-degree manner. And by drawing its executive ranks from multiple countries-including a president from Mitsui-the company is robust both locally and globally.
In the five years from 2011 to 2016, Mitsui established itself as a major player in the port operation business. Partnering on equal terms with the Indonesian government and a global mega-operator, it brought a large project of national significance for Indonesia to fruition. Tanjung Priok container terminal was a valuable learning experience, but it is only the beginning. Going forward, Mitsui means to apply the know-how it acquired to other transport infrastructure projects in other countries.