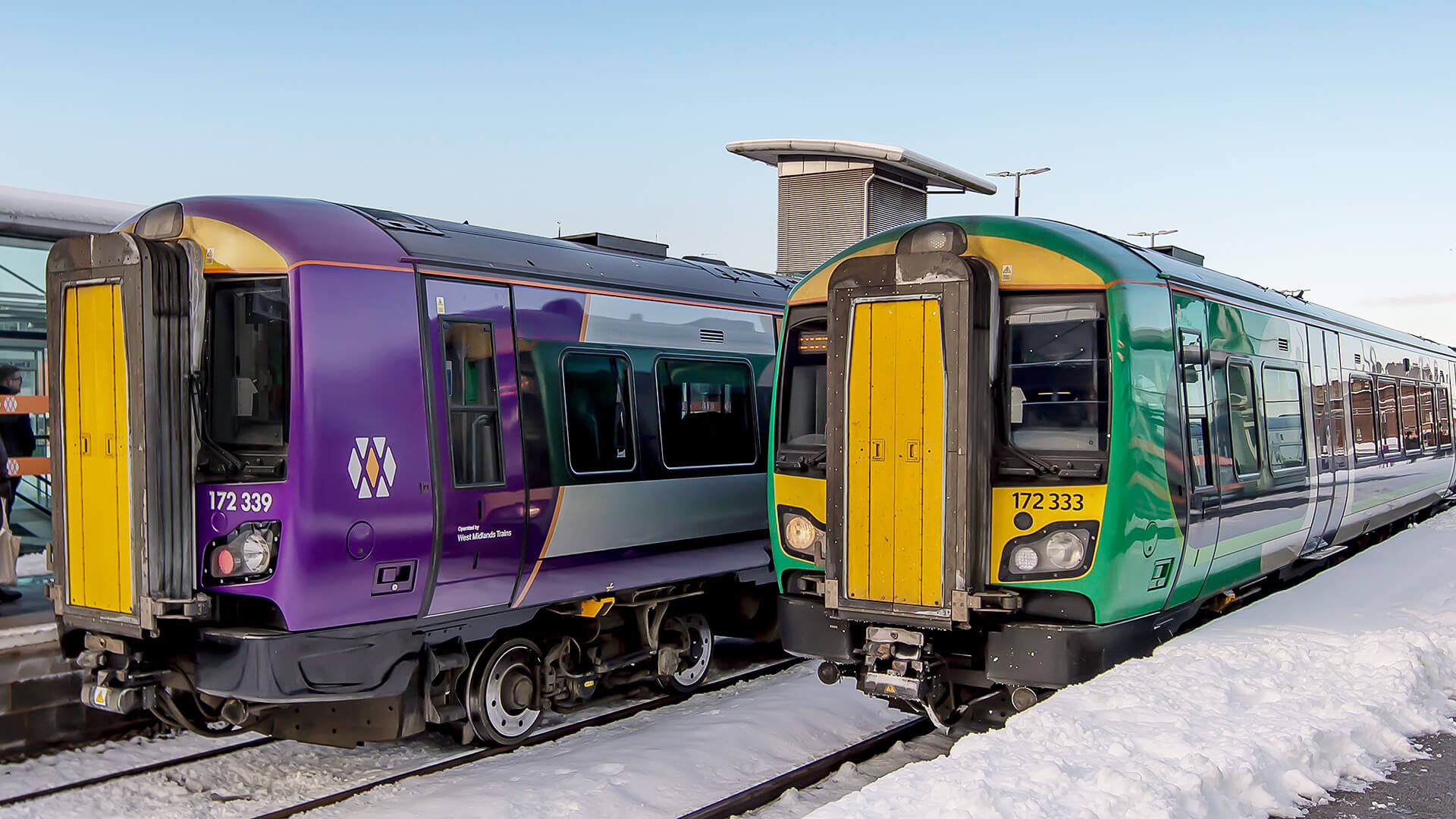 Business Innovation
Fast Track to the Future
In conjunction with its partners, Mitsui currently operates two regional rail franchises in the United Kingdom. With the firm's long experience in building and operating railways around the world, customers can look forward to a much-improved travel experience.
---
When Margaret Thatcher became UK prime minister in 1979, one of the first things she did was to launch a pioneering privatization program that won imitators all around the world. The railway system was eventually transferred into private hands in the 1990s. The UK now has a "vertically separated" model, with public-sector body Network Rail managing railway infrastructure such as track and signaling systems, while private-sector companies operate the trains under a franchise regime. Mitsui is currently participating in two UK regional franchises, the West Midlands franchise and the East Anglia franchise.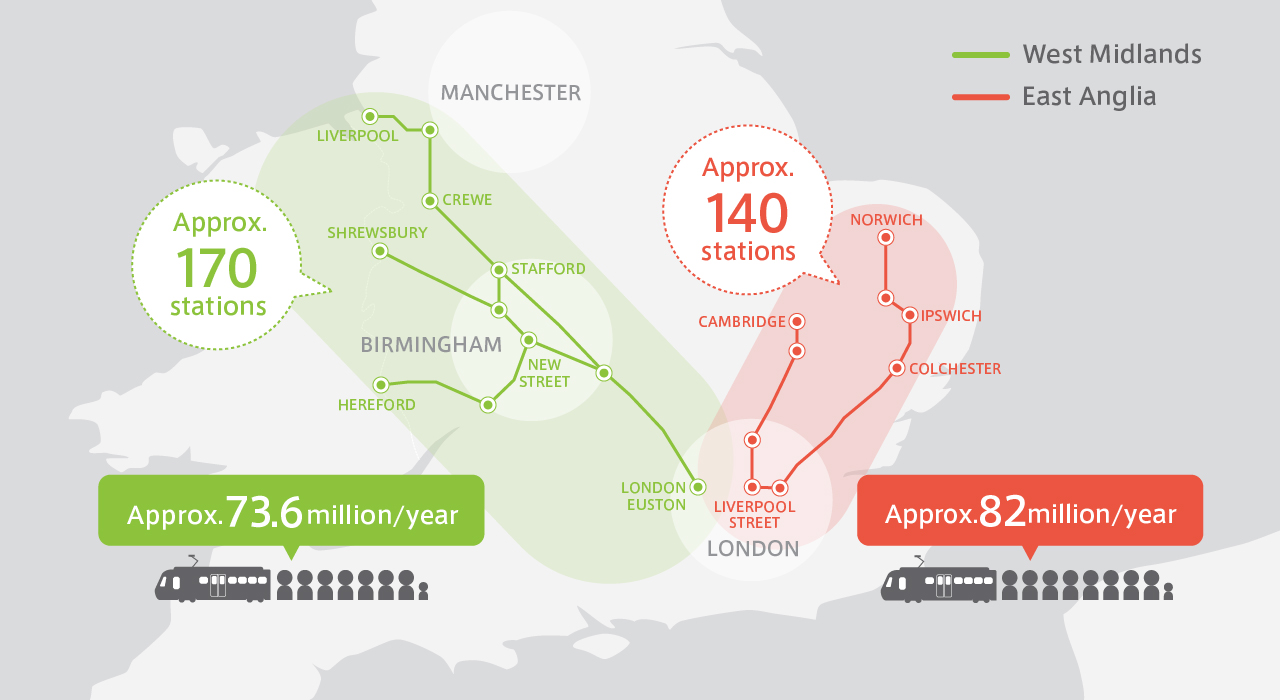 Half a century of history
Mitsui has decades of experience in the railway business. The company started out exporting Japanese rolling stock in the late 1960s. Now its subsidiary Mitsui Rail Capital owns and leases a fleet of locomotives and railcars in North America, Europe, Russia and Brazil, while Mitsui also operates both cargo and passenger railways in Brazil.
What drew Mitsui to passenger rail in the UK? Two things. First, the transparent and well-managed system under which two or three 10-year franchises are sold off every year. Second, the potential for earning a steady return.
Mitsui first began studying the UK market in mid-2015 when the West Midlands franchise was due to come up for renewal. The franchise covers 900 kilometers of track running from London, the UK's largest city, through Birmingham, the second-largest city, to Liverpool.
The bid team for the West Midlands franchise came together in April 2016. Along with Mitsui, the participants were Abellio, a subsidiary of the Dutch national rail operator which specializes in running rail franchises overseas, and JR-East, Japan's largest railway company which operates 7,450 kilometers of railway networks in Tokyo and eastern Japan. Facing a November 2016 deadline, the bid team had around eight months to draw up its bid. A group of 80 people based in London was sub-divided into multiple smaller teams responsible for creating proposals covering specific issues like timetabling, staffing numbers, rolling-stock upgrades and revenue.
Tried-and-tested solutions for overcrowding
Commuter services in London and Birmingham were already suffering from overcrowding. And with the UK population forecast to grow, albeit modestly, this was a problem that urgently needed to be addressed. The UK Department for Transport (DfT), which is in charge of selecting the franchise operators, was thus particularly eager to hear solutions in this area.
That is why strategies to tackle overcrowding formed the core of our bid. From its experience operating trains in densely populated urban areas, JR-East has unique know-how when it comes to boosting network capacity. For example, it places markers on the platform to get people to line up precisely in front of the train doors in order to speed up embarkation/disembarkation. But such easy-to-implement fixes were only a minor part of our overall proposal. More important was our commitment to invest in new carriages and locomotives. Why? Because newer trains travel faster, wider doors enable passengers to get on and off faster, and smarter seat configurations accommodate more people. Taken together, newer trains mean increased speed, capacity and comfort.
Of course, providing a good train service doesn't end with the trains. The "last one mile"—the way the network connects with other forms of transport like buses, taxis and cars—is also key. Our bid, for example, proposed a significant increase in parking spaces at suburban stations around London and Birmingham for a seamless door-to-door commuting experience.
Fostering team spirit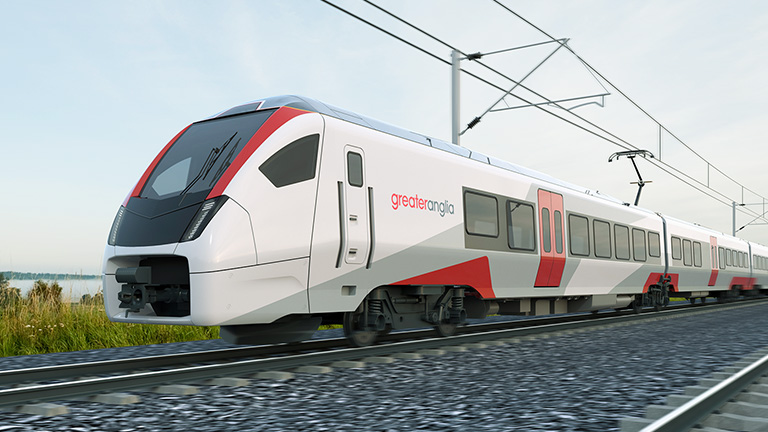 In August 2017, the Department for Transport informed our team that we had won the bid. We took over the running of the franchise in December that year. The first changes we made were branding-related. With the switchover of the corporate identity from London-Midland to West Midland Trains, staff uniforms needed to be changed and trains repainted. More important was ensuring that the franchise's more than 2,000 staff knew what Abellio, Mitsui and JR-East stand for. We launched a drive to communicate our values to the staff at all 170 West Midlands stations. When the franchise changes hands, staff can feel uncertain. Getting the people who actually operate the trains and stations to understand and implement our vision for an improved service is absolutely crucial.
Inevitably, delivering more concrete service improvements takes time. We have made a start by equipping all passenger-facing staff with networked tablets to provide real-time information to customers. The new rolling stock will start to come on stream in 2021. That is when the new timetable, with more frequent services, will be introduced, and serious change will get under way.
Expansion in railways-and beyond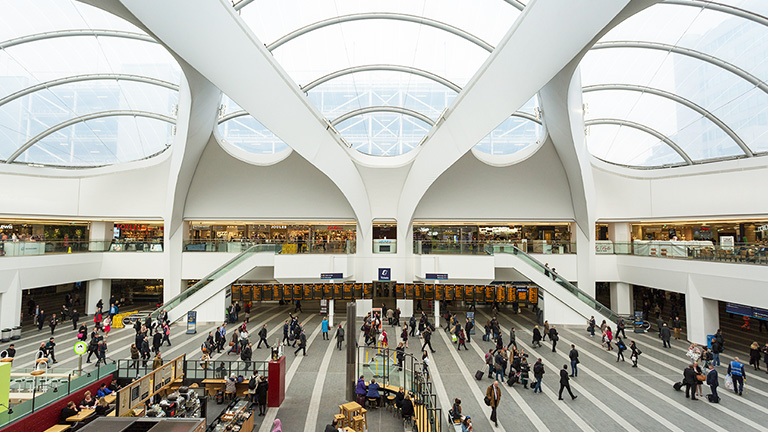 In parallel with making the existing service better, Mitsui is also keen to offer new peripheral products and services. As part of a company-wide commitment to digital transformation, Mitsui plans to put the power of AI and Big Data to work. With access to journey data, for example, we could provide digital discount coupons for stores and restaurants close to the stations used by West Midlands' 200,000 passengers every day. In addition, car-sharing services and other forms of "mobility as a service" (MAAS) represent another area we are eager to explore. Finally, we already have an alliance with the unit of JR-East that manages commercial station complexes. This kind of property-development expertise may become relevant to the UK if station infrastructure is privatized.
Building on its experience with the West Midlands and the East Anglia franchises, Mitsui is planning to expand further in the UK passenger-rail market. The goal is not just to deliver better train services, but to offer a better total travel experience covering shopping, mobility and digital services. In the long run, we hope to expand from the UK to other regions.