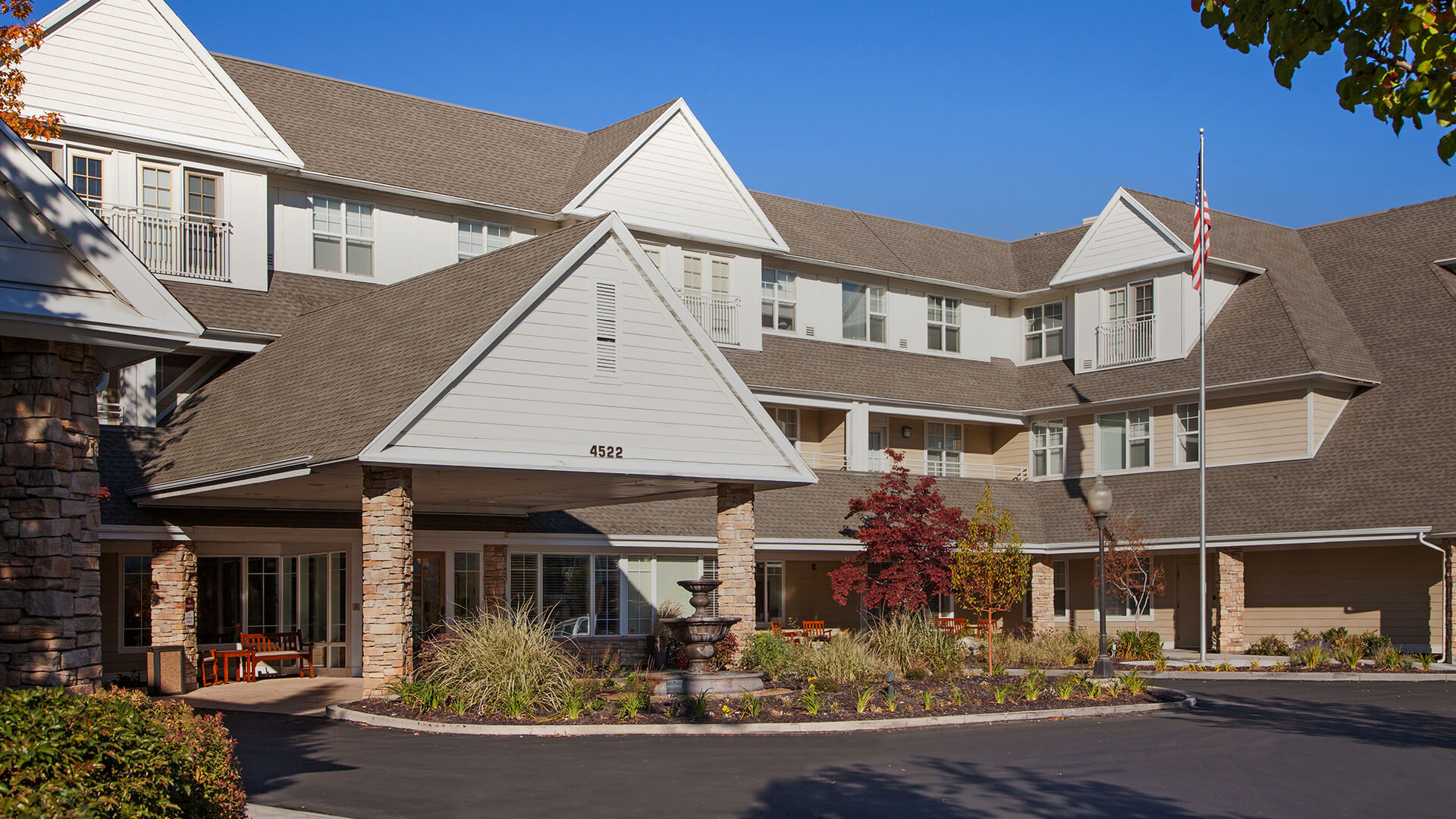 Business Innovation
Enriching the Lives of American Seniors
Mitsui operates senior communities in five states on the West Coast of the United States. An unusually high level of personalized service has led to rapid growth.
---
A fall in U.S. housing prices and mortgage-related securities was the prime cause of the worldwide Great Recession that began in 2008. Amid all the turmoil, one category of real estate proved extraordinarily resilient: serviced apartments targeting seniors.
The robustness of this asset class is not hard to explain. First, the cohort of over sixty-fives in the United States is large, at over 46 million people. Second, the number is rising, with seniors' population share predicted to go from 15% in 2015 to 22% in 2040. Third, because the U.S. senior living market is based largely on "private pay" (i.e. people paying for themselves), consumers are a self-selecting, relatively asset-rich group. This provides protection against the vagaries of the economic cycle.
US Population by Size and Age Group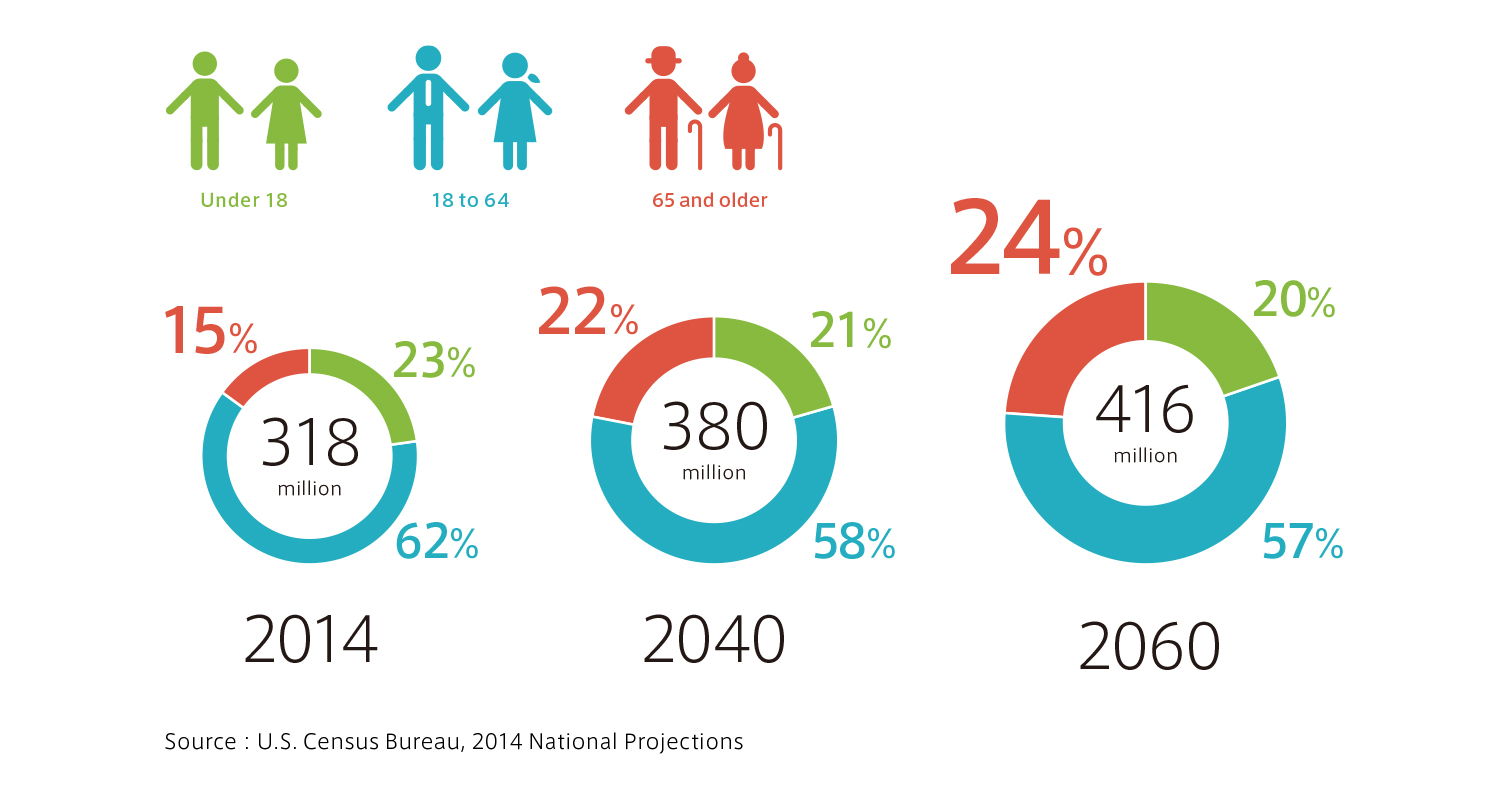 Ironically, Mitsui & Co. only realized the business potential of senior living when it had all but exited the sector. Mitsui first entered the United States' real estate market with the purchase of 50% of Birtcher, a local developer, in 1990, going on to acquire the company outright in 1997. Birtcher came with a substantial senior community portfolio which Mitsui initially scaled back in size. So impressive, however, was the performance of the remaining properties during the financial crisis, that Mitsui decided to get back into senior living in a serious way in 2011.
MBK Senior Living and the "middle zone"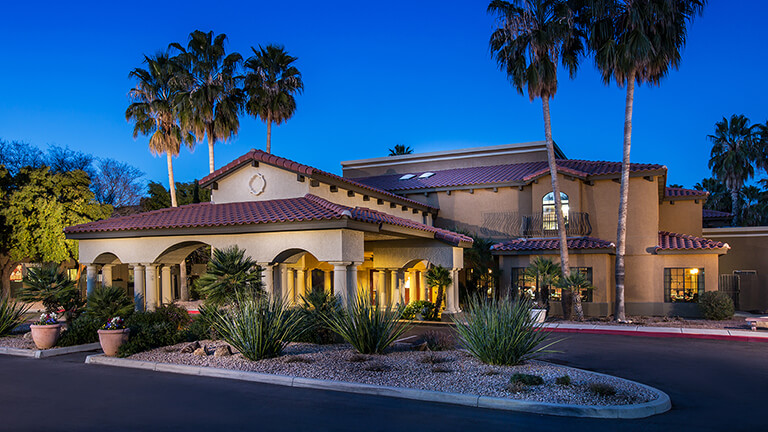 MBK Senior Living LLC is the Mitsui entity that acquires, refurbishes and operates senior communities. This California-based company employs around 1,300 people, the overwhelming majority of them caregivers working in 22 senior communities in California, Arizona, Washington, Colorado and Utah.
Senior living comes in a range of formats, each offering different levels of care. At the lower end are senior apartments, living spaces built on "universal design principles" to make life easier for people with mobility issues. At the high end are hospital-like facilities that provide skilled nursing and medical care. The middle zone—the area targeted by MBK Senior Living—consists of two categories: Independent Living (IL) and Assisted Living (AL). Independent living provides meals, cleaning and housekeeping services to physically and cognitively healthy individuals, while assisted living adds to that help with tasks like bathing and dressing, as well as health management (i.e. a nurse checking vital signs, making sure medication has been taken etc.). Some assisted living communities also include secure environments with specialized "memory care" services for people with dementia.
Sensitive service based on a distinctive culture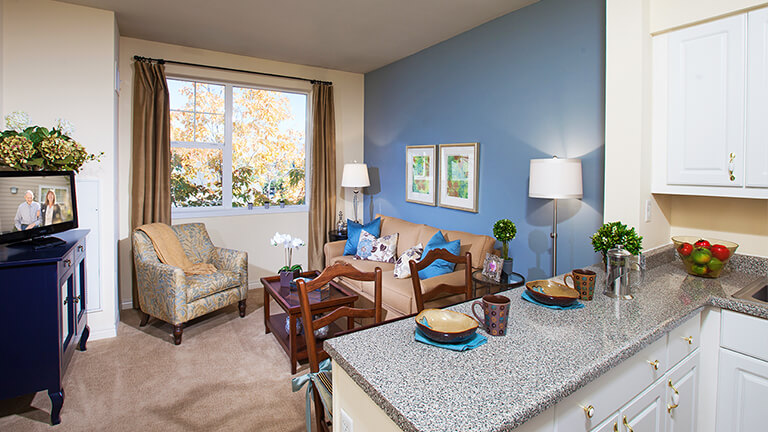 What distinguishes the IL and AL communities of MBK Senior Living from those of its rivals? The answer is intense customer focus and highly personalized service. Parent company Mitsui & Co. has long been an advocate of the concept of Yoi Shigoto ("The Good Work") and MBK Senior Living has enthusiastically adopted the idea, which it defines as the "responsibility to do good work and positively impact our residents, families and associates, and the local community."
Educating caregivers to address individual residents' specific needs is the secret to achieving these positive impacts. At every MBK senior community, caregivers meet monthly to discuss case studies and share resident feedback, as well as meeting daily to recommit to the mission and to determine ways to anticipate and exceed resident needs. Training, meanwhile, is frequent and ongoing. It comes, however, with a twist: rather than simply getting caregivers to do things by the book, MBK encourages them to think for themselves and address problems on a case-by-case basis—hence the expression "inspired people" to describe our staff.
Here's an example of how that "inspiration" might manifest itself in practice. Imagine that a resident is about to get a visit from her children and grandchildren. Unprompted, our caregivers will try to make the visit feel special by having the grandchildren's favorite toys ready for them or ensuring that the menu features their favorite dishes.
Management quality is another key factor behind MBK Senior Living's excellent service. From the president and regional directors down, the company is run by seasoned veterans with an acute awareness of what Americans expect from their senior communities. President, Jeff Fischer who joined MBK Senior Living in March 2017, exemplifies our commitment to hiring to the best in leadership. With 22 years' industry experience, Fischer's track record includes holding key management roles at Steadfast Companies and Sunrise Senior Living.
A partnership based on excellence
It was MBK Senior Living's reputation for exceptional service that attracted the attention of HCP, Inc., one of the largest healthcare-focused real estate investment trusts (REITs) in the United States. In 2015, MBK Senior Living and HCP teamed up to establish a 50-50 joint venture to acquire and refurbish senior communities for MBK Senior Living to operate. As of spring 2017, five of MBK Senior Living's 22 communities belong to the JV which aims to acquire more properties to enlarge its portfolio.
The business model works like this. Properties are acquired and physically refurbished. MBK Senior Living regional managers then go in to optimize operating expenses while raising the level of service through staff training. Once the value of properties has been increased in this way, they are sold off for capital gain after five to seven years. And if the new owner wants to keep the management services of MBK Senior Living, the properties can continue to provide an income stream even post-sale.
Senior communities are now evolving from a niche to a mainstream area of real-estate investment. As the sector grows larger and more dynamic, MBK Senior Living plans to expand its footprint within the United States, possibly by adding East Coast properties to its West Coast-focused portfolio. MBK Senior Living will continue to create value by providing life-enriching care and service tailored to individual needs.