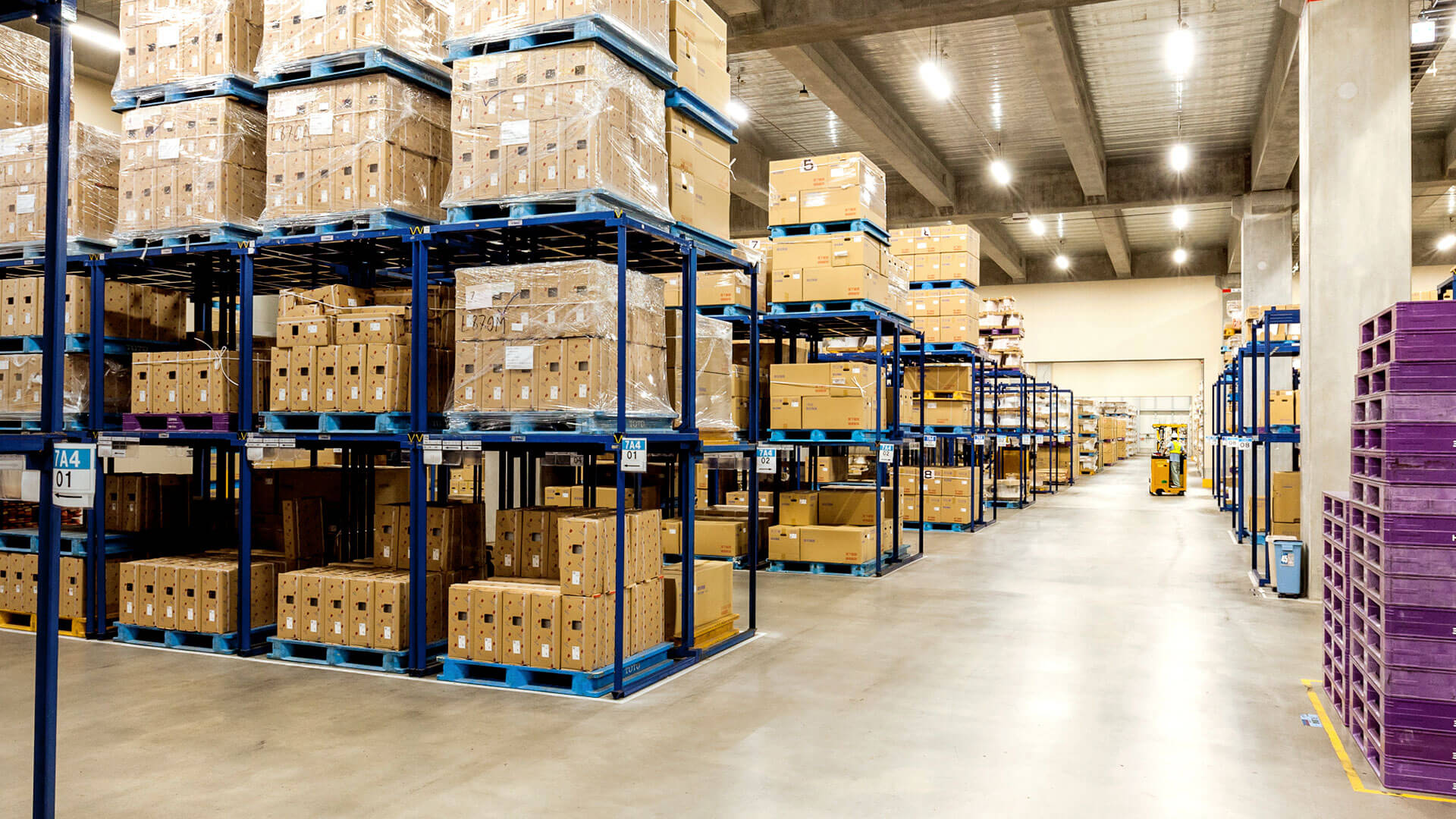 Business Innovation
The Logic of Investing in Logistics
Mitsui & Co. is combining its expertise in logistics and finance to develop innovative new financial products while addressing real-world needs.
---
The market for real estate investment trusts (REITs) got underway in Japan in 2001. Mitsui & Co. entered the space in May 2005, with the IPO of Japan Logistics Fund, Inc. (JLF), which is managed by Mitsui subsidiary, Mitsui & Co. Logistics Partners Ltd (MLP).
Among the various categories of REIT—office, commercial, residential, hospitality—Mitsui decided to launch Japan's first dedicated logistics REIT. Why? There were two compelling reasons. Firstly, for as long as Mitsui has existed, the company has been involved in logistics, giving it a discerning eye for property and a keen sense of tenants' evolving needs. Combining the logistics division's expertise in the flow of goods with the Financial Business Division's expertise in the flow of money should, the company believed, create a compelling proposition.
Secondly, the timing was propitious. Not only was Japan's ageing stock of warehouses, many of which had been built in the high-growth 1960s and 1970s, in need of renewal, but the rise of the Internet was transforming the whole warehousing and logistics sector. The new wave of online retailers and fast-fashion companies, who typically make multiple small shipments in a single day, were looking for a whole new level of functionality, while more and more companies were also choosing to outsource their logistics to third-party specialists.
They all wanted warehouses with excellent road access that were close to the cities where not only their customers but their own employees (shelf pickers etc.) lived; they needed warehouses that offered not just storage, but space for things like high-grade offices, staff eating facilities and even photo studios for fashion shoots.
Developing such high-spec warehouses was not going to come cheap, but a fund would have the financial muscle to develop properties beyond the capacity of individual companies.
As Japan's first and only dedicated logistics REIT, JLF needed to win over the Japanese investment community. Investors tended to associate property plays with glamorous office buildings in the city center, not with warehouses in the suburbs. Countering that skepticism was not hard: Firstly, logistics offers a steady and long-term income stream of the kind beloved by Japanese investors. While a hospitality REIT derives its revenues from hotel rooms rented by the night, logistics REITs derive theirs from warehouses typically let for 10 or even 20 years. Secondly, no matter how goods reach the end consumer—direct from the Internet, via a store or through some "clicks and bricks" combination of the two—they all pass through a warehouse at some point. Warehouses and distribution centers are an integral part of all our lives.
Investors clearly saw the appeal. The May 2005 IPO of JLF was 50 times oversubscribed and the fund easily raised its target of 30 billion yen, in equity issuance, with no debt financing. This provided the fund with a massive war chest which it put to immediate use acquiring prime sites. At the time, these could still be purchased at relatively low prices since warehousing had yet to establish itself as a recognized asset class in Japan.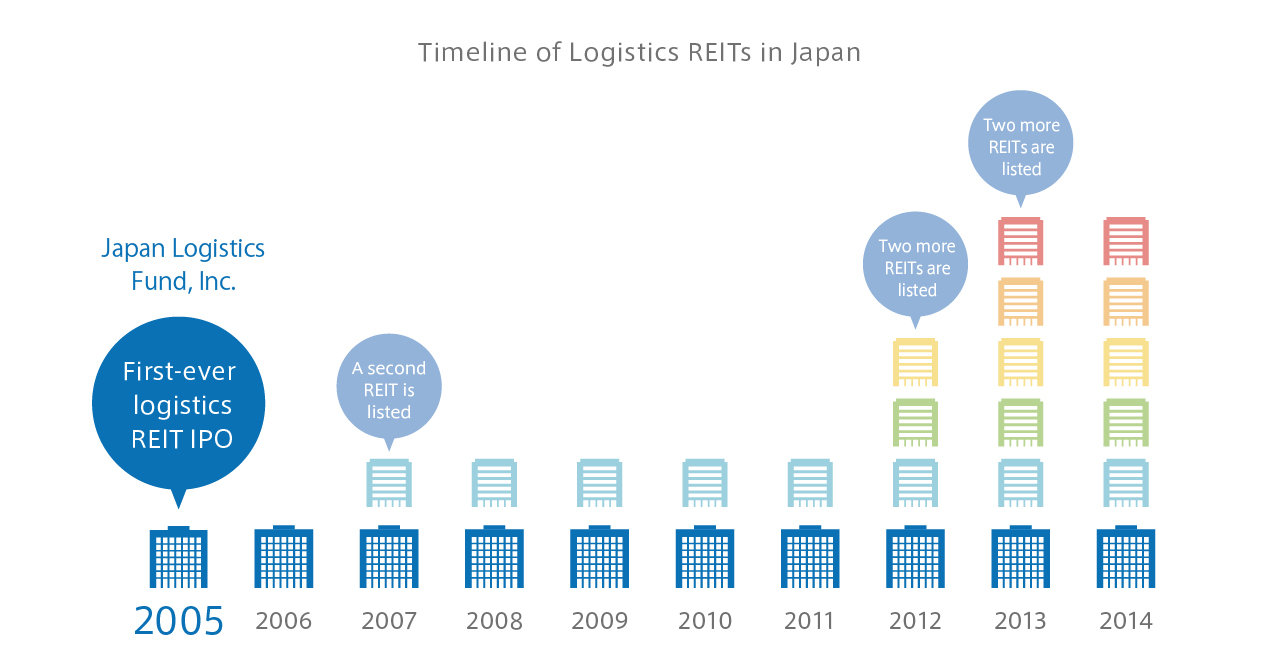 JLF maintains this robust financial base to this day. It has among the the lowest loan-to-value ratio among J-REITS and the highest issuer's rating (A1 from Moody's Japan). During the financial crisis, our financial strength enabled us to access debt financing, enabling us to make a number of contrarian acquisitions in 2009 and 2010.
As of October 2015, our portfolio consists of 42 properties with a book value of 213 billion yen. Our properties are concentrated in and around the biggest cities: chiefly Tokyo/Yokohama, and then Osaka, Nagoya and Fukuoka.
With five other logistics REITs now listed in Japan, competition has intensified, driving up the price of warehouse space. One unique advantage that JLF enjoys in this environment is the ability to redevelop warehouses internally. (We call it "Own Book Redevelopment" or OBR.) Redeveloping properties internally means that development profit is retained, asset value maximized and leasable space expanded dramatically. Take Yachiyo Logistics Center, a warehouse in Chiba just outside Tokyo. A redevelopment completed in December 2014 increased the leasable area 3.2 times, from 17,689㎡ to 56,882㎡.

Over the last decade, Mitsui has expanded its fund business overseas and into new categories. In 2006, Mitsui acquired a 20% stake in Cambridge Industrial Trust Management Limited, the manager of Cambridge Industrial Trust, a REIT with a diversified portfolio of around 50 industrial properties in Singapore, including car showrooms, workshops and business parks. In 2014, Mitsui also acquired a 30% stake in TICON Management Company, a similar business based in Thailand.
As part of its move into new sectors, Mitsui joined forces with Challenger Financial Services Group in 2008 to launch an emerging market infrastructure fund. The fund's investments range from a gas distribution company in Chile to water-related infrastructure in China.
Over the long term, Mitsui is planning to leverage its financial expertise, its long track record in property and infrastructure, and its portfolio of revenue-producing assets to develop a genuinely globalized funds business.