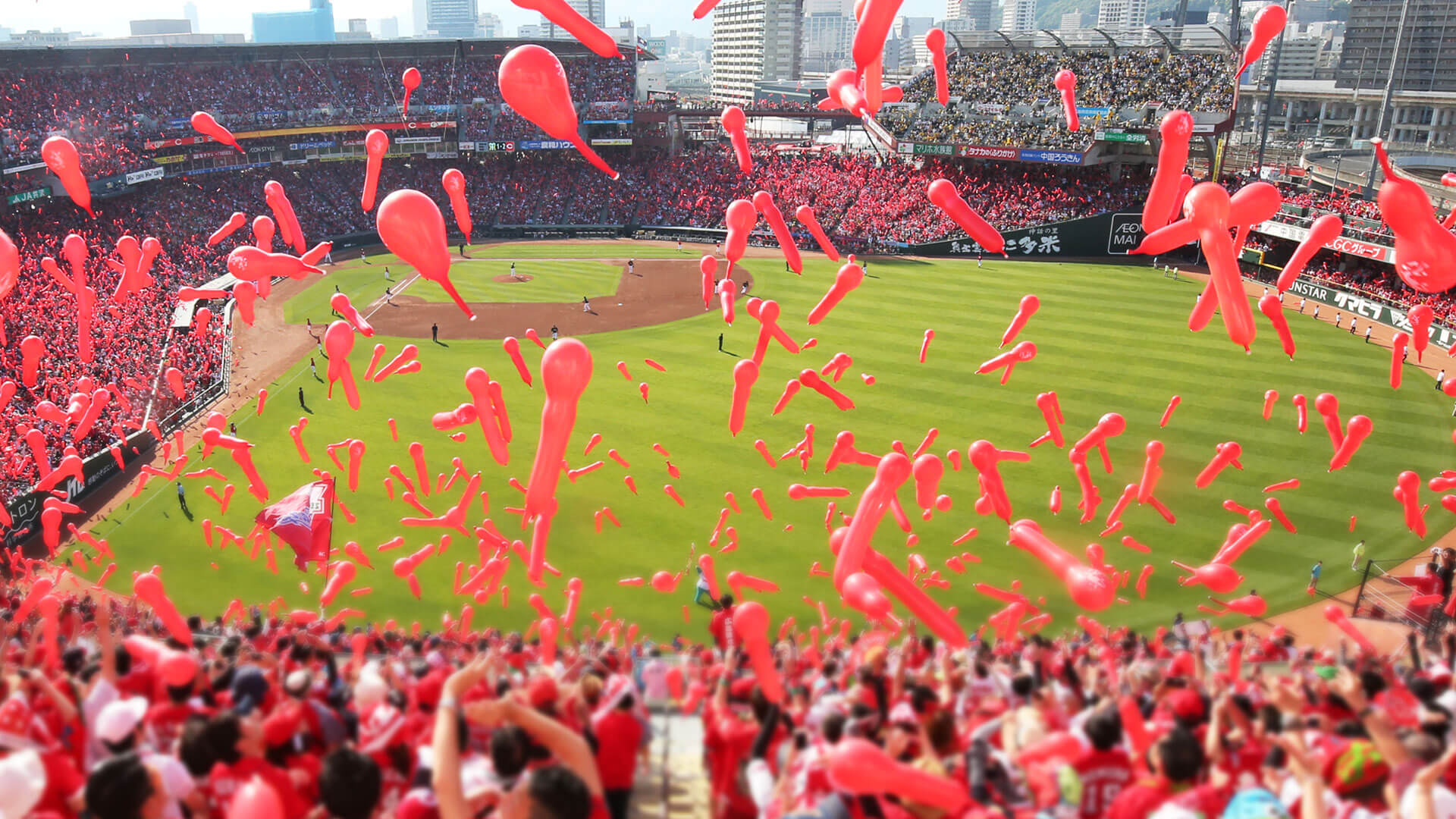 Business Innovation
Knocking It Out of the Park:
Japan's Best Baseball Stadium
Mazda Zoom-Zoom Stadium Hiroshima, home of the Hiroshima Toyo Carp baseball team, was Mitsui's first foray into sports facilities management. The goal: to build and operate the best ballpark in Japan.
---
In 2018, the Hiroshima Toyo Carp won the Central League pennant for the third year running. Average attendance had risen to 30,000, including a growing contingent of passionate female fans dubbed "Carp Girls" by the media. Both on and off the diamond, the Carp are at the top of their game.
Mitsui has operated the Carp's home ballpark, Mazda Zoom-Zoom Stadium Hiroshima, since it opened in April 2009. We provided support during the planning and construction phase, which started from zero in 2005 and drew on ideas from Major League Baseball in the United States to propose new services to be delivered with our subsidiaries. Today, Mitsui's responsibilities at the stadium include food services, sponsorship marketing, and cleaning services. Many of the services we offer are found nowhere else in Japan.
Feeding a growing fan base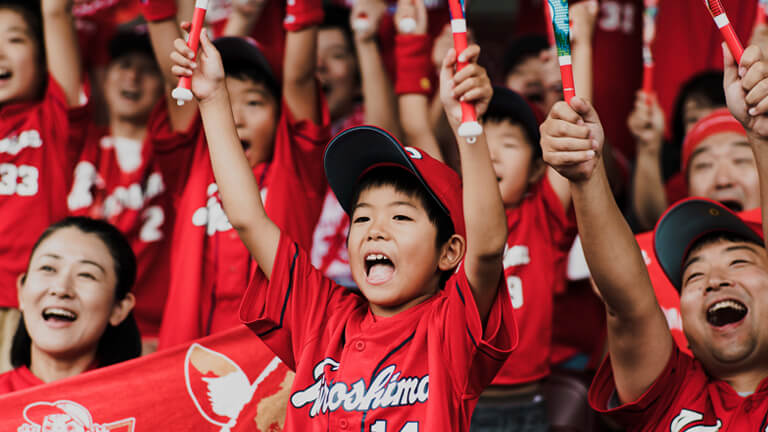 Games held at Mazda Stadium typically attract tens of thousands of fans, adding to the excitement. Mitsui's approach to food services at the stadium departs from the traditional thinking at Japanese ballparks in many ways.
For example, where most ballparks in Japan have tended to offer a similar limited selection of snacks and bento (boxed lunches), at Mazda Stadium these old favorites are supplemented with over 300 other options, from pizza, pita sandwiches and risotto to desserts like crepes and sundaes. This ensures that all visitors, from children to adults, can find something to satisfy their cravings.
This extensive menu is the work of AIM Services, a joint venture by Mitsui and US-based Aramark Services. Aramark is one of the "Big Three" global outsourcing companies, providing services to corporations and hospitals as well as sports facilities—including a number of US Major League Baseball stadiums.
AIM Services has a wealth of experience providing food services to company cafeterias, university dining halls, and medical facilities. It has also served international sporting events, including the 1998 Nagano Winter Olympics, where it managed the Olympic Village dining hall, and the 2002 Japan–Korea FIFA World Cup.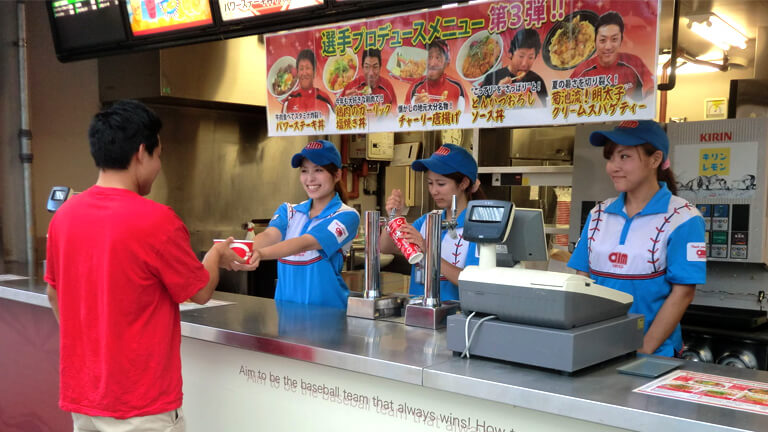 All 29 food and drink outlets at Mazda Stadium are operated by AIM Services. The stadium concourse has a unique design that forms a complete loop around the central diamond, allowing a range of food options to be made available to visitors as they walk past. The precise combinations on offer can be flexibly adjusted to match spectator numbers or purchasing patterns based on the weather and other factors.
Mazda Stadium is the only professional baseball stadium in Japan where all the different food and beverage outlets are run by the same operator. The unprecedented efficiency of the arrangement makes it possible to ensure that visiting the stadium is a more pleasant experience for the widest possible range of customers.
Other initiatives, like menu items "produced" by team members or invented by local elementary school students, are designed to reinforce attachment to the team and region. The definition of food services itself is expanded to include "fan services" like dances performed by hawkers (walking drink vendors), which help raise the overall energy level.
The Hiroshima Toyo Carp's vision was for a stadium that could be enjoyed by every generation, from grandparents to grandchildren. Mitsui and its partners have brought together a unique combination of ideas and know-how to make this vision a reality, and continue to pursue new possibilities today.
Next-level sponsorship programs
The stadium's sponsorship marketing business is run by Mitsui & Co. Foresight, a Mitsui subsidiary.
Traditional sponsorship options, such as advertising exposure on stadium signboards and LED screens, are of course available. But Foresight also offers sponsorship of individual games alongside integrated promotional activities, tie-up campaigns involving the Carp's logo and tickets, and more.
Naming rights to specific areas within the stands is one example of this. There are several unique types of seating at Mazda Stadium, including two-person lounge seats to watch the game in a reclining position, a terrace with a barbecue area, and even a section with tatami mat flooring. These all come with their own naming rights. For example, the current sponsor of the barbecue area is a major food company. Sponsors can also run ticket campaigns for their customers and even distribute actual products to visitors in giveaways, using the sponsorship as part of a hands-on sales promotion campaign rather than simply an opportunity for exposure.
These sponsorship programs are made possible by close ties between team and stadium management. This focus on sponsor needs has delivered great success. The number of sponsors in 2009, the stadium's opening year, was 94; by 2017, that figure had doubled, Today, sponsors range from local Hiroshima companies to firms with a nationwide and international footprint.
Rewriting the attendance record books
Total attendance for the Carp's final season at their previous ballpark in 2008 was around 1.39 million. In 2009, following the move to Mazda Stadium, that figure grew to around 1.87 million—a leap of 34.7% in just one year. Attendance has grown steadily since, setting new team records. In 2015, annual attendance surpassed 2 million. By 2018, it was over 2.2 million.
The Carp is a citizen's team; it does not have a corporate owner. At every home game the Carp play, most of the seats are filled with fans. Considering that the city of Hiroshima's entire population is only around 1.2 million, the team's ability to sell over 2 million tickets every year speaks to its importance to the region.
The attendance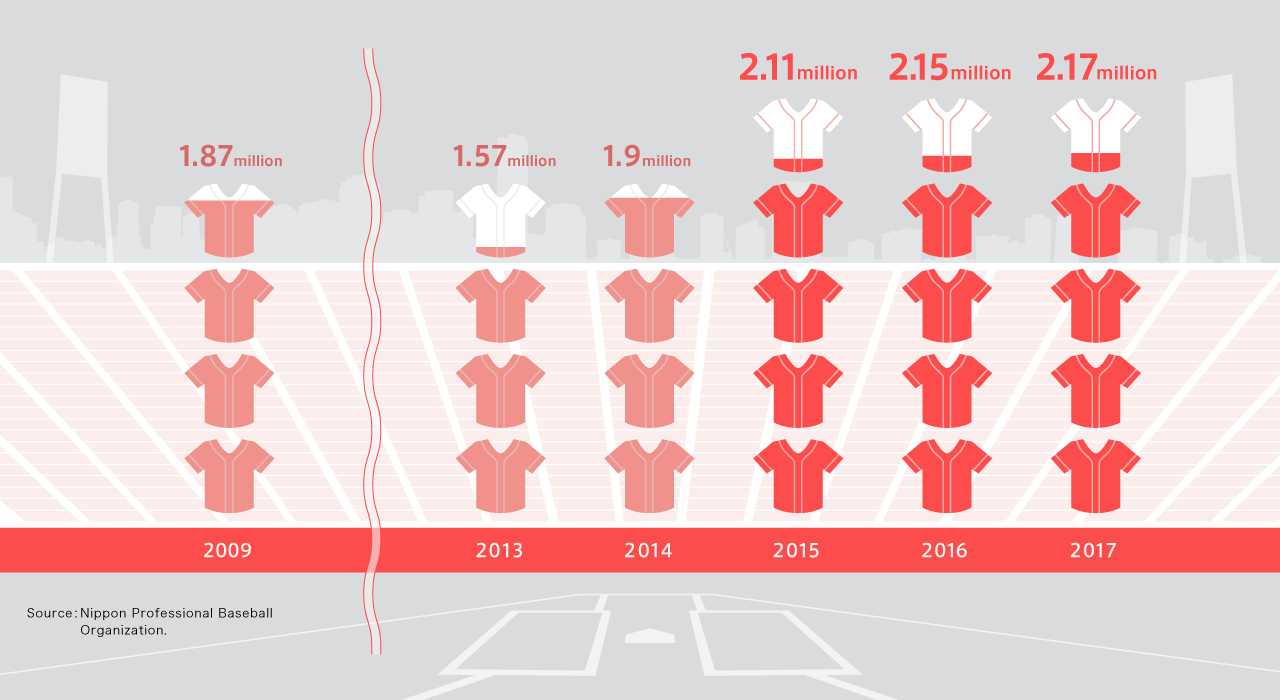 The Carp as beloved local icons; a ballpark experience that draws people back—and the food services and sponsorship programs that underpin it all. The multiplier effect of all three factors increases profits, which in turn makes the team more successful, drives improvements in fan services, and ultimately produces achievements like the team's current three-year winning streak. This, in turn, draws even more visitors and fans to the stadium. Mitsui helps support this virtuous circle of team, stadium, fans and region from the business side.
Swing for the bleachers: Expanding into new domains
For Mitsui, Mazda Stadium represents an opportunity to expand its customer base and contribute to regional revitalization through sports facility management. The project has shown the potential the business has when Mitsui, AIM Services and Foresight work in concert.
In addition to new initiatives at Mazda Stadium itself, Mitsui is already expanding operations to other ballparks and even to fields outside pro baseball. The B.LEAGUE, the Japanese professional basketball league launched in autumn 2016, is one example of the latter. Foresight is currently investing in B1 (first division) teams and exploring other ways to deepen its involvement and develop new businesses.
Looking at things from the perspective of the fans. Looking at things from the perspective of the region. Looking at things in greater detail. Perhaps that is where the seeds of Mitsui's next successful business are to be found.