Services & Products
Nutrition & Agriculture Business Unit
Engaging in a wide range of businesses broadly covering the food and chemicals areas
Business fields
Agriculture

Manufacture and sales of agrochemicals, seeds and fertilizers, global trading of fertilizer resources (phosphate rock) and raw materials (sulfur, sulfuric acid)

Animal Solution

Manufacture and sales of essential amino acid (methionine), additives for feeds such as organic minerals, enzymes and development of animal health products

Human Nutrition

Manufacture and sales of food ingredients, pharmaceutical and flavor/fragrance raw materials, high-quality nutritional supplements and home testing services
Feed additives business (02:20)
Major methionine producer Novus. Its flagship product ALIMET helps promote efficient livestock growth
Major activities
Leveraging agriculture, animal solution, and human nutrition to meet the changing needs of the times, and working to build new businesses utilizing existing assets and business partners
The rise in global population is impacting the structure of food demand. At the Nutrition & Agriculture Business Unit, we are making preparations to respond to an increase in demand by expanding the manufacture of essential amino acid feeds, methionine, and development of animal health products in the animal protein resources market, which forms the foundation of nutrition. In agriculture, we are strengthening our involvement in the sector extending our reach to the growers from the manufacture and sales of agricultural inputs (fertilizers, agrochemicals, seeds) and global trading of fertilizer resources and sulfur/sulfuric acid. As population growth is particularly prominent among the middle-income group, we expect to see a subsequent expansion in market size and demand for delicious and healthy food. Furthermore, as people become increasingly aware of lengthening lifespans, we also expect 'testing' and 'nutrition' to provide a gateway into a new market for preventative healthcare products. By leveraging the hybrid function of our chemicals and food businesses, we will continue to provide products that meet the diversifying needs of consumers.
Key projects
Manufacture and sales of feed additive amino acid, methionine and raw materials and products for feeds in each specialty area at Novus International
Development, manufacture and sales of high-performance supplements, provision of home testing services at Thorne HealthTech
Phosphate rock and fertilizer business at Compania Minera Miski Mayo S.R.L (Peru)
Sales of fertilizers, agrochemicals, seeds, irrigation tools and other agricultural supplies at Nueva Agroindustrias del Norte. (Mexico)
Manufacture and sales of agrochemicals at Mitsui AgriScience International S.A./N.V. (Europe)

Manufacture and sales of biopesticides at Certis Biologicals
Manufacture and sales of food, pharmaceutical and chemical product materials at B Food Science Co., Ltd.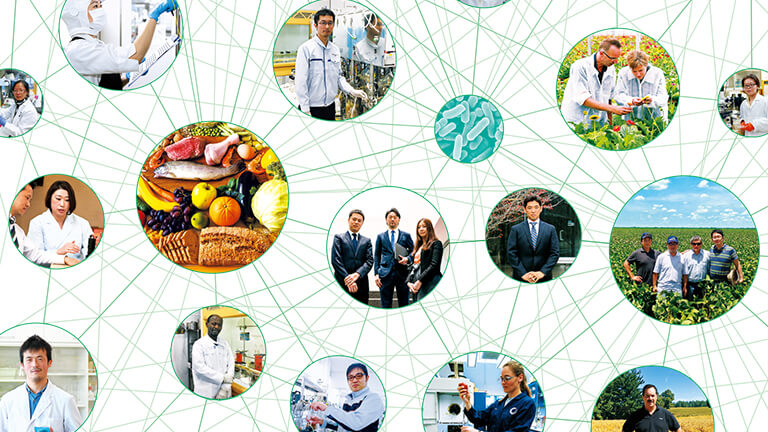 ---
---