Social Contribution Activities
Mechanisms to Facilitate Employee Participation
Mitsui & Co. encourages our individual employees to build personal connections with society through social spheres that are outside of their working lives in the company.
Each year, Mitsui & Co.'s employees in many countries and regions throughout the world participate in various social contribution activities. In 2020, largely affected by the Covied-19 pandemic, the total engaged in volunteer activities are 670 employees. We value their awareness on social issues, and encourage their volunteer works contributing to community and society.
Volunteer Activity Leave
To harness employees' participation in social contribution activities, Mitsui provides five additional days of annual paid leave to promote employees' volunteer activities.
Voice of an Employee Who Has Taken Volunteer Activity Leave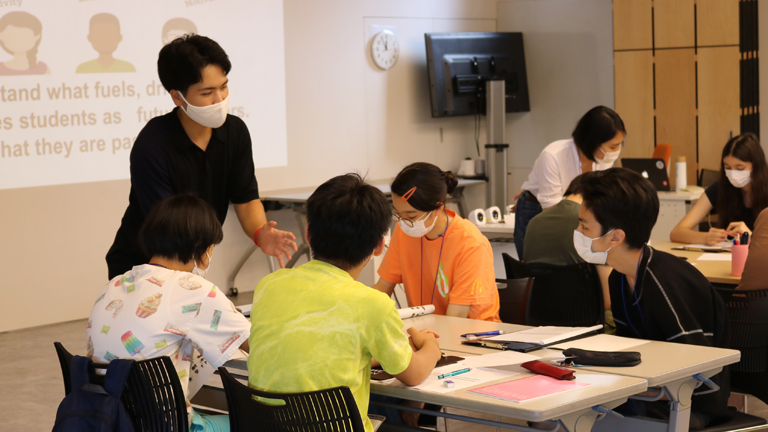 Mr. Nishikawa took part as a counselor in a summer school for junior high school students, hosted by UWC (United World College) ISAK Japan*. In part because he had studied at UWC in India, he felt that it was an important responsibility as a UWC graduate to pass on to the next generation his experiences during his school days, as well as at Mitsui & Co. Mr. Nishikawa explained that the company's volunteer activity leave system supported his decision to apply for the summer school program.
"Entering the fourth year of my career, I wanted to see the world beyond the company from an unbiased perspective. My boss and colleagues were very understanding and kindly allowed me to take the volunteer activity leave."
After completing the volunteer activities, he has been reminded once again of the importance of diversity.
"Spending two weeks with junior high school students, with whom I usually don't have opportunities to talk, exposed me to many different ways of thinking and feeling. While hearing their honest opinions and ideas, I was reminded of the importance of people mutually accepting each other's ways of thinking and trying to find the best solutions together, rather than arguing about what or who is correct. Mitsui & Co. has set "Thrive on diversity" as one of its core values in its MVV (Mission, Vision, Values). In my future work, I want to utilize what I learned through the volunteer activities, in particular the approach towards collaborating with people from diverse backgrounds."
* The United World College (UWC) is an international private education body that accepts selected high school students from countries around the world with the aim of fostering internationally minded human resources through its education programs.
By encouraging every employee to build links with society in a third environment, separate from both their work life and home life, and to take part in volunteer activities on their own initiative, Mitsui & Co. will contribute to the cultivation of human resources who respect diverse individuals and take the lead in creating new value and innovation.
Mitsui Global Volunteer Program(MGVP)
Through the Mitsui Global Volunteer Program, Mitsui encourage employees to participate in various social contribution activities that lead to solving societal issues. The MGVP is a matching gift scheme, under which Mitsui donates ¥1,000 for every employee who participates in voluntary activities each year, to NPOs, NGOs, and other organizations.
Since the launch of the program in 2009, Mitsui has donated approximately ¥37 million to 10 organizations.