Social Contribution Activities
Employee Volunteer Activities
Mitsui & Co. values the importance of each and every employee having a connection with society in a way that is different from their corporate life and increasing their interest in social issues.
Each year, Mitsui & Co.'s employees in many countries and regions throughout the world participate in various social contribution activities. In 2022, the total engaged in volunteer activities are 1,436 employees. We value their awareness on social issues, and encourage their volunteer works contributing to community and society.
Volunteer Activity Leave
To harness employees' participation in social contribution activities, we provide five additional days of annual paid leave to promote employees' volunteer activities.
Employee Initiative (1): Voice of an Employee Who Has Taken Volunteer Activity Leave
Counselor in summer school for junior high school students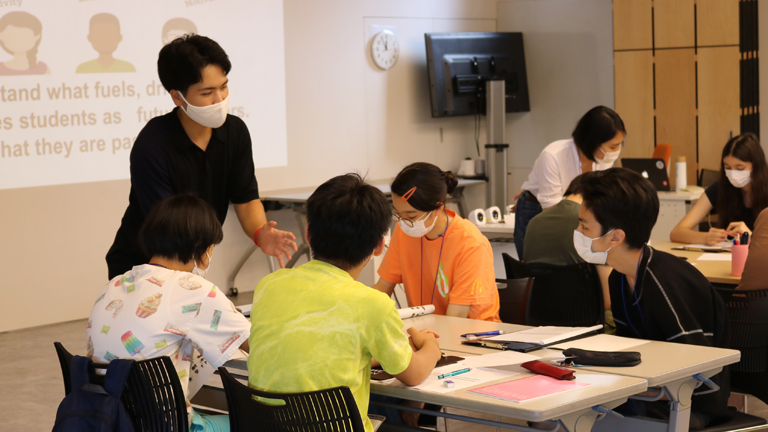 Mr. Nishikawa took part as a counselor in a summer school for junior high school students, hosted by UWC (United World College) ISAK Japan*. In part, because he had studied at UWC in India, he felt that it was an important responsibility as a UWC graduate to pass on to the next generation his experiences during his school days, as well as at Mitsui & Co. Mr. Nishikawa explained that the company's volunteer activity leave system supported his decision to apply for the summer school program.
"Entering the fourth year of my career, I wanted to see the world beyond the company from an unbiased perspective. My boss and colleagues were very understanding and kindly allowed me to take the volunteer activity leave."
After completing the volunteer activities, he has been reminded once again of the importance of diversity.
"Spending two weeks with junior high school students, with whom I usually don't have opportunities to talk, exposed me to many different ways of thinking and feeling. While hearing their honest opinions and ideas, I was reminded of the importance of people mutually accepting each other's ways of thinking and trying to find the best solutions together, rather than arguing about what or who is correct. Mitsui & Co. has set "Thrive on diversity" as one of its core values in its MVV (Mission, Vision, Values). In my future work, I want to utilize what I learned through the volunteer activities, in particular the approach towards collaborating with people from diverse backgrounds."
* The United World College (UWC) is an international private education body that accepts selected high school students from countries around the world with the aim of fostering internationally-minded human resources through its education programs.
Mitsui Global Volunteer Program (MGVP)
Through the Mitsui Global Volunteer Program, we encourage employees to participate in various social contribution activities that lead to solving societal issues. The MGVP is a matching gift scheme, under which we donate ¥1,000 for every employee who participates in voluntary activities each year, to NPOs, NGOs, and other organizations.
Since the launch of the program in 2009, we have donated approximately ¥39 million to 10 organizations.
Regional Initiatives
Vietnam: Clean-up Initiative
On February 17, 2023, a team of 37 Mitsui Vietnam employees came together for a clean-up session around the Hoan Kiem Lake and Thien Quang Lake in Hanoi. Their efforts were met with words of appreciation from both local residents and visitors to the area, leaving all those who participated feeling happy to have given back to the local community that has consistently supported them. Mitsui Vietnam will continue to contribute to local communities in Vietnam, not only through business but through the proactive participation of its employees in a variety of initiatives.
Taiwan: Mountain Clean-up Initiative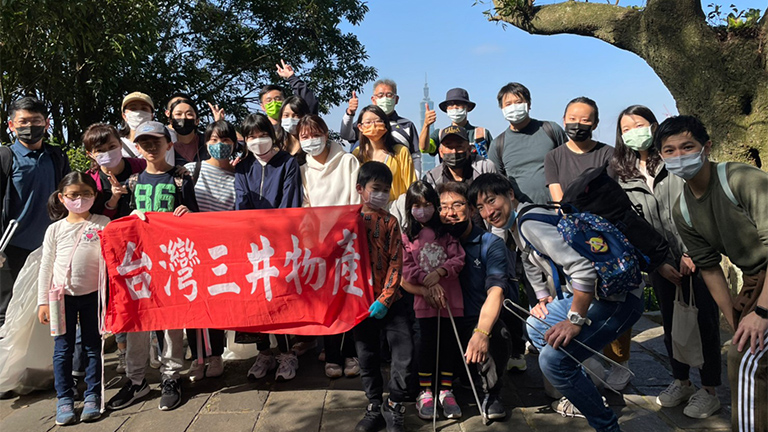 Taiwan, characterized by its predominantly hilly and mountainous terrain, is home to 268 mountains over 3000 meters. In a bid to foster greater appreciation for the beauty of Taiwan's mountains, restrictions on access to mountain forests were lifted in October 2019, and a multitude of initiatives are underway to preserve the mountain environment, including in the areas of education and infrastructural development. Mitsui Taiwan's headquarters is located in Taipei, which is a basin surrounded by many mountains. Every year, newly recruited employees of Mitsui Taiwan organize a mountain clean-up initiative as a way to promote employee well-being and unity within the company. Accompanied by their family members, employees embark on a hike up the mountains, collecting litter along the way. Mitsui Taiwan will continue to actively engage in community contribution initiatives.
Japan: Plastic Bottle Cap Collection Campaign
The Kyushu Office is working in cooperation with AEON Kyushu on a PET bottle cap collection campaign. Proceeds from the collected PET bottle caps are donated to the Japan Committee Vaccine for the World's Children (JCV), an authorized NPO. In support of JCV's activities, the Kyushu Office will continue its involvement in this campaign as an initiative in which anyone can participate.
Japan: Cleanup Activities by Arakawa River Clean-aid Forum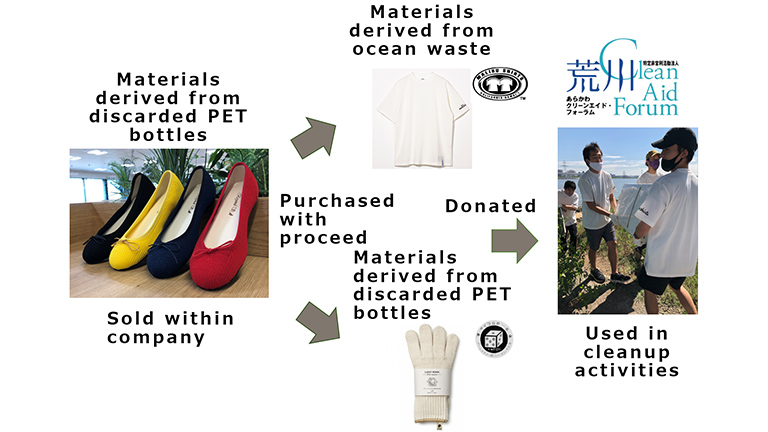 In 2021, we implemented the "Sustainable Shoes Project" as an initiative to raise awareness of sustainability within the company. Under this project, we produced and sold sustainable shoes within the company made from recycled yarn derived from PET bottles. With the proceeds of this project, we purchased about 100 "Malibu Shirts" (made from ocean waste by MN Inter-Fashion Ltd., our equity method affiliate) and about 100 pairs of military gloves (made from recycled polyester by Ishikawa Meriyasu Ltd., the producer of our sustainable shoes) and donated these to the Arakawa River Clean-aid Forum (ACF), an NPO subsidized by The Mitsui & Co. Environment Fund. On October 2, 2021, ACF led a cleanup activity in the area around Kiyosuna Bridge, in Koto Ward, Tokyo. Wearing the donated shirts and gloves, participants joined beauty queens Miss Earth Japan and Mrs. Global Earth in the cleanup activities.
---
Employee Initiative (2): Writing a book on Volunteer Activities in the Areas of Western Japan Affected by Torrential Rains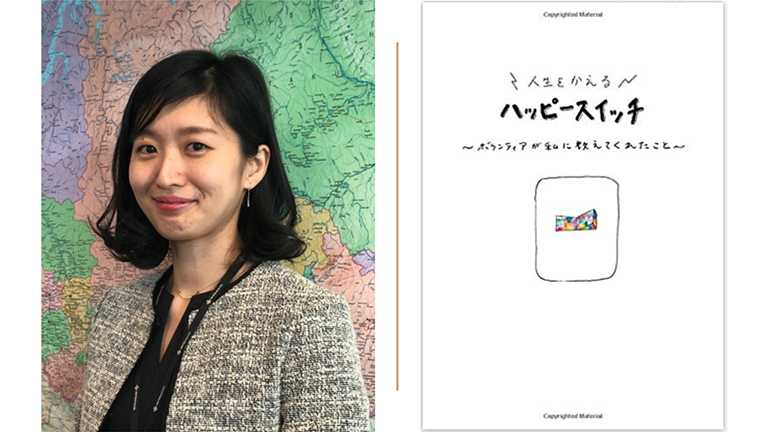 While I was in Russia for training from 2014 and 2016, I witnessed firsthand Russian people living purposefully under difficult conditions as well as the efforts of my peers to address the country's challenges. This encouraged me to learn about my own country, to help address its challenges, and to make it stronger. After returning to Japan, I started a monthly reading group to connect with others and discuss the challenges facing Japan. The month after our reading group had discussed the topic of natural disasters, large-scale torrential rains caused disaster in the west of the country. Since simply reading was not going to solve this problem, I invited my fellow group members to join me in visits to the areas affected by the disaster on weekends and during vacations.
Collectively, we made about 10 trips to cities in the affected region, participating in activities ranging from shoveling mud to community support. I went to the affected region because I wanted to help in some way, but in fact I came away from it inspired by the strong desire of the local people and those who gathered to support them to do good for the community, and the warmth of their mutual support. Experiencing the aftermath of the disaster up close made me realize that misfortunes can happen to anyone. It was also at this time that I saw Mitsui & Co.'s management making serious efforts to tackle management and social issues at the board of directors' secretariat. I developed a sense that considering societal issues as a matter of personal responsibility and addressing them in one's life and at work would strengthen both Mitsui and society. Wanting to share these experiences, I wrote a book, which has recently been published.