Mechanisms to Facilitate Employee Participation
Donations
MGVP Matching Gift for 2019 and 2020: Donations to Médecins Sans Frontières (MSF) to Support Response to the Spread of COVID-19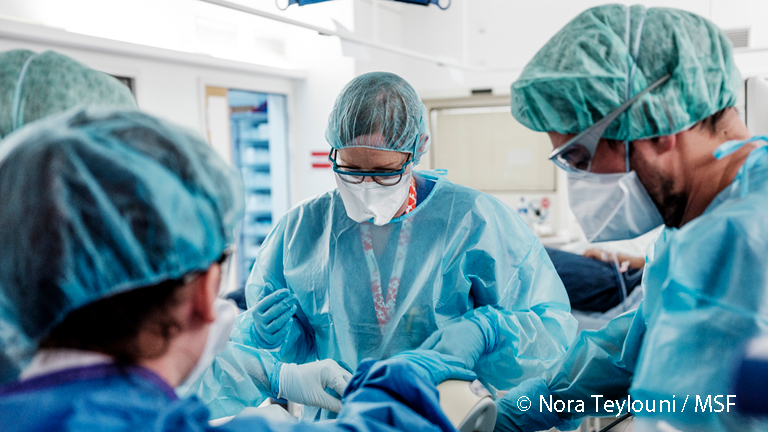 The Mitsui Global Volunteer Program (MGVP) is Mitsui & Co.'s own program to support organizations that have been working to resolve social problems. Through the MGVP Matching Gift initiative, Mitsui & Co. has been making donations in proportion to the number of our global employees who have taken part in volunteer activities. The company started these donations in 2009 and has provided a total of 33 million yen to nine organizations.
In 2019, the number of employees subject to the calculation of the MGVP Matching Gift totaled 3,916, and Mitsui & Co. donated 1,000 yen per each such employee, resulting in a total donation of 3,916,000 yen.
In 2020, due to the global spread of COVID-19, the number of employees subject to the Matching Gift calculation fell sharply to 800, and Mitsui & Co. donated 800,000 yen in total.
For these two years, we made the donations to Médecins Sans Frontières (MSF) in order to support countermeasures against the COVID-19 pandemic, which has been impacting countries throughout the world.
MSF has been making efforts in response to the spread of COVID-19 all over the world, including Europe, the Middle East, Asia (including Japan), North America, and Central and South America. MSF's policy on responding to the spread of COVID-19 includes protecting vulnerable people, maintaining healthcare, protecting healthcare workers, protecting people most at risk, and on drugs, tests, or vaccines used for the COVID-19 pandemic.
We hope that these donations have given some support to medical practitioners who are providing care at the frontline of the pandemic, despite the infection risks to themselves, as well as for the people they are helping.
| | |
| --- | --- |
| Participants in matching gift program | 4,716 |
| Amount donated | ¥ 4,716,000(¥1,000 per participant) |
| Recipient | Médecins Sans Frontières (MSF) Japan |