Employee Volunteer Activities
Employee Volunteer Programs
One person's meal makes two healthy people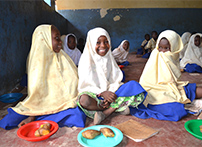 TABLE FOR TWO Total Participation
551,980meals
(From introduction in August 2008 through March 2023)
About TABLE FOR TWO (TFT)
The concept behind TFT is to share meals across space and time between children in developing countries and people in developed countries. TFT International, a certified NPO, promotes activities that aim to solve two contrasting problems: people in developing countries suffer from hunger and malnutrition, while those in the developed world suffer from health issues related to over nutrition.
TFT provides a health-conscious menu and boxed lunch option at corporate cafeterias. The dishes are based on low-calorie, nutritionally balanced, and vegetable-oriented meals that can help prevent lifestyle-related diseases.
When employees select the TFT lunch option at Mitsui & Co. cafeterias, they pay an extra 20 yen, and the company, in a matching gift arrangement, contributes a donation of the same amount, meaning that TFT receives a donation of 40 yen for each meal.
The price of a school meal in a developing country is estimated to be 20 yen, so by selecting the TFT lunch option, employees pay for two school meals in developing African or Asian countries.
In this way, the program promotes better health for people in both developing countries and the developed world.
The Kyushu Office proactively participates in the CUP FOR TWO initiative. Half of the 30 vending machines installed in the Kyushu Office have their drinks replaced with ones that meet the CUP FOR TWO guidelines. A donation of 20 yen is included in the sale price of the applicable drink products, and anyone who purchases a drink can participate in (donate to) the initiative.