Environment
Climate Change
Policies and Basic Approach
---
In addition to responding to climate change through initiatives such as the Sustainable Development Goals (SDGs) and ratification of the Paris Agreement at the United Nations, the response of companies to the recent increase in frequency and severity of natural disasters has also become an urgent challenge for the sustainability of society. Mitsui has identified "secure sustainable supply of essential products", "enhance quality of life", and "create an eco-friendly society" as materialities. We have also positioned climate change as one of the key themes for sustainability management in our Medium-term Management Plan 2023. We will contribute to the development of economies and societies in many countries and regions around the world, as well as to solutions to global challenges such as mitigating and adapting to climate change, through our global and wide-ranging business activities. In December 2018, Mitsui declared its support for the Task Force on Climate-related Financial Disclosures (TCFD). We will respond to climate change by continuing to seek ways of actively disclosing information in accordance with the recommendations of the TCFD and by setting targets that are appropriate for a global company that contribute to achieving the global targets represented by the Paris Agreement, as well as Japan's medium- to long-term targets for reducing greenhouse gas emissions.
Goals and Targets
---
Formulating Mitsui's goal to achieve net-zero emissions as our Vision for 2050, and aiming to reduce GHG impact by 2030 to half of what it is in 2020* as the path to achieve the above goal.
Reducing energy consumption intensity by 1% or higher on average per year for the Head Office and subsidiaries and offices in Japan.
* For Transition, we only assume reduction contribution attributable to the company in the future
GHG Impact in 2020
GHG Impact is calculated by deducting the Opportunity & Transition reduction contribution from our GHG emissions.
Emissions: 36 million tons, reduction contribution: 2 million tons, GHG impact: 34 million tons
Emissions breakdown: Scope 1 (3 million tons) + Scope 2 (1 million tons) + Scope 3 Category 15 (32 million tons)
Reduction contributions included contributions from our existing renewable energy business, forests, and Mitsui's Forests.
Sustainability Governance and Oversight
---
Governance System for Climate Change Response
Mitsui recognizes that responding to climate change is one of our most important management challenges. Basic policy and important matters concerning climate change are deliberated upon by the Sustainability Committee, an organization under the control of the Corporate Management Committee, and then decided on through further discussion by the Corporate Management Committee and Board of Directors. The Sustainability Committee discussed climate change-related matters a total of 13 times in the three-year period from the fiscal year ended March 2019 to the fiscal year ended March 2021. The content of these discussion was reported regularly to the Corporate Management Committee and the Board of Directors under a framework that ensures appropriate oversight by the Board of Directors.
As an organization under the Corporate Management Committee, the Sustainability Committee plans, develops, and advises on basic management policy, business activities, and corporate policies and strategies that concern climate change.
Officer in charge
Shinichiro Omachi (Representative Director, Executive Vice President, Chief Strategy Officer, Chairperson of the Sustainability Committee)
Deliberative body
Sustainability Committee
Positioning

A subordinate committee of the Executive Committee, which is the decision-making body
Important matters related to climate change that have been deliberated by the Committee are discussed and reported to the Executive Committee and the Board of Directors.

Department in Charge
Corporate Sustainability Div.
Please refer to the links below for more information on Mitsui's Sustainability Management Framework and the activities of the Sustainability Committee.
---
Our Approach to Sustainability: Sustainability Governance and Oversight
Major Climate Change-Related Discussions by the Sustainability Committee over the Past Three Years
Introduction of Internal Carbon Pricing System
At Mitsui, we introduced the internal carbon pricing system in April 2020 in order to increase the medium to long-term resilience of businesses emitting large volumes of GHG, and to encourage the development of projects that are effective at reducing GHG emissions. Regarding new business projects, in projects with potential risks or opportunities from GHG regulations, etc., we have added analysis of the potential impact of a 2°C scenario to the project screening factors, as well as the reasonableness of countermeasures in the event these risks are realized. We are also using the internal carbon pricing system to assess risks in existing projects.
Strategy and Risk Management for Climate Change Response
Major Risks and Opportunities Associated with Climate Change
Mitsui is engaged in a wide range of business in various countries and regions around the world, and we view the diverse risks and opportunities presented by climate change as important factors that we must take into account when formulating our business strategies. In each business field, we are identifying risks and opportunities accompanying climate change in a way that appropriately reflects changes in the internal and external business environments, including changes in the macroenvironment and trends and adjustments to Mitsui's business portfolio. If necessary, we revise our business strategy accordingly.
Transition risks
Policy and legal risks

Shift to the use of energy with low carbon emissions due to various national and regional policies (changes in energy and power mix)
Government-imposed restrictions on greenhouse gas emissions, with carbon taxes and cap-and-trade emissions-credit schemes

Technology risks

Changes in supply and demand in markets for existing commodities and services, the obsolescence of existing production equipment and facilities, or impairment of the value of Mitsui's ownership interests accompanying the introduction of new technologies geared toward climate change or the development and dissemination of alternative products

Market risks

Increases in demand for low-carbon products and services or fossil fuel-related products and services
Fund procurement risks due to the adoption of decarbonization policies by financial institutions and insurance companies

Physical risks
Acute risks

Interruption of the operations of project companies in Australia and the United States, etc., due to cyclones and hurricanes

Chronic risks

Impact of global warming on agricultural and marine products or impediments to operations accompanying rising sea levels
Further, for each of our segments we have analyzed the internal and external environment and identified risks and opportunities.
Segment
Risks
Opportunities
Mineral & Metal Resources

Decrease in demand for raw materials (iron ore, coal) due to increase in Electrical Arc Furnace usage in anticipation of efforts to reduce greenhouse gases
Increase in the cost of environmental measures and carbon taxes
Increase in the difficulty for obtaining environmental permits

Expansion of recycling businesses in response to circular economy
Increase in demand for raw materials for secondary batteries, copper, and aluminum accompanying the spread of vehicle electrification

Energy

Decrease in demand for fossil fuel and the subsequent decrease in the value of upstream assets

Expansion of LNG and gas businesses that have a relatively low environmental impact
Increase in demand for biofuel, hydrogen, and other next-generation energy

Machinery & Infrastructure

Change in the social conditions surrounding coal-fired thermal power businesses
Change in the supply and demand of existing businesses accompanying the creation of new technologies and new markets
Impact of extreme weather on cargo transportation volumes

Development of renewable energy generation businesses
Increase in demand for storage batteries that help address increased volatility in power grids
Circular economy and sharing

Chemicals

Change in demand for fossil fuel-derived chemicals
Change in industrial structures due to strengthening of environmental restrictions

Increase in demand for recycling in anticipation of a recyclingbased society
Increase in demand for biochemicals and energy-saving materials
Increase in demand for forests as a source of absorption and emission credit businesses

Iron & Steel Products

Decrease in demand for materials and drilling equipment for the energy sector

Reform of steel production, processing and supply chains responding to low carbon society
Increase in demand for maintenance businesses to contribute to extending life of infrastructure
Increase in demand for lighter vehicles and highly efficient motors accompanying spread of electric vehicles

Lifestyle

Change in food-producing regions accompanying global warming, etc.
Impact on supply chains of extreme weather

Rising need for securing food resources and securing stable food supplies

Innovation & Corporate Development

Increase in insurance claims accompanying a rise in physical risks

Increase in demand for insurance accompanying a rise in physical risks
Increase in business opportunities in relation to environmental derivatives
Business Impact Assessments and Countermeasures Associated with Transition Risks
We have selected business fields considered to possess significant financial and non-financial impacts in related to transition risks*, used multiple climate change scenarios to carry out impact assessments for each business, financial plan and investigated countermeasures based on the results.
* "Transition risks" refer to risks caused by changes in policy/legal regulations, technology development, market trends, market evaluation, etc.
Business fields selected for scenario analyses in FY Mar/2021
We selected the following business fields in consideration of GHG emissions from the perspective of the whole supply chain:
Oil and gas development business, and LNG business
Coal business
Thermal power generation business
Iron ore businesses
Oil & gas infrastructure and shipping businesses
Businesses that tackle climate change as an opportunity (renewable energy, next-generation energy, forest resources, etc.)
Selected scenarios
We have used the following scenarios taken from World Energy Outlook (WEO), which is published by the internationally recognized International Energy Agency (IEA):
New Policies Scenario (NPS): Scenario under which countries extend the current policies to 2040, based on greenhouse gas reduction plans submitted by each country to the United Nations. This was renamed as STEPS in WEO 2019.
Stated Policies Scenario (STEPS): Scenario that reflect the current policy targets of each country
Sustainable Development Scenario (SDS): Scenarios needed to uphold the Paris Agreement, which seeks to keep global warming within 2.0°C (and further pursue efforts to limit the temperature increase to 1.5°C) of the pre-Industrial Revolution level
Analysis Results
Oil and gas development businesses and LNG businesses
| Evaluation of the impact on existing businesses | Countermeasures |
| --- | --- |
| We have reevaluated our projects including those that have reached the final investment decision. With reference to short-term market levels and the outlooks of multiple third-party organizations, Brent Crude is expected to trend between $60 and $70 per barrel in the medium to long-term. Even under STEPS, which is a more conservative scenario than the SDS, the Company's highly cost-competitive assets are expected to maintain their advantages to a certain extent. | While facing the dual challenges of the need to realize increased volume and improved quality, renewable energy is expanding steadily. Meanwhile, fossil fuels will remain an indispensable energy source for the time being. We will strengthen the cost-competitiveness of new projects taking the carbon costs into consideration. At the same time, we will take part in gas and LNG projects, which have relatively low environmental burdens. |
Coal businesses
| Evaluation of the impact on existing businesses | Countermeasures |
| --- | --- |
| In regions such as China and Europe, we are seeing a shift toward steel production using electric arc furnaces that can process ferrous scrap as a main material and away from blast furnaces. However, the volume of production using blast furnaces is growing in India and Southeast Asia, so we predict that demand for high-quality metallurgical coal will remain at current levels. The 2°C scenario is premised on the further spread of electric arc furnace production methods as well as the realization of new, innovative steelmaking technologies, so ongoing verification of these and of their impact is required. | We will pay close attention to trends in new technologies and to progress in relation to the electrical arc furnace and the policies of respective countries. At the same time, over the medium-to-long term, steady demand for high-quality metallurgical coal centered on India and Southeast Asia is expected. We will strengthen our competitiveness while maintaining stable supplies to customers. We will also closely monitor impact on the Company's metallurgical coal business under the 2°C scenario and strengthen efforts to realize a low-carbon society together with our business partners. Additionally, we are no longer adding new thermal coal projects to our existing assets. |
Thermal power generation businesses
| Evaluation of the impact on existing businesses | Countermeasures |
| --- | --- |
| The impact on our existing businesses under the SDS will be limited, as most of our power asset portfolio is based on long-term power purchase agreements—in which consideration is paid for generation capacity rather than for generated volume. However, amid global movement toward decarbonization, ongoing verification of the value of businesses in this area is required. | We intend to gradually reduce our coal-fired thermal power footprint from our power generation capacity, while increasing our capacity in renewable energy to 30% by 2030. |
Iron ore businesses
| Evaluation of the impact on existing businesses | Countermeasures |
| --- | --- |
| Even though Chinese steel production is expected to reach its peak in the mid 2020's, decline in crude steel production and iron ore demand in China is expected to be offset by India and Southeast Asia. Even under the 2°C scenario, we predict that in the medium-to-long term, crude steel production and iron ore demand will remain steady and that any impact on existing businesses will be limited. | We will continue to closely monitor factors such as the rate at which electric furnace production methods spread and the speed of change regarding new steelmaking technologies. At the same time, we will work to make our assets more competitive while providing stable iron ore supplies to customers. |
Oil & gas infrastructure and shipping businesses
| Evaluation of the impact on existing businesses | Countermeasures |
| --- | --- |
| Our gas distribution businesses are granted exclusive long term concession rights in each of the concession areas. Also, our businesses related to offshore E&P, such as FPSO, drillships and LNG transportation have also secured earnings based on long-term contracts. Therefore, the impact on the Company's earnings under the SDS will be limited. | We will assess new projects considering medium- to long-term supply and demand trends and price movements. At the same time, we will work to maintain and enhance the profitability of each individual business while improving the stability and efficiency of operations. |
Businesses that tackle climate change as an opportunity (renewable energy, next-generation energy, forest resources, etc.)
| Evaluation of the impact on existing businesses | Countermeasures |
| --- | --- |
| We expect to see an increase in business opportunities in renewable energy, alternative energy and forest resources under the SDS. Specifically, we expect to see growth in the profitability of forest resource businesses and carbon credit businesses that sell GHG emission reductions value itself. | We will add focus in business areas which is expected to grow under the SDS (such as decarbonization technologies, renewable energy sources including distributed energy, carbon credit trading, and forest resources) by adding assets, judging by profitability and risk. |
Major physical risks and countermeasures
Under the NPS/STEPS scenario, the physical risks* would be relatively higher because the target agreed under the Paris agreement to keep global warming within 2.0°C (and further pursue efforts to limit the temperature increase to 1.5°C) of the pre-Industrial Revolution level would not be met. Mitsui has carried out a survey of the impact of physical risks over the past five years on investment assets above a certain value, as well as an analysis based on the RCP (Representative Concentration Pathway) used by the IPCC (Intergovernmental Panel on Climate Change).
* "Physical risks" refer to the risk of physical damage caused by increases in natural disasters and abnormal weather arising from climate change.
The major physical risks facing assets owned by Mitsui include the potential for localized storms, particularly strong tropical hurricanes and cyclones arising in the Atlantic and South Pacific, which could cause negative impacts on operations in our mineral and metal resources projects. Furthermore, in cases of severe damage to production plants or facilities or infrastructure, such as the roads, railways, and ports used for shipments, there is a risk that production or shipments could be suspended for long periods until these facilities are restored. On top of Mitsui's own investments, in cases when Mitsui suppliers suffered significant damage, there is the risk of the overall supply chain failing, including failures to receive supplies of raw materials. Mitsui implements measures such as taking out insurance coverage, establishing crisis management policies, and upgrading facilities as necessary. Furthermore, we are also considering the establishment of a system to assess whether each of these measures is the best possible risk mitigation measure.
Collaborating with Stakeholders
---
Participation in Initiatives
As a responsible global company, we are advancing and expanding our response to climate change by participating in initiatives that encourage appropriate information disclosure to stakeholders and that make contributions which correspond with the Paris Agreement and the achievement of Japan's medium- to long-term targets for reducing greenhouse gas emissions through initiatives based on international frameworks and wide-ranging partnerships with industry organization in Japan. Our decision to participate in each initiative is made once we have confirmed that it is compatible with our basic policy and initiatives concerning climate change.
TCFD (Task Force on Climate-related Financial Disclosures)
In December 2018, Mitsui declared its support for the TCFD (Task Force on Climate-related Financial Disclosures) recommendations, which aim to facilitate companies to recognize financial impacts arising from the risks and opportunities associated with climate change and to disclose such climate-related information.
TCFD Consortium
The TCFD Consortium was established in 2019 to promote unified action between companies, financial institutions, and other organizations that have declared support for the TCFD and as a forum to further discussion on effective and efficient corporate disclosure of information, as well as the use of disclosed information by financial institutions in making appropriate investment decisions. The Ministry of Economy, Trade and Industry, Financial Services Agency, and Ministry of the Environment participate in the consortium as observers. As a member of the consortium, Mitsui will continue to practice appropriate disclosure in line with TCFD recommendations.
CDP (Climate Change)
Since 2011, we have responded to the questionnaire from the CDP Climate Change, a global disclosure program for corporate information on climate change risks. Based on our response to the questionnaire carried out in 2020, we were granted the rating "Management Level B" in relation to Climate Change.
Maersk Mc-Kinney Moller Center for Zero Carbon Shipping
Reducing emissions is a global issue for the shipping industry. In April 2021, Mitsui became a Strategic Partner of the Maersk Mc-Kinney Moller Center for Zero Carbon Shipping (MMMCZCS), a not-for-profit international research and development center dedicated to the decarbonization of the shipping industry.
Japan Business Federation (Keidanren)
Mitsui is a member of various Keidanren committees, including the following:
Committee on Responsible Business Conduct & SDGs Promotion, which works to make the Charter of Corporate Behavior well known, disseminate and promote "Society 5.0 for SDGs", and promote corporate social contribution activities
Committee on Energy and Resources, which promotes energy policies that provide a balance of S+3E (Safety + Energy Security, Economic Efficiency, and Environment)
Committee on Overseas Development Cooperation, which aims to coordinate with national governments and international institutions for the purpose of developing infrastructure overseas, in particular, in emerging countries
Committee on Environment and Safety, which works on countermeasures to deal with climate change, formation of a circular society, and improvements in environmental regulations and systems
Japan Foreign Trade Council
As a member of the Global Environment Committee of the Japan Foreign Trade Council Inc., Mitsui monitors energy use for all trading companies and promotes reduce/reuse/recycle (3Rs) activities. We also gather information about new energy technology through our business activities, and contribute to the formulation of the Long-term Vision for Climate Change Measures.
Initiatives
---
Initiatives as Part of Business Activities
Making Electricity Use Carbon Neutral across All Business Locations in Japan (Using Renewable Energy-Derived Credits)
As one of the concrete measures aimed at realizing our 2050 vision, all power supplied to our new Head Office, which we relocated to in May 2020, meets RE100* criteria. This has been achieved by mainly procuring energy from the Fukushima Natural Gas Power Plant (Shinchi, Soma, Fukushima Prefecture), a facility which has Mitsui as one of its main investors, and by applying renewable energy-derived credits generated by the biomass power generation of our affiliate company Konan Utility Co., Ltd. ("Konan Utility"). We have also applied credits generated by Konan Utility and Mitsui's Forests to the electricity used in all offices and training centers in Japan, enabling us to make all business locations in Japan carbon neutral.
* RE100 is an international initiative whereby member companies aim to procure 100% of energy consumed in business operations through renewable energy sources. The RE100 criteria defines the amount of electricity that can be accounted for as renewable energy, taking into account the systematic differences between countries.
Investment in Totam, a Netherlands-Based Tomato Seed Company (Adaptation Initiative for Climate Change)
We have invested in Totam Seeds B.V. ("Totam"), a Netherlands-based company engaged in the development, breeding, and sale of tomato seeds.
Tomatoes represent the largest crop segment in the vegetable seed market and Totam has a proven track record in developing tomato seeds in the fast-growing active greenhouse segment. Active greenhouses offer climate control that enables year-round production and stable supply while minimizing labor, which is an issue for the global agriculture industry. As a result, this cultivation style is growing at a rate of about 8% per year.
Mitsui is placing a focus on responding to increased demand for food due to growth of the world's population, as well as ensuring a stable supply of food in adaptation to climate change and addressing increasing demand for vegetables to improve people's health and living standards. The vegetable seed business, which is a potential solution to these challenges, has been positioned as a key strategic area, and through this investment, we will contribute to the improvement of people's diets around the globe.
Environment-Related Business
Our Medium-Term Management Plan and environmental policy call for action on climate change. Our business activities are directed toward both economic development and response to climate change; therefore we engage in renewable energy projects, modal shift projects, and the expansion of other business initiatives as well as diffusion of technology that contribute to the reduction of CO2 emissions and improvement in energy consumption efficiency.
Renewable Energy Projects
In our power generation business we intend to lower coal-fired thermal power as a percentage of our equity share of power generation capacity and increase the percentage of renewable energy (including hydropower) to 30% by 2030. As of March 31, 2021, renewable energy, including hydroelectric power, accounted for approximately 14% of Mitsui's total power generating capacity of 11.1GW. We are aiming to increase the share held by renewable energy to 30% by 2030.
Please scroll horizontally to look at table below.
(As of March 2021)
Energy resources
Country/Region
Net generation capacity (Mitsui's share) (MW) *
Ratio
Target
Renewable Energy (total)
1,621
15%
More than 30%
Solar
Japan
152
U.S.
170
Mexico
104
Jordan
34
India
17
China
16
Brazil
7
UAE
2
Thai
1
Hydropower
Brazil
750
Laos
42
Spain
24
Wind
Mexico
162
Morocco
35
Argentine
33
Japan
27
Australia
21
Solar thermal
Spain
15
Biomass
Japan
6
Geothermal
Japan
3
Natural gas
7,341
67%
Less than 70%
Coal
2,002
18%
Oil
42
0.4%
Total
8,862
100%
100%
* Including assets under construction
Modal Shift
In addition to the railway leasing business that we have been engaging in over many years, we have also been actively launching and operating various railway projects, thereby developing and improving social infrastructure while promoting modal shift to contribute to green logistics. Of the rail networks in whose operation Mitsui participate as of March 31, 2021, the freight railroad network has a total route length of 10,700 kilometers, and the passenger network has a total route length of 2,810 kilometers.
Please scroll horizontally to look at table below.
(As of March 31, 2021)
Main business
Country/Region
Project size
Freight wagon leasing business
U.S.
Four global bases (U.S., Brazil, Europe, Russia):
approx. 15,200 Freight wagons, approx. 350 Locomotives
Russia
Freight wagon rental business
Brazil
Locomotive leasing business
Europe
Freight wagon transportation business
Brazil
Operating a railway network of approx. 10,700 km, and port terminals
Passenger railway transportation business
Rio de Janeiro suburban railway
Transportation record: Approx. 350,000 passengers per day (December 2020)
Rio de Janeiro Light Rail Train
Transportation record: Approx. 30,000 passengers per day (December 2020)
São Paulo metro line no. 4
Transportation record: Approx. 300,000 passengers per day (December 2020)
East Anglia
U.K.
Transportation record: Approx. 34,320,000 passengers per day (December 2020)
West Midlands
Transportation record: Approx. 29,570,000 passengers per day (December 2020)
Car sharing business
Singapore
Fleet of cars: Approx. 280
ZEV (Zero Emission Vehicle) Bus Operations in Europe
In December 2017 we invested in Caetano Bus, S.A. of Portugal. This company has been involved in the development of electric buses since 2010. In 2016 they began the sale of ramp buses used to transport passengers within airports, and in 2017 the company started commercial production and sales of electric transit buses in Europe. We are using our global network to help in the expansion of sales of the company's buses. As an example of Caetano's global expansion, a total of 34 single-deck electric buses were delivered to two London routes in the spring of 2020. The company also completed the development of an FC (fuel cell-powered) transit bus at the end of 2020. Beginning with Germany and Saudi Arabia, we have started selling FC buses that use Toyota fuel cell systems. In our partnership with Caetano Bus, we will continue looking to provide the optimal solutions suitable for operations seeking to achieve a carbon-free society.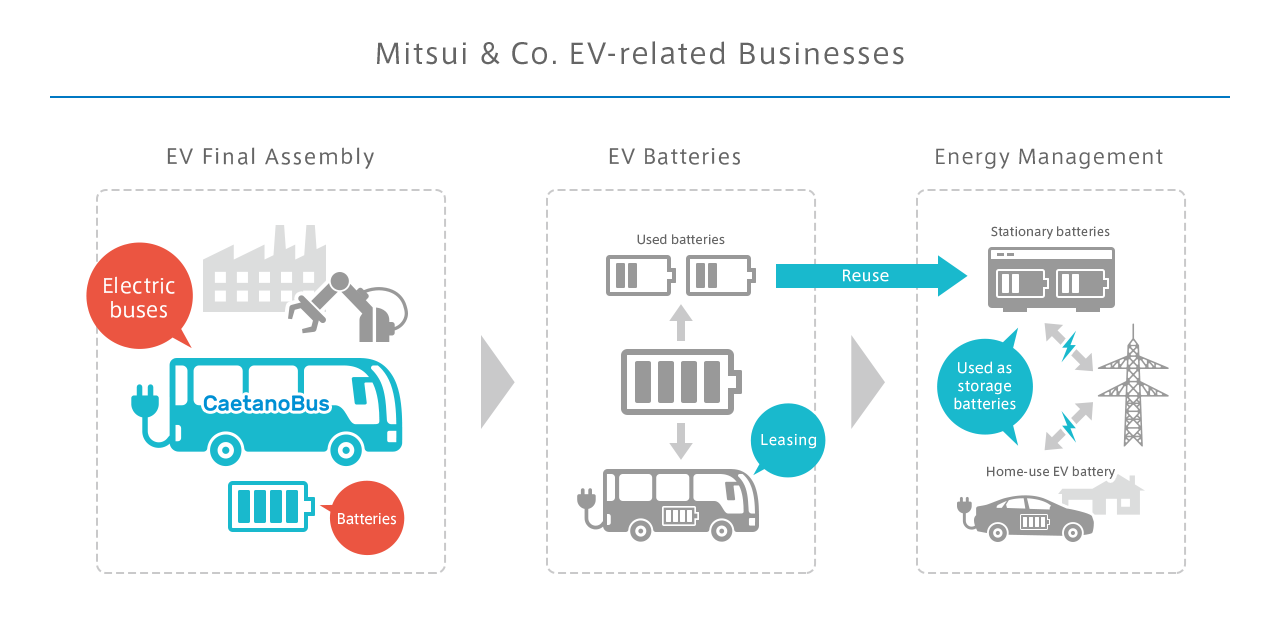 ---
360° BUSINESS INNOVATION: FULL CHARGE AHEAD: Assembling an EV value chain for the smart-city era
Supply of Carbon-Neutral LNG to Hokkaido Gas
In March 2021, we supplied carbon-neutral LNG to Hokkaido Gas' Ishikari LNG Base. This is the first time that carbon-neutral LNG has been received in Hokkaido, and also the first time for Mitsui to supply it. The carbon-neutral LNG cargo that we supplied to Hokkaido Gas in March 2021 is one of those which we supply under the long-term LNG sale and purchase agreement concluded in October 2017. We have used carbon credits to offset the CO2 emissions produced throughout its life cycle, including feed gas production, liquefaction, and combustion. We purchased the carbon credits covering this project from an international forest conservation project, and they were generated based on rigorous standards and verified by a reliable third-party. We are engaged in forest planting projects in Australia and other countries, as well as carbon credit generating projects involving initiatives such as forest conservation activities in Cambodia, and we will continue to maintain and develop forests and other carbon sinks.
Participation in the CCS Business
CCS stands for Carbon Capture and Storage. We have invested in CCS company Storegga Geotechnologies Limited ("SG") of the UK. SG, through its wholly owned subsidiary Pale Blue Dot Energy Limited, is developing the Acorn CCS project to capture, transport, and store CO2 emitted from the UK and neighboring countries, to reduce CO2 emissions and achieve CO2 Net-zero emissions by 2050, a target that has been set by the UK government. The Acorn CCS project will use depleted oil and gas fields where production has ceased as reservoirs for the storage of CO2. In this way, the project will reutilize existing infrastructure and will achieve cost competitiveness. SG is also working to commercialize its Direct Air Capture technology to extract CO2 directly from the atmosphere. We will use our knowledge of upstream oil and gas businesses and our extensive business network to help SG strengthen its business base through management participation and business alliances. Utilizing our comprehensive abilities together with the knowledge gained in the UK and Europe where development of governmental rules and regulations of Carbon Capture, Utilization, and Storage ("CCUS") businesses is advanced, we aim to develop a global CCUS business that will include Asia and will provide CO2 reduction solutions to the world.
Hydrogen Station Business in California
California is an area that is famous for pioneering environmental initiatives and as of 2020, there were over 9,000 fuel cell vehicles ("FCEV") being used in the state, around twice as many as in Japan. Mitsui was quick to take notice of this, and we have launched a business collaboration with FirstElement Fuel, Inc. ("FEF"), the largest hydrogen station developer and operator in California. FEF currently operates 23 hydrogen stations and it will continue this development into the future in order to facilitate the further spread of FCEV. Following on from passenger vehicles, from 2024, operators of commercial vehicles such as buses and trucks in California will be required to transition to zero-emission vehicles, so we plan to build a hydrogen refueling framework, including hydrogen stations, to ensure that important commercial vehicles can continue to operate over sufficient distances and with appropriate cargo capacities. As another example of our FCEV-related business, in 2016 we invested in Norway's Hexagon Composites ASA, the world leading manufacturer of lightweight pressure cylinders, and we are working with the company to develop trailers for transporting hydrogen using pressure cylinders. Together with FEF, we will use these trailers to launch a framework for lower-cost distribution of hydrogen to hydrogen stations.
CCU — Producing Methanol in the U.S. that Effectively Uses CO2
Our affiliate, Fairway Methanol LLC, decided in March 2021 to expand its facilities to increase methanol production (approximately 130,000 tons per year) by purchasing and effectively utilizing by-product carbon dioxide (CO2) from surrounding plants (up to approximately 180,000 tons per year) as the source. The decision to expand its facilities was made to maximize the effective capacity of the existing plant, and carbon dioxide sourced from neighboring plants will be used as the raw material for the plant's newly added capacity. This is a CCU (Carbon Capture and Utilization) initiative, which involves separating and effectively utilizing carbon dioxide. Under this concept, CO2 is considered a resource that can be reused as a material or fuel, thus realizing carbon recycling to reduce emissions into the atmosphere.
Demand for methanol is expected to grow steadily in the future as a basic raw material for a variety of industries, including housing and construction materials, high-performance resins for automobiles and electronics, and pharmaceuticals. Recently, methanol has also been attracting attention as a key chemical substance that can be sourced from carbon dioxide. Mitsui has been engaged in the methanol trading business for many years. In addition to the business in North America where this expansion will take place, Mitsui is also involved in a methanol production business in Saudi Arabia.
Through the stable supply of methanol, Mitsui is supporting the development of a wide range of industries and contributing to the realization of a sustainable society. Furthermore, to achieve Net-Zero Emissions by 2050, which is the target set in our Medium-term Management Plan, we will make use of our existing businesses and the know-how we have accumulated through them to promote initiatives to realize a decarbonized society.
Forest Carbon Sinks and Carbon Credit Business
We have invested and participate in New Forests Pty Limited ("New Forests") in Australia, which is engaged in the forestry asset management business in Oceania, Asia, and North America (Asset under management totaling approximately ¥470 billion and approximately 790,000 hectares). New Forests manages forest assets that store 170 million tons of CO2 equivalent (tCO2e) and generated 7.5 million tCO2e carbon credit in 2020. Mitsui is committed to the supply of sustainable forest resources and will continue to contribute to the prevention of global warming through forestry fund management businesses that create forest carbon sinks and generate carbon credit.
Green Buildings
We aim to invest in environmentally friendly buildings and make energy use in our existing buildings more efficient through environmental and energy-saving measures, in order to build a portfolio of properties that has a low environmental impact.
Japan Logistics Fund, Inc.
Listed REIT Japan Logistics Fund, Inc. ("JLF"), which is operated by our subsidiary Mitsui & Co., Logistics Partners Ltd., has acquired DBJ Green Building certification(*1) at 15 of its properties and has also received certification under the BELS(*2) and CASBEE(*3) evaluation systems. Also, in order to further advance its environmental efforts, in April 2021 the fund issued a green bond. Its green finance framework also received a Green 1 (F) rating from the Japan Credit Rating Agency, Ltd. ("JCR"), the highest rating under the JCR Green Finance Evaluation system.
*1. A certification system established by the Development Bank of Japan ("DBJ") in April 2011 to assess real estate that takes the environment and society into consideration (green buildings).
*2. A third-party certification system that indicates the energy efficiency of buildings
*3. A system for evaluating the overall environmental performance of a building. It evaluates and rates the environmental performance of buildings based on energy and resource conservation, recycling and other environmental burden reductions as well as interior comfort and landscaping.
Acquiring External Certification
We participate in GRESB*, an annual benchmarking assessment to measure the ESG integration of real estate companies and funds, as well as the name of organization which runs the assessment. In the 2020 assessment, JLF received a "Green Star" designation indicating that it was highly evaluated for both "Management & Policy" and "Implementation & Measurement" with regard to activities for environmental and social consideration and sustainability. The ratio of properties that have received green certification (based on rentable floor area) are as follows.

Acquire green certifications in 50% of portfolio in FY 2025.
Acquire green certifications in 70% of portfolio in FY 2030.
* An annual benchmarking assessment to measure ESG (Environmental, Social and Governance) integration of real estate companies and funds, as well as the name of organization which runs the assessment.
Please scroll horizontally to look at table below.
Percentage of Portfolio with Green Building Certification (as of July 31, 2021)
| Type of certification | Number of properties | Leasable area (m2) | Percentage of portfolio (by area) |
| --- | --- | --- | --- |
| DBJ Green Building | 15 | 572,847 | 44.0% |
| BELS | 3 | 153,067 | 11.8% |
List of Properties that Have Obtained DBJ Green Building Certification
Certification
Year
Property
4 Stars
2018
M-6 Funabashi Nishiura Logistics Center
M-12 Yokohama Fukuura Logistics Center
M-13 Yachiyo Logistics Center II
M-19 Souka Logistics Center
M-26 Sagamihara Logistics Center
M-31 ShinKiba Logistics Center II
M-32 Yokohama Machida Logistics Center
2019
M-11 Yachiyo Logistics Center
M-24 Shin-Koyasu Logistics Center
3 Stars
2018
M-5 Urayasu Chidori Logistics Center
M-22 Musashimurayama Logistics Center
2019
M-28 Chiba Kita Logistics Center II
M-25 Misato Logistics Center
M-39 Saitama Kisai Logistics Center
M-40 Kazo Logistics Center
List of Properties that Have Obtained BELS Certification
Certification
Year
Property
5 stars
2020
M-11 Yachiyo Logistics Center
2021
M-19 Souka Logistics Center
M-22 Musashimurayama Logistics Center
CASBEE
Yachiyo Logistics Center and Ichikawa Logistics Center II (following their redevelopment), and Yokohama Machida Logistics Center, each received an A rating under CASBEE.
---
Mirai Corporation
MIRAI Corporation, a listed REIT operated by Mitsui Bussan & Idera Partners Co., Ltd., which is a Mitsui affiliated company, has also acquired DBJ Green Building certification at six of its properties.
The percentage of environmental certifications in the portfolio is as follows. (As of April 30, 2021)
| Based on acquisition price | Based on gross floor area |
| --- | --- |
| 55.0% | 62.0% |
Certification
Year
Property
4 Stars
2019
Shinjuku Eastside Square
3 Stars
2018
Shinagawa Seaside Parktower
2019
Rokko Island DC
2020
Tokyo Front Terrace
1 Star
2020
MI Terrace Nagoya-Fushimi
Kawasaki Tech Center
---
Performance
Enhancing GHG Emissions Disclosures
Mitsui has carried out GHG emissions surveys domestically since the fiscal year ended March 2006 and in overseas since the fiscal year ended March 2009. Until now we have disclosed Scope 1 and Scope 2 GHG emissions under the GHG Protocol* control standards**. Since the fiscal year ended March 2020, we have also disclosed emissions equivalent to Scope 1 and 2 from energy, mineral and metal resources, and thermal power generation projects not covered under Scope 1 and 2, as well as Scope 1 and 2 emissions from other affiliated company businesses, as Scope 3, Category 15 (indirect emissions associated with investments). We have enhanced the scope of disclosures to promote continuous reviews of our portfolio considering our risk tolerance to climate change. This also takes into account Mitsui's strategy of using our wide range of business activities to take on the challenge of new opportunities in an agile way.
In the fiscal year ended March 2021, our GHG emissions at the Head Office, all offices in Japan and subsidiaries were 0.56 million tons, whereas GHG emissions at un-incorporated joint ventures in mineral and metal and energy resources fields totaled 3.78 million tons. In total, our emissions came to 4.34 million tons. GHG emissions from investments covered by Scope 3, Category 15 came to 0.35 million tons.
* GHG Protocol is a GHG emissions calculation and reporting standard formulated through an initiative led by the WRI (World Resources Institute) and the WBCSD (World Business Council for Sustainable Development).
** Coverage: Head Office and all offices in Japan, all consolidated subsidiaries (100%) and Un-incorporated Joint Ventures.
---
Environmental Performance Data: Energy Consumption
Additional Reference Data
Costs Associated with Climate Change
Cost of efforts to manage climate change risk: \20 million to recycle industrial waste from Head Office
Cost of research and development into managing climate change risk (subsidies for research into establishing evaluation methods for measures to support the enhancement of climate change-related reporting in developing countries): \4.5 million (April 2018-March 2021)
Equity share of production and reserve volumes for oil and gas
*1. Oil equivalent
Mitsui's equity share of interests of consolidated subsidiaries, affiliates, and non-consolidated interests
*2. Mitsui's share of sales is applied to certain projects
(Est.) assumes that the impact of the novel coronavirus has not been factored into some figures
*3. According to Mitsui's assessment standards
Our Company-Owned Forests, "Mitsui's Forests," Absorb and Fixate 160,000 Tons of Carbon Dioxide Annually
It is estimated that Mitsui's Forests absorb and fixate approximately 160,000 tons of CO2 per year, and that they have accumulated approximately 10 million tons*1. We contribute to the mitigation of climate change risk through sustainable forest management. The public value of Mitsui's Forests is estimated to be approximately 200 billion yen*2.
*1 Calculation based on the Tier 2 approach in Chapter 4, "Forest Land," in Volume 4 of the "2019 Refinement to the 2006 IPCC Guidelines on National Greenhouse Gas Inventories." In the past, the calculation was based on the Tier 1 approach in the 2006 IPCC Guidelines, but we changed the calculation method in the fiscal year ending March 31, 2021, to improve accuracy.
*2 Calculation based on the "Comprehensive Assessment of Biodiversity and Ecosystem Services" published by the Ministry of Environment