Environment
Circular Economy
Policies and Basic Approach
---
Movements to create a circular economy that will reduce the burden on the environment are gathering pace, centering on Europe, on account of the limitations of final waste processing capacity and limited resources. Mitsui & Co. promotes the recycling of above-ground resources in addition to the development, processing, and sale of raw materials and subterranean resources for various products. We recognize that in the transition to a circular economy both risks and opportunities will influence our businesses. Risks include stricter waste regulations and reduced demand for raw materials. Opportunities include new business chances as we seize upon the needs of our business partners who are conscious of and responding to the circular economy.
Based on "Create an eco-friendly society" which is one aspect of our Materiality, we identified the circular economy as one of the key themes for sustainability management in our Medium-term Management Plan 2023. We are encouraging initiatives in circular economy businesses to achieve firstly, economic growth by creating added value in resource circulation while reducing resource and energy inputs and the amount of waste generated; and secondly, a reduction in the environmental burden.
We are involved in a wide range of goods and services across all value chains, from upstream to downstream. We have been working to resolve issues for each stakeholder in our value chains. We are using the knowledge and global networks that we have developed through our businesses. In all steps of the value chain we are suggesting alternative products and methods for the effective utilization of by-products and residues produced by the goods that we deliver, and are creating value through material design. We will take up new business opportunities created by the transition to the circular economy and will promote the expansion of existing businesses, which will lead to the strengthening of our earnings base and the enhancement of our corporate value.
Business Model
We are engaged in business centered on the growth of both "trading" and "business management/business development." We use the networks with our customers and partners that we have developed in a wide range of businesses, from upstream to downstream. We suggest resources and raw materials suitable for manufacturers' new designs. We recover used resources and reuse them in other business fields. In this way, we show our comprehensive strengths as a general trading company, collect and analyze information, and seize opportunities to create new business models and new businesses in the transition to the circular economy.
Major Risks and Opportunities, and Our Response Strategies
We are expanding a wide range of businesses into many countries and regions, from upstream to downstream. We have analyzed and identified the following risks of our business in the transition to a circular economy.
Policy and legal risks

Changes in regulations and taxes related to manufacturing, sales, usage, consumption, and disposal
Increases in waste management costs
GHG emission regulations governing product manufacturing/incineration

Technology risks

Stranded assets such as production equipment in linear business models

Market risks

Soaring resource prices and volatility due to resource depletion
Supply chain disruption due to resource constraints
Loss of customers due to increased demand for environmentally friendly materials and products
Loss of customers due to a lack of supply capacity to meet the demand for recycled materials
Obsolescence of existing products and weak relationships with customers

Reputational risks

Deterioration of our brand image due to delays in adopting resource recycling
Deterioration in ESG investor relations
In each segment, we assess the internal and external business environment, identify the surrounding risks and opportunities, and formulate strategies for that business.
Please scroll horizontally to look at table below.
Segment
Risks
Opportunities
Strategies
Mineral & Metal resources

Slower growth in demand for underground resources

Expansion of metal recycling business
Increased demand for battery raw materials due to electrification and the widespread use of EVs

Strengthening the competitiveness of our existing assets
Expanding our metal recycling business
Building a value chain for battery raw materials

Energy

Decline in demand for fossil fuels as raw materials for chemicals, fall in prices

Growing demand for biofuels and other next-generation energy

Promoting next-generation fuel businesses (biofuels, hydrogen, fuel ammonia, etc.)

Machinery & Infrastructure

Changes in the social environment regarding coal-fired thermal power business
Changes in the supply and demand of existing businesses due to the creation of new technologies and new markets
Declines in sales of automobiles, railway equipment, aircraft, and industrial machinery

Renewable energy power generation business
Popularization and normalization of sharing businesses

Taking initiatives in upstream fields and working vehicles, which are ongoing issues. Tackling next-generation mobility. Focusing on developing new fields and solution businesses through proof-of-concept experiments

Chemicals

Decrease in demand for chemicals derived from fossil fuels and accompanying changes in industrial structure
Constrained supply and demand with raw materials of recycled materials due to increased demand (waste PET items, etc.)

Expanding demand for carbon management and climate change responses
Further development in Oil-to-Chemicals
Expanding plastic recycling business opportunities (recycled PET items, etc.)
Growing opportunities to create businesses for environment-friendly materials

Contributing to plastic recycling and other aspects of the circular economy
Stepping up efforts toward the realization of a low-carbon society

Iron & steel products

Industry restructuring and changes in distribution structure against the backdrop of a decrease in domestic production
Impact of high geopolitical risk on product supply and demand

Structural changes in the supply chain due to decarbonization, acceleration of the circular economy, and high demand for longer-term infrastructure
Expanding needs in the mobility field for lighter and stronger materials
More efficient channels of distribution due to progress in DX

Working life prolongation of electric furnace business and infrastructure under the theme of a decarbonizing and recycling-oriented society
Expanding domestic and overseas business bases in the electric furnace business, promotion of greening
Promoting overseas infrastructure maintenance business through a joint venture with SHO-BOND Holdings Co., Ltd.

Lifestyle

Response to a rapid increase in demand for environmentally friendly materials and recycled materials
Rising waste costs
Increased consumer awareness of product disposal

Reduction in waste losses by optimization of production and distribution volume for each region/store, based on highly accurate forecasts of demand
Growing needs for products having a low environmental impact
Expanding demand for recycled materials for containers and packaging/products
Change in consumer thinking from volume-oriented to outcome-oriented (expansion of X as a Service (XaaS))

Using digital functions such as AI and robotics to enhance and sharpen demand forecasting and logistics functions, and strengthen distribution infrastructure
Collaborating with suppliers, manufacturers, and customers, to procure materials that have a small environmental impact, procuring packaging materials, and increasing the number of developments
Verifying the effective use of by-products and proactively making proposals for the use of by-products to existing and new customers. Enhancing our ability to develop and procure materials and packaging materials that have a low environmental impact. Reducing waste generated in the value chain, reusing by-products, and developing sales channels for by-products

Innovation & Corporate Development
No particular risks

Expanding business opportunities for sharing/service-providing businesses
ICT solution businesses that contribute to greater energy efficiency

Creating new businesses utilizing new technologies and business models
Goals and Targets
---
Resource-Saving Targets for Our Offices
Improving the waste recycling rate at our Head Office and our owned office buildings to at least 90% by 2030.
Reducing the amount of paper resources used at our Head Office and all offices in Japan by 50% or more by 2030 compared with that in the fiscal year ended March 2020.
Please scroll horizontally to look at table below.
| Progress towards target | Scope | Unit | FY Mar/2019 | FY Mar/2020 | FY Mar/2021 | Level of target achievement |
| --- | --- | --- | --- | --- | --- | --- |
| Rate of waste recycling | Head Office and our owned buildings | % | 81.9 | 82.2 | 85.6 | A further 14.4% to achieve our goal |
| Units of paper usage | Annual per-employee usage of paper at our Head Office and all offices in Japan | Thousand sheets per person | 9.51 | 7.18 | 2.97 | Achieved goal for FY Mar/2021 due to working from home in response to the COVID-19 pandemic |
---
Environmental Performance Data: Waste and Paper Consumption (waste recycling rate)
Segment Goals
We aim to analyze the risks and opportunities associated with the transition to a circular economy in each segement, and create new circular economy-type businesses.
Segments
Goals
Progress
Mineral & Metal resources

In addition to enhancing our underground resource business, combine the surface resources (recycling) business with a view to sustainability and a recycling-oriented society, to achieve both economic efficiency and business sustainability

We are responding to changes in the business environment and are developing new businesses: making progress in recycling, setting up value chains for battery raw materials, and supplying low-carbon materials, etc.

Energy

Expand and accelerate our efforts in the energy solution field. To serve as the driving force for the creation of next-generation businesses, formulate and implement company-wide strategies and demonstrate our comprehensive strength by integrating business operations

Our Energy Solutions Business Unit is up and running and is speeding up next-generation energy business initiatives such as distributed RE power sources, biofuels, hydrogen/ammonia, and mobility electrification.

Machinery & Infrastructure

Group management practice, enhance EV/FCV, incorporate growth in the MaaS field, expand the platform to capture the growth in Asia
Expand sales and leasing system through global network partners
Reuse used machines to extend the service life of plant and equipment

We have made progress in new initiatives such as the platform-type infrastructure business, next-generation mobility, space, environment/DX business, etc.
In addition to sales in Chile, Peru, Russia, The Philippines, etc. (where demand for passenger and transportation vehicles has increased with economic growth) we have begun a leasing business in Brazil
We have been promoting conversion of passenger aircraft to air freighters and their reuse.

Chemicals

Develop and recycle environmentally friendly materials and products, and create and enhance recycling and other recycling-oriented businesses

We are promoting recycling businesses to help achieve a circular economy
We are participating in CLOMA (Japan Clean Ocean Material Alliance) to help solve problems of plastic waste in oceans
We are studying the development and business of low environmental impact materials and products with partner companies in the fields of plastics, biochemicals, and paper.

Iron & steel products

Take on board environmental changes such as a decarbonized society, circular economy, and next-generation mobility. While using DX (Digital Transformation), strive to discover and expand business in the four areas of mobility, infrastructure, energy, and distribution

We are enhancing our IMR (Inspection, Maintenance, and Repair) businesses as we head towards the realization of a circular economy. Through a joint venture (SHO-BOND & MIT Infrastructure Maintenance (SB&M)) between our Company and SHO-BOND Holdings, we have established CPAC SB&M Lifetime Solution Co., Ltd. (CPAC SB&M) together with Thailand's leading materials conglomerate Siam Cement Group (SCG).
We have established Horizon Ocean Management, Ltd. jointly with Hokutaku Co., Ltd., and have launched an inspection and maintenance business for offshore wind power generation facilities in Japan.

Lifestyle

Utilize digital functions to create products and services that consumers want, deliver them through the optimal distribution network, and create affluent and healthy lives through our businesses
Promote the development of a circular system for adding value to the by-products of our food value chain and expanding sales channels by cultivating demand
Increase the development, procurement, and handling of materials and packaging materials in our business that have a low environmental impact, and promote the reduction of the environmental impact in our business

In our distribution business, we are expanding points of consumer contact using digital functions. We are enhancing manufacturing functions utilizing consumer information and are capturing growth in the EC market. We are improving functionality and efficiency by consolidating our domestic intermediary distribution subsidiaries, and we are considering integrating the core operating companies in our fashion and textile businesses.
We are providing customers with thin-walled, lightweight, and simplified (top-sealing, etc.) food containers and packaging materials (reducing packaging usage).
We are using biomass film, biomass ink, aluminum-free paper cartons, thinner wood, recycled film, and forest-certified paper.
We are effectively using by-products such as soybeans, rapeseed, wheat, sesame, and corn for livestock and METI feed.
Sugar cane fiber is used as fuel for power generation.
Excess sludge generated by wastewater treatment is dried and used as boiler fuel.
Cut strawberries with their leafy calyxes are squeezed to make juice
Tea leaf residue is used as a raw material for compost.

Innovation & Corporate Development

Further strengthen the earnings base of our domestic core affiliated companies. Create businesses using new technologies and business models, and co-create with other Business Units and external partners

Our subsidiary MKI (Mitsui Knowledge Industry) has a cloud-based energy-saving management service "GeM2" that supports both energy-saving measures and comfort maintenance. MKI also provides a cloud-based remote monitoring service that supports the stable operation of solar power generation facilities.
Our affiliate Air as a Service., Ltd. (Aaas) provides services that optimize the air-conditioning environment and maximize energy-saving effects by remotely monitoring and controlling commercial air-conditioning and ventilation systems.
Sustainability Governance and Oversight
---
Sustainability Management
The Sustainability Committee works under the Executive Committee to plan, formulate and provide recommendations on basic management policies, business activities, and corporate policies and strategies related to the circular economy.
The Sustainability Committee is structured so that its activities are appropriately supervised by the Board of Directors, and matters discussed by the Sustainability Committee are regularly discussed and reported to the Executive Committee and the Board of Directors.
Officer in charge
Shinichiro Omachi (Representative Director, Executive Vice President, Chief Strategy Officer, Chairperson of the Sustainability Committee)
Deliberative body
Sustainability Committee
Positioning

A subordinate committee of the Executive Committee, which is the decision-making body
Important matters related to the circular economy that have been deliberated by the Committee are discussed and reported to the Executive Committee and the Board of Directors.

Department in Charge
Corporate Sustainability Div.
Please refer to the links below for more information on Mitsui's Sustainability Management Framework and the activities of the Sustainability Committee.
---
Our Approach to Sustainability: Sustainability Governance and Oversight
Business Unit Task Force
The Circular Economy Task force has been set up spanning several Business Units. The Taskforce analyzes the external environment and examines business opportunities at each Business Unit. The Taskforce reports the results of its analyses and the details of its considerations to the head of each Business Unit and the management members.
| | |
| --- | --- |
| Basic Materials Business Unit | Launched a task force in October 2018 as a platform for exchanging information on the circular economy within the Business Unit, and regularly disseminating information related to the circular economy within our Company. In April 2020, the Circular Economy Promotion Team (CET) was formed under the direct control of the Business Unit's COO with 1 full-time and 4 dual-assignment members and began working on specific circular economy projects. With its work-volume increasing, CET has grown into 1 full-time and 9 dual-assignment members (2 of which are main assignment members). |
| Performance Materials Business Unit | In June 2021 the Circular Economy Promotion Team (CET) was set up under the direct control of the Unit's general manager (with 2 full-time and 6 part-time members). The CET is involved in the creation of new circular economy-type businesses within the Business Unit, providing support for cross-Unit initiatives, and the dissemination of related information. |
| Iron & Steel Products Business Unit | In March 2021 the Green Steel Initiative Team was set up under the direct control of the Unit's general manager (with 2 full-time and 2 part-time members). Together with the coordinators (11 people) in each division and at the Unit's overseas offices, the Team creates new businesses involving such areas as green procurement, hydrogen and CCUS, electrification, and the circular economy. The Team also provides support for cross-Unit initiatives, and the dissemination of related information. |
Collaborating with Stakeholders
---
Participation in Initiatives
We are promoting and expanding our efforts for the circular economy through participation in initiatives. Our participation in each initiative is decided after confirming that it is consistent with our basic policy on the circular economy.
CLOMA (Japan Clean Ocean Material Alliance)
CLOMA was established in January 2019 to find solutions to the emerging global challenge of marine plastic debris through the sustainable use of plastic products, the development and introduction of alternative materials, and the acceleration of innovation. Mitsui is one of the 26 secretary companies. As of May 2021, 419 companies and organizations have joined CLOMA, including a few of Mitsui's subsidiaries namely, Mitsui & Co. Plastics Ltd., Mitsui Bussan Chemicals Co., Ltd., Mitsui Bussan Packaging Co., Ltd., and Vendor Service Co., Ltd.
Mitsui participates in the Dissemination & Promotion Working Group, which shares technological information to make it easier to select the best alternative materials for each application, the Technology Working Group, which holds technological exchanges and technological seminars on the latest development results, and the International Working Group, which collects information through collaboration with international organizations and research institutions and provides information and technological consulting services in developing countries. Mitsui chairs the Indonesia Cooperation Working Group, which was formed under the supervision of the International Working Group, and plans contributions with a focus on specific countries. Looking ahead, Mitsui will continue to take the actions needed to help resolve the problem of marine plastic waste.
CEFLEX (Circular economy for flexible packaging)
CEFLEX is a European collaborative consortium of companies and associations representing the entire value chain of flexible packaging. CEFLEX is exploring the development of infrastructure systems to collect, sort, and recycle plastic flexible packaging. Mitsui has participated in the consortium since 2018 as one of more than 200 companies that are involved in the plastic packaging materials value chain. Mitsui has been playing active roles in various work groups and will continue to contribute to the realization of a circular economy through its participation in CEFLEX.
Japan Partnership for Circular Economy
As the trends towards a circular economy are accelerating globally, the Japan Partnership for Circular Economy has been established by the Ministry of the Environment, the Ministry of Economy, Trade and Industry, and the Nippon Keidanren Federation, to enhance public-private collaboration and further foster the understanding and support of a wide range of stakeholders, including companies in Japan, for the circular economy. Mitsui has been participating in this partnership since March 2021. Through this partnership, we will help improve the competitiveness of Japanese companies in the field of the circular economy.
Collaborating with NGOs/NPOs through Environmental Funds
A Project to Reduce Levels of Marine Waste by Studying the Urban Arakawa River
At the annual general meeting of the World Economic Forum (WEF) held in January 2016 (Davos 2016) it was announced that by 2050, the amount of plastic waste floating in the ocean will exceed the amount of fish unless each country introduces a strict recycling policy. At present, some 12 million tons of plastic waste are dumped into the oceans each year. That amount is calculated to be equivalent to one garbage truck dumping its contents into the ocean every 10 to 30 seconds. This amount of plastic debris is forecast to double by 2030 and to double again by the 2050s.
Researchers say that more than 60% of marine debris is derived from municipal waste that flows to the sea via rivers. Marine debris generated by Japan is estimated to be 20 to 60 thousand tons annually, based on data sources from overseas. Hardly any studies have been made in Japan on how much municipal (river) waste is created per person.
We are involved in activities to reduce the sources of marine debris. Through our support for the NPO Arakawa River Clean-aid Forum, a survey of the garbage flowing from riverside towns into the river at one of the Arakawa River tributaries (enclosed) is being conducted. The aim is to gain an understanding of the per-capita amount of garbage generated, and also investigate the amount of river waste generated by riverside inhabitants, which has hardly been studied at all to date.
Creation of a Sharing Society Based on the Circulation of Used Soap
Happy Steps is an NPO organization set up after its founder, Reiko Arai, realized the value of soap from her experiences with people in emerging countries suffering from skin diseases due to a lack of access to soap to wash themselves. All the core members of Happy Steps are women and they shine the spotlight on the value of second-hand things like used bicycles, vinyl umbrellas, and other items that are "such a waste to throw away." The NPO strives to reuse these items and create jobs in the process. In support of this philosophy, we are involved with reducing the amount of soap waste that was previously dumped as industrial waste, by providing subsidies to Happy Steps. As a specific example, every year 280 tons of used soap from hotel rooms plus waste soap generated in soap manufacturing is re-processed at welfare workshops and then reused by donating it to child welfare facilities and the poor in developing countries. To this end, we aim to contribute to environmental conservation and raise awareness in society as a whole by building recycling systems in collaboration with hotels and manufacturers.
Collaborating with Local Organizations through Environmental Funds
A Community Waste Management Improvement Project for Waste Pickers (Waste Collectors) in Khulna, Bangladesh
The Japan Environmental Education Forum (JEEF) is an NGO that helps to develop and train people who will be responsible for the creation of a sustainable society, through environmental education that emphasizes practical experience and dialogue. We are aiming to build a model case to improve waste management in the community through the collaboration of local government, waste pickers, and the residents of Khulna. Through our support for JEFF, consideration is being given to the role that waste pickers (waste collectors) play in waste management in Khulna city in Bangladesh. This is achieved by raising social awareness of waste pickers, actively involving residents (including the pickers) in waste management, promoting environmental education about waste management within the local region, and through projects to demonstrate the value of the waste that the waste pickers collect.
Initiatives
---
Initiatives by Segment
Mineral & Metal resources
We are actively promoting recycling to meet the needs of a recycling-oriented society. Our subsidiary Mitsui Bussan Metals Co. promotes the recycling of various non-ferrous scrap such as aluminum, copper, and titanium, and waste printed circuit boards contained in electrical appliances. Sims (our investee and one of the world's leading recyclers) recycles metals and processes municipal waste from New York City. Sims is working on a power generation business utilizing methane gas generated from landfills. Our affiliated company Kyoei Recycling Co. uses automobile crusher dust as feedstock for a gasification melting furnace, to produce gas for use as fuel at the nearby Kyoei Steel Yamaguchi Division works. It sells the co-generated hot slag to smelters.
Energy
Tomakomai Biomass Power Generation Co., Ltd., which was established jointly by Mitsui & Co., Iwakura Corporation, Sumitomo Forestry Co., Ltd., and Hokkaido Gas Co., Ltd., mainly uses unused wood thinned from forests in Hokkaido to create woodchips to be used as fuel for power generation. The company transmits electricity in Hokkaido 24 hours a day. The source of the wood is the material that is periodically thinned from forests, to enable the remaining trees to grow healthily. Until now, the forestry industry has had little use for this thinned material and it has simply been dumped in the forest. By operating a circular power generation business that makes effective use of this waste material, not only is the CO2-absorbing capacity of the forests enhanced, but we are also contributing to local communities by revitalizing forestry in Hokkaido and helping to improve the conservation function of the living environment.
Machinery & Infrastructure
As in developed countries, we expect the transition from "ownership" to "use" will accelerate in Central and South America. We have invested in Inversiones Mitta SpA ("Mitta"), which owns Autorentas del Pacifico SpA, Chile's largest fleet management operating and car rental company. Leveraging Mitta's vehicle operating lease (BtoB), which has a large market share in the Chilean mining and energy industries, and its long-running local car rental business (BtoC), we are striving to promote the leasing, rental, and sharing service businesses and are working to expand the value chain on the consumer side.
Chemicals
Our Basic Materials Business Unit has signed a shareholders' agreement with Veolia Japan K.K. ("Veolia") and Seven & i Holdings Co., Ltd. ("Seven & i") on a joint venture for a new PET recycling factory in western Japan (recycled PET resin production capacity: approx. 25,000 tons per year). The three companies are expected to make a final investment decision expeditiously, after which the joint venture company will be established, with the goal of starting plant operations as early as possible. Starting with this project, we will contribute to the establishment of a circular economy by investigating and promoting similar projects to help solve waste plastic problems in Japan and overseas.
Iron & Steel Products
SHO-BOND & MIT Infrastructure Maintenance ("SB&M") which was established through a joint investment between Mitsui and SHO-BOND Holdings ("SHO-BOND") has established CPAC SB&M Lifetime Solution Co., Ltd. joint-venture company with partner The Concrete Products and Aggregate Co., Ltd ("CPAC") (a core company of the building materials business of Siam Cement Group ("SCG")). The objective is to develop a maintenance business for infrastructure structures in Southeast Asia. (Investment ratio: CPAC 51%、SB&M 49%) SB&M will utilize Thailand's leading conglomerate SCG's business base, Mitsui's global network, and SHO-BOND's knowledge and technical skills for preventive maintenance to preserve and lengthen the service life of infrastructure, with the goal of responding to infrastructure maintenance needs in Southeast Asia, with Thailand as a hub.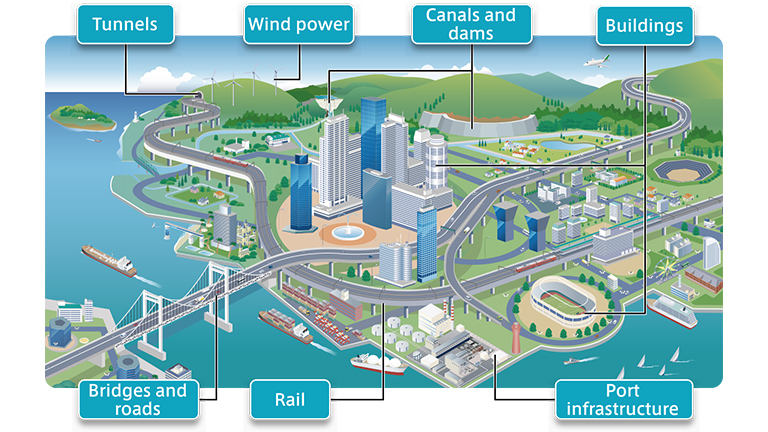 Lifestyle
Our Food Business Unit is setting up a circulating system through the establishment of an agricultural product value chain and animal protein value chain that will effectively use by-products generated during the production of agricultural and livestock products. To give some specific examples, the circulating system will use by-products from soybeans, rapeseed, wheat, sesame, and corn as livestock and fisheries feed. Cut strawberries with their leafy calyxes are squeezed to make juice. Tea leaf residue will be used as a raw material for compost. Sugar cane fiber will be used as fuel for power generation. Excess sludge generated by wastewater treatment will be dried and used as boiler fuel. Activities such as these are promoting the expansion of sales channels for by-products.

Innovation & Corporate Development
Our subsidiary MKI (Mitsui Knowledge Industry) has a cloud-based energy-saving management service "GeM2" that supports both energy-saving measures and comfort maintenance, for clients that own multiple facilities such as movie theaters, supermarkets, and fitness gyms. Temperature and humidity data from each facility are gathered and sent to a data center to optimally manage the air conditioning (gas or electric) and fans.
In addition to the start/stop management of conventional demand controllers, the system's precise control of temperature and operating mode achieved a significant energy saving while maintaining comfort. MKI also offers a solar panel generation monitoring service that remotely monitors from the cloud. Even though solar power facilities are described as being "maintenance-free," there are many maintenance issues that include panel damage, dirt and other surface fouling, equipment failure, and aging deterioration. Systems that can quickly become aware of such issues need to be considered, and we are taking initiatives to respond to these needs. We are developing a subscription-based service that provides users with comfortable air-conditioned spaces for a fixed monthly fee through Air As A Service Co., Ltd. ("AaaS"), a company that we established with Daikin Airtechnology and Engineering Co., Ltd. AaaS installs and owns air conditioning equipment on behalf of the facility owner and provides optimal operation management for each facility by utilizing an IoT system which remotely monitors the operating status of each air conditioner 24 hours a day, 365 days a year and by analyzing the operational data of the air conditioning equipment. By visualizing the operating status of equipment and eliminating waste, energy consumption and related costs can be reduced by approximately 20% compared with before the service was introduced. Moreover, by understanding the operating duration and load, and performing appropriate preventive maintenance, the service life of the equipment can be extended. We will continue to support the improvement of energy efficiency in buildings, factories, and other facilities through AaaS. AaaS received an Energy Conservation Center Chairman's Prize in the Products and Business Model category at the Energy Conservation Awards 2020 sponsored by the Energy Conservation Center, Japan.