The Mitsui & Co. Environment Fund
Introduction to Grant Projects
INDEX="74" NAME="Creation of a recycling society based on the circulation of used soap" TYPE="活動助成," YEAR="2015年度," AREA="日本全国,関東," KIND="NPO," ORG="Happy Steps"
Happy Steps
Creation of a recycling society based on the circulation of used soap
Activity grant
Project Description

Creating a recycling process through the reuse of soap from top domestic hotels
Decreasing the current volume of disposed soap refuse sent to landfills as industrial waste. Specifically, the project collects 280 tons of used soap disposed from hotel customers, as well as waste from soap manufacturers, and it is reprocessed into laundry detergent powder for community workshops. The reprocessed washing powder is donated to child welfare facilities and the needy in developing countries, with the aim of reutilization. We are working to improve the awareness of society as a whole, as well as contribute to environmental preservation of the earth and soil by cooperating with hotels and manufacturers to build a mechanism for recycling. [Project No. K15-0022]
Fields

Resource Circulation
Grant year

FY15/3 Activity Grants
Grant term

3 years
October 2015 - September 2018
Grant amount

5,000,000 yen
Activity region

Tokyo; Sayama City, Saitama Prefecture; 219 child welfare facilities in Japan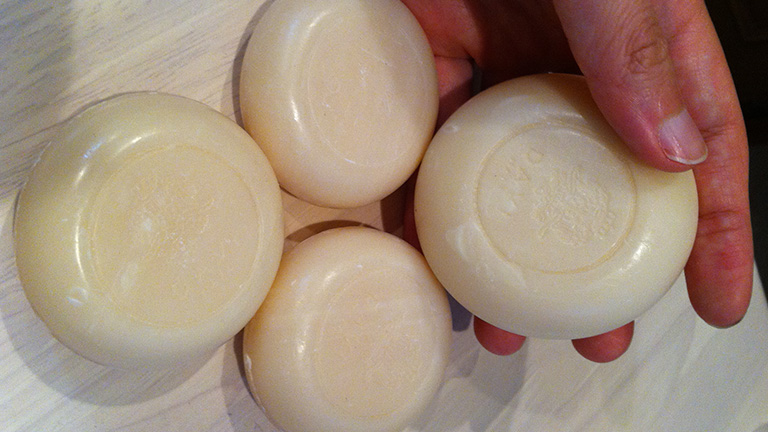 Overview of the Organization

Project organization

Specified nonprofit corporation Happy Steps

Representative

Representative director Hirotake Atsuko

Establishment

2010

Establishment purpose

This group was established as a private organization in 2010 through a study group on improving sanitary conditions in developing countries. In October of the same year, six volunteers gave a talk to 250 children at the International School of the Sacred Heart regarding good hand washing practice, and the following March in 2011, the establishment was registered as an NPO. It continues to conduct activities based around the concept of "not being bound by existing framework, we will find new methods to dig out hidden treasures and gifts, and little by little make the world happier."

Recent activities

The disposal of used goods produces the problem that go against the fostering of an environmentally friendly society because of things such as the energy taken to produce the item, and securing landfill sites. In response to these social problems, our organization has reprocessed used soap since 2010 and have distributed it in developing countries like Uganda to prevent the spreading of infectious disease. In addition, soap is continuing to be reprocessed into washing powder at welfare workshops and donated to child welfare facilities. Meanwhile, in Uganda, bikes which aid the transportation of life water supply are being sold, which contributes to high income and increased employment.

Staff

5 full-time staff members, 3 part-time staff members, 42 full members

WEB site

Representative's comment

Small, small soap. Through this recycling, we have created a new value in society. This is helping to solve the environmental and social problems of staying in luxury hotels. We will continue striving to ensure that these enjoyable experiences lead to the happiness of everyone!