The Mitsui & Co. Environment Fund
Introduction to Grant Projects
INDEX="73" NAME="Conserving rare bonobo monkeys in the Democratic Republic of the Congo by monitoring infectious diseases and awareness-raising activities" TYPE="活動助成," YEAR="2015年度," AREA="中東・アフリカ," KIND="公益法人," ORG="Japan Monkey Centre"
Japan Monkey Centre
Conserving rare bonobo monkeys in the Democratic Republic of the Congo by monitoring infectious diseases and awareness-raising activities
Activity grant
Project Description

Surveying for infectious diseases and raising awareness amongst local peoples of the bonobo great apes inhabiting the Democratic Republic of the Congo.
This project carries out surveys to determine the levels of infectious diseases among bonobo populations inhabiting the Mbali region of the Democratic Republic of the Congo in Central Africa. It also supports bonobo conservation by collecting data to monitor health. It then carries out awareness-raising activities based on the results of these to deepen understanding in local communities regarding bonobos and the natural environment. It is also contributing to building a foundation to ensure local plans for eco-tourism are safe for both people and bonobos. [Project No. K15-0018]
Fields

Ecosystems and the Symbiotic Society
Grant year

FY2015 Activity Grants
Grant term

3 years
October 2015 - September 2018
Grant amount

13,998,000 yen
Activity region

Mbali region, Bandundu Province, Democratic Republic of the Congo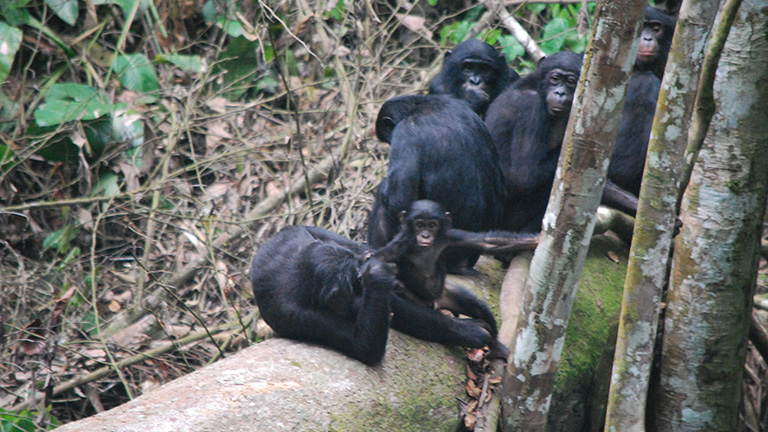 Overview of the Organization

Project Organization

Japan Monkey Centre

Representative

Tetsuro Matsuzawa, General Director

Establishment

1956

Establishment purpose

Established as a base for primate research in the early days of Japanese primatology. It currently carries out activities aimed at conserving primate species and their habitats based on investigative research, with the goal of contributing to the development of education, culture, and scholarships, as well as the harmonious coexistence of societies around the world through activities such as publishing books and public educational materials, gathering materials such as samples, and establishing and operating zoos that are considerate of animal welfare.

Recent activities

Comprehensive research into primates
Activities aimed at conserving primates and their habitats
Awareness-raising and environmental education relating to primates
Publication of books and academic articles relating to primates
Collecting, managing and exhibiting materials relating to primates, such as samples
Establishing and operating zoos considerate of animal welfare
Providing technical instruction and support regarding the appropriate rearing and exhibition of primates
Holding lectures and academic forums relating to primates
Training people in exhibition, conservation, environmental education, and public awareness raising relating to primates

Staff

42 full-time staff members, 5 part-time staff members

WEB site

Representative's comment

As these bonobos are a rare species that only inhabits the DRC, we need to avoid an outbreak of infectious disease in the project area. Through this project, we also hope to raise the awareness of infectious diseases amongst local people.