Mitsui & Co. (U.S.A.), Inc.
Our Business
Iron & Steel Products
Business Fields
Iron and steel products and semi-finished products
Semi-finished steel products (slabs, billets, etc.), flat-rolled steel products (hot-rolled sheets, cold-rolled sheets, coated sheets, tin plates, electrical sheets, etc.), tubular products, pipes, wire rods, plates, automotive steel, special steel, stainless steel, and others.
Investments in iron and steel businesses
Steel processing service centers (processing and distribution operations), manufacturing operations (electrical furnaces, etc.), iron and steel trading companies and others.
Major Activities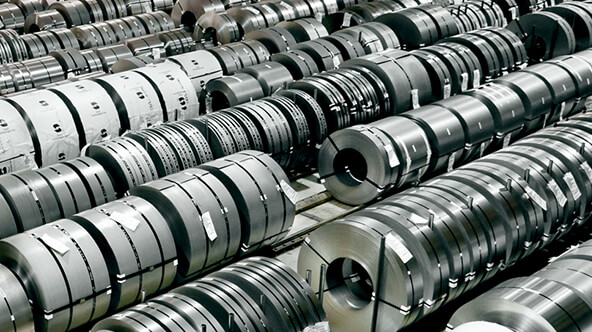 Since the 1960s, Mitsui USA has been a leading value chain provider, specializing in trading of steel products, streamlining processes at each step of the value chain, managing inventory, process coordination, as well as focusing on further value creation through steel related investment activities. Mitsui USA maintains alliances with steel makers, steel processors, and major local customers in the U.S. and other countries.
We have several platform companies. One is Steel Technologies LLC (Steel Tech), which Mitsui USA acquired in June, 2007 and currently a 50/50 JV with Nucor Corporation. Steel Tech is one of the country's leading steel processor operating more than 20 steel processing facilities in North America. Steel Tech processes flat-rolled steel and provides a wide range of value added services, including slitting, pickling, cold strip processing and automotive blanking. Targeting a full range of steel consuming industries, major customers include the North American automotive manufacturers and affiliated auto component/parts suppliers.
Champions Pipe & Supply and Cinco Pipe & supply, both wholly owned subsidiaries serves as a foundation to distributing oil country tubular products in the NAFTA region.
Strategic investments are also maintained in automotive parts manufacturers such as Seymour Tubing, Inc. and PK U.S.A., Inc.