Mitsui & Co. (U.S.A.), Inc.
Mitsui USA's Policy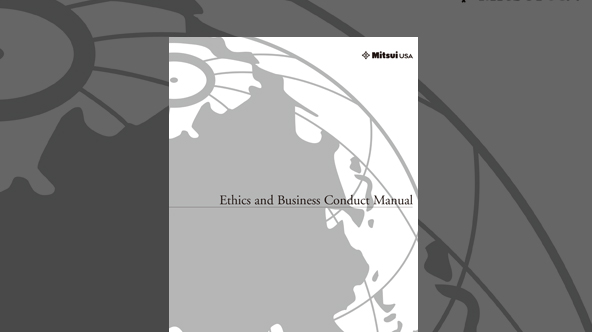 Mitsui & Co. (U.S.A.), Inc. ("Mitsui USA") greatly values our reputation for integrity and high ethical standards. It is Mitsui USA's policy to comply with all applicable laws and regulations, including, but not limited to, those pertaining to customs, antitrust, anti-boycott, international trade controls, employment and the environment. It is also our policy to conform to the highest ethical standards in conducting our business.
To ensure that this policy is followed and to guide us, the Board of Directors of Mitsui USA adopted the Statement of Policy and Business Conduct Guidelines and all officers, employees and agents are expected to comply fully with them.
In March 2007, Mitsui USA distributed to all employees of Mitsui USA the "Ethics and Business Conduct Manual" to ensure that we all understand the importance of compliance with U.S. laws and regulations and adherence to the highest ethical code of behavior in light of the existing Statement of Policy and Business Conduct Guidelines.
---
Mitsui USA's Compliance Program
The President and CEO of Mitsui USA is ultimately responsible for supervising compliance at Mitsui USA and he also a presiding member of the Mitsui Americas Compliance Committee, which oversees implementation and effectiveness of compliance programs in the Mitsui Americas Business Unit.
The Chief Compliance Officer (the "CCO") is appointed to assist the President and CEO of Mitsui USA. The CCO and its Office (the "CCO Office") are responsible for developing and implementing compliance programs and for maintaining and improving the effectiveness of such programs. The CCO Office coordinates and provides various seminars and educational programs designed to educate the officers and employees of Mitsui USA about the importance of complying with applicable laws and regulations and maintaining the highest ethical standards and distributes explanatory materials to assist in ensuring Mitsui USA's compliance with all applicable laws and regulations.
The CCO Office also handles general compliance matters, U.S. customs-related matters and international trade controls; consults with the Human Resources Division (the "HR Div.") for employment matters and the Legal Department for general legal matters, including compliance with antitrust laws. The CCO Office further provides educational seminars to inform employees of their compliance obligations,.
Mitsui USA's Reporting System in Case of Potential Violations
Mitsui USA has also set up a reporting route by which any employee of Mitsui USA may report potential or actual compliance violations to the CCO, Legal Department or HR Div., as appropriate, including violations of U.S. laws and regulations, the Statement of Policy, Business Conduct Guidelines and Ethics and Business Conduct Manual. Mitsui USA has also set up a telephone and e-mail reporting hotline, called Ethics Point Reporting System, which is administered by the CCO Office. The hotline is anonymous, if requested by the employee. Mitsui USA encourages the reporting of all potential violations and will not tolerate punitive or retaliatory action taken against any employee for making a report in good faith.

Failure to observe company policy with respect to full compliance with laws and regulations or the Business Conduct Guidelines or Ethics and Business Conduct Manual will subject an employee to disciplinary action, up to and including termination of employment. In addition, disciplinary action will apply to any officer or manager who directs or approves a violation or who has knowledge of it but does not take prompt action to correct a violation.
Contingency Planning
As part of Mitsui USA's continuing contingency planning and in order to be prepared for the unlikely circumstance of an event that threatens significant harm to Mitsui USA's business or reputation, Mitsui USA has developed a Crisis Response Plan. This plan involves a coordinated, proactive effort by the highest levels of management at Mitsui USA and its outside advisers to address the issues raised and to resolve them in the best interests of Mitsui USA. Because the nature of an unexpected event is inherently unpredictable, the Crisis Response Plan gives Mitsui USA the benefit of a flexible yet organized structure to provide support should such an event occur.