Mitsui & Co. (Australia) Ltd.
Social Contributions at Mitsui & Co.
Our Social Contribution Activities
During the financial year ended March 2020, Mitsui & Co. contributed A$771,988 in support of the Oceania region.
Colours
Environment
International Exchange
Education
Communities
Acronyms
MIOD : Mitsui Iron Ore Development
SBS : Shark Bay Salt Group
Mitsui Group : Mitsui Group Companies
MCA : Mitsui & Co. Australia
MCH : Mitsui Coal Holdings
MIOC : Mitsui Iron Ore Corporation
MEPAU : Mitsui E&P Australia
Environment
Conservation Volunteers
Mitsui Iron Ore Development partners with Conservation Volunteers Australia to undertake conservation activities in the Pilbara at significant locations close to our mining operations. Staff are offered the opportunity to participate in these activities.
Environmental Projects
In conjunction with Mitsui & Co. Environment Fund, Mitsui & Co. Australia actively seeks environmental projects undertaken by universities and environmental organisations in Australia. Most recently, the Fund sponsored Australian National University's research project which was completed successfully in March 2019.
Dolphin Research
The famous dolphins of Shark Bay, Western Australia, have been studied in detail since the early 1980s. More than 35 years of scientific research into one of our planet's most fascinating populations of wild animals has provided insight into their behaviour, genetics, communication and ecology, including the daily challenges they face to find mates and food, and to avoid enemies and predators. Shark Bay Salt Group provides in-kind support towards Shark Bay Dolphin Research through provision of accommodation and messing for the researchers, and some logistical support for carrying out fieldwork.
---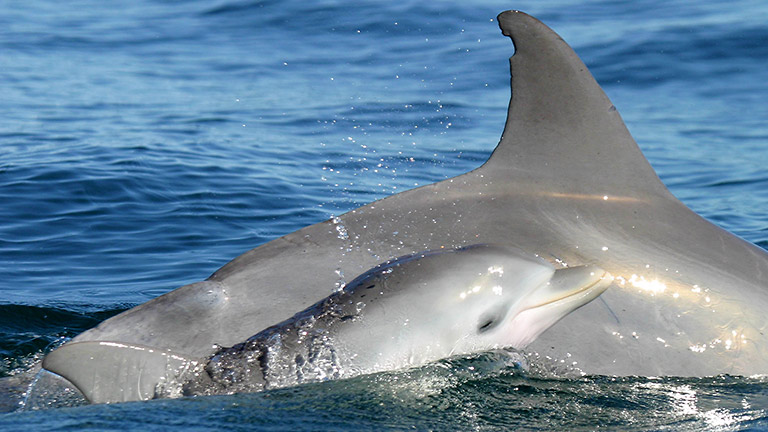 Mangrove Ecosystems
Shark Bay Salt Group constantly monitors the mangrove ecosystems at the north end of our pond system. These creeks provide life-giving support to both terrestrial and marine life. We are monitoring these ecosystems to ensure that the construction and operation of the salt field will do no harm and have no impact on the living organisms. It is encouraging to see that with due care, an increase in numbers of organisms has been observed.
International Exchange
Mitsui Educational Foundation (MEF)
Since 1971, MEF has sponsored 380 Australian university students to participate in a three-week study tour of Japan, to promote mutual understanding between the two countries.
Find out more about the Mitsui Education Foundation, including the application process.
New Colombo Plan (NCP) Mitsui Immersion Program
Launched in 2014, the Australian Government's NCP offers Australian undergraduates opportunities for scholarships and grants for study in the Indo Pacific region including Japan. Mitsui & Co. Australia was one of the first private sector companies to offer learning opportunities for NCP students, further contributing to the education of young Australians.
Each year, we host 14 Australian university students at our head office in Tokyo on a two-week immersion program under the Mobility and Scholarship Scheme. The program affords an opportunity for students to learn about Mitsui's history, corporate philosophy and strategy, business and investment activities as well as analysing broader Japanese industry and technology development. To date, Mitsui have hosted 92 students on the program.
Find out more about New Colombo Plan, including the application process.
---
Intercultural Experience in Japan
Each year, Mitsui Coal Holdings (MCH) provides two scholarships for high-school students whose parents work for our joint venture and who go to either Moura or Biloela High School to take part in AFS Australia's intercultural programs in Japan. MCH also have a joint scholarship with our joint venture partner Anglo American to send one student to Japan, which is open to high school students nationwide.
In the West, Mitsui Iron Ore Corporation provides one or two scholarships each year for high-school students from Port Hedland and Newman.
To date, 38 high-school students visited Japan through these programs.
Education
University of Western Australia (UWA)
Since 2008, Mitsui & Co. Australia has contributed to education in partnership with the UWA Business School.
Every year, Mitsui & Co. Australia hosts a Boardroom Luncheon with a group of students from UWA Business School at our Perth office. We provide an overview of our business activities and facilitate a Q&A over lunch in our boardroom. Senior management from group companies such as Mitsui Iron Ore Corporation, Mitsui Iron Ore Development, Mitsui E&P Australia, Shark Bay Salt and Plum Grove attend the lunch.
Japanese Education in Regional Queensland
Since 2008, Mitsui Coal Holdings has sponsored a qualified Japanese teacher to teach in local schools and community groups in Central Queensland, which includes language, history and cultural activities.
STEM Education
Since 2013, Mitsui Iron Ore Development has partnered with Scitech to support the delivery of a Science, Technology, Engineering and Mathematics (STEM) education program within Pilbara primary schools, including Wickham Primary School, Pannawonica Primary School and Tambrey Primary School. The program has enabled children in these schools to develop their STEM skills and participate in competitions such as RoboCup Junior.
Mitsui E&P Australia collaborates with Central Regional TAFE to sponsor STEM tertiary education with a focus on regional traditional owners as recipients.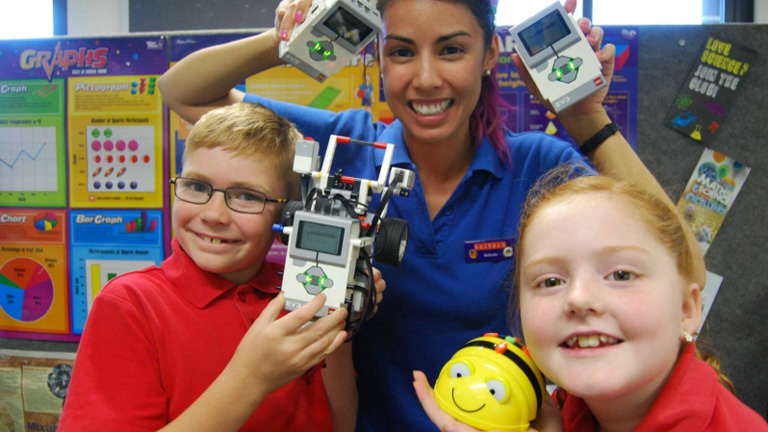 Communities
Queensland
Every year, Mitsui Coal Holdings and its employees host Japanese cultural activities at the Moura Coal and Country Festival in Central Queensland. All funds raised are donated to Blue Care, Moura Youth Centre and Moura Historical Society, all local not-for-profit organisation that provides vital community services to the Moura community.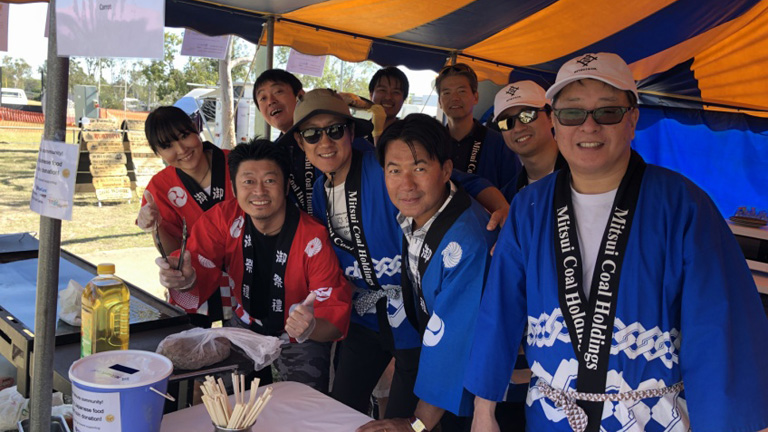 Western Australia
Mitsui Iron Ore Development (MIOD) supports various organisations such as Cancer Council WA, West Australian Ballet and the Royal Flying Doctors Service. MIOD's contribution to Cancer Council WA helps fund the role of Regional Education Officer for the Pilbara, and sponsorship of West Australian Ballet allows those in the Pilbara region to access dance performances and masterclasses.
Shark Bay Salt Group (SBS) annually sponsors Circus Quirkus hosted by Police & Community Youth Centre in support of disabled children, and World Festival of Magic hosted by in support of various medical researches. SBS also contributes 25% of the cost to run the local childcare facility in Onslow, and sponsors the State Emergency Services in the township as well as local children to visit the Parliament in Canberra.
Mitsui E&P Australia contributes to communities in many ways from sponsoring West Australian Symphony Orchestra, Dongara Police Legacy & Community Golf Day, Regional Business Leadership Award, Geraldton's Funtavia Festival through to the Shire of Irwin community bus service. Mitsui E&P also collaborates with Petroleum Club of WA on the Next Generation Program to enhance high school students' awareness of oil & gas as a potential career path at two regional district high schools.
Understanding between Australia and Japan
Each year, we sponsor community events and activities to raise understanding between Australia and Japan – Melbourne Japanese Summer Festival, Cowra Festival of International Understanding, and Australia-Japan Roundtable (Mitsui & Co. Australia), and Perth Japan Festival (Mitsui Iron Ore Development).
Disaster Recovery Support
We regularly donate to appeals in Australia and New Zealand to help communities affected by natural disasters.
2020: Mitsui & Co. Australia donated A$200,000 to the Business Council of Australia's Community Rebuilding Initiative in support of victims of the bushfires.
2020: Shark Bay Salt A$5,400 to the Bushfire Wildlife Appeal.
2011: Mitsui & Co. Australia and Mitsui & Co. New Zealand donated NZ$100,000 to the Red Cross New Zealand Earthquake Appeal.
2011: Mitsui Coal Holdings donated A$100,000 to the Premier's Disaster Relief Appeal to help victims of the Queensland Floods.
2009: Mitsui & Co. Australia donated A$100,000 to the Red Cross Victorian Bushfire Appeal Fund.
Volunteer Activities
Volunteer Leave
To encourage our employees to contribute to the community, we provide two days of volunteer leave each year.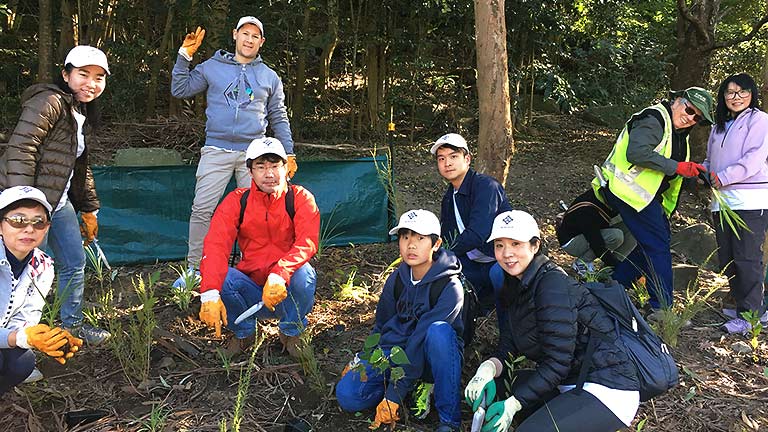 Collaboration within Mitsui Group
We actively collaborate amongst the Mitsui & Co. group companies to organise volunteering opportunities for our employees and families. Examples include volunteering for Clean Up Australia Day, National Tree Day and Food Rescue.
Number of Volunteers
248 employees and families participated in volunteering activities during the fiscal year ended March 2020.