Mitsui & Co., Ltd. ("Mitsui", Head Office: Tokyo, President and Chief Executive Officer: Tatsuo Yasunaga), in collaboration with The Chugoku Shimbun Co., Ltd. ("The Chugoku Shimbun", head office: Hiroshima, President and Representative Director: Tetsuya Okahata) and RCC Broadcasting Co., Ltd. ("RCC", head office: Hiroshima, President: Yoshimi Miyasako), today announced that they are trialing a function for the Hiroshima Toyo Carp's official app, CarchiCachi!, that can help prevent the spread of novel coronavirus by displaying congestion status for food stalls at MAZDA Zoom-Zoom Stadium Hiroshima ("Mazda Stadium").
This trial with the CarchiCachi! app is the first in a series of joint functional developments being undertaken by the three companies focusing on health and safety measures - in this case, avoiding crowds and congestion during the novel coronavirus pandemic. Specifically, the function to display the congestion status in the CarchiCachi! app will help customers to avoid crowding or close contact with other people by communicating the level of congestion at food stalls and restaurants at Mazda Stadium, all of which are operated by Mitsui affiliate company Aim Services Co., Ltd.
The trial is scheduled to run from October 16, 2020 through the end of the 2020 season and the function to display the congestion status will be available to all users of the app.
Mitsui, The Chugoku Shimbun, and RCC will continue to work together to improve the Mazda Stadium and official app user experience.
Mitsui has been involved in the management of Mazda Stadium - home of the Hiroshima Toyo Carp - since its opening in April 2009, and is responsible for food services, sponsorship marketing, and some custodial services. Building on our experience with digital marketing and fan engagement at Jubilo Iwata, we are also actively involved in advancing the digital transformation of baseball teams and stadium management.
This project is part of our ongoing effort develop new services that combine the digital and real worlds to create a future where people can live healthy, prosperous, and happy lives.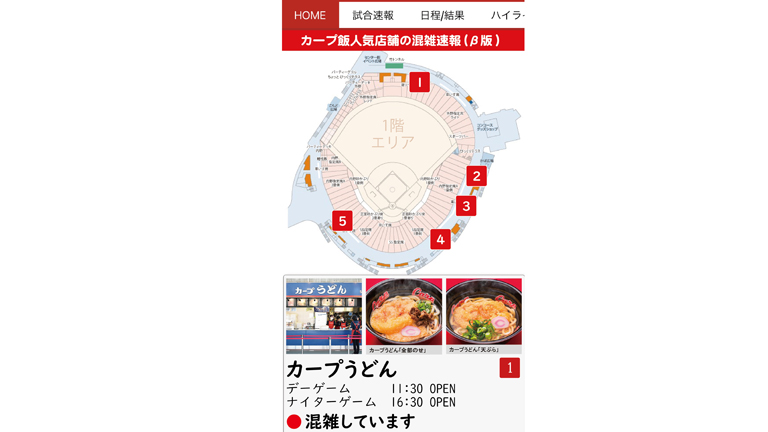 ---
Mitsui's Materiality
"Build brighter futures, everywhere" as our corporate mission, and to gain the trust and expectations of our stakeholders to realize a better tomorrow for earth and for people around the world, we have identified five material issues ("Materiality") for Mitsui's sustainable growth. We anticipate this particular project/ business to contribute especially to the realization of "Enhance quality of life" and "Develop talent leading to value creation"
Secure sustainable supply of essential products

Enhance quality of life

Create an eco-friendly society

Develop talent leading to value creation

Build an organization with integrity