The Mitsui & Co. Environment Fund
Introduction to Grant Projects
INDEX="23" NAME="Project to restore Sumatran tiger populations through locally-led activities to prevent clashes between people and tigers" TYPE="活動助成," YEAR="2018年度," AREA="アジア," KIND="公益法人," ORG="WWF Japan"
WWF Japan
Project to restore Sumatran tiger populations through locally-led activities to prevent clashes between people and tigers
Activity grant
Project Description

This project targets five villages in Bunkuru Province, north of BBS National Park where many encounters and collisions between residents and Sumatra Tiger are reported. The aim is to stop the decline in tiger numbers due to human factors. In three of the five villages, support was already provided through a grant from the fund last year, and key results have been achieved. The heads of the target villages, who felt the impact of the first year results, joined the national park authorities in requesting that WWF Indonesia expand the target area and continue the project. As a result, the project will be expanded to 5 villages in the second and third years. In particular, we will establish and put into effect village regulations that seek to achieve coexistence between tigers and humans, and aim to realize social implementation by turning the effects of the project into a systemized program. [No. K18-0057]

Mitsui & Co. Environment Fund FY2018 Activity Grants List (PDF 372KB)
Fields

Ecosystems and the Symbiotic Society
Grant year

FY2018 Activity Grants
Grant term

2 years (April 2019 - March 2021)
Grant amount

¥12,000,000
Activity region

Sumatra, Indonesia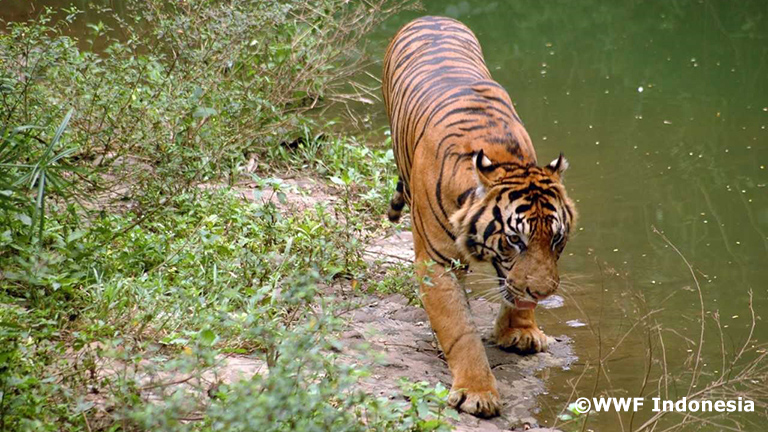 Overview of the Organization

Project organization

WWF Japan

Representative

Forestry Group, Indonesia Forestry Conservation Officer: Makiko Soma

Establishment

1971

Establishment Purpose

The World Wildlife Fund (WWF), founded in Switzerland in 1961, is currently supported by approximately 5 million members and donors worldwide, and operates in approximately 100 countries. Since being launched in Japan as WWF Japan in 1971, we have been carrying out conservation of tropical forests, wetlands, rivers, lakes, tidal flats, and coral reefs, etc. with the aim of creating "a future where humanity can live in harmony with nature." In recent years, we have been promoting activity while responding to global issues such as global warming and marine pollution.

Recent Activities

Activities to protect biodiversity and conserve endangered wildlife are being conducted in Indonesia, Thailand, Myanmar, the Russian Far East, etc.
As part of our activities to promote sustainable procurement to Japanese companies, we hold various seminars on procurement of forest products such as paper, wood and palm oil
As part of our activities to help cope with environmental pollution and climate change, we conduct analyses of Japanese energy supply and demand and create various CO2 emission reduction scenarios

Staff

Number of Full-time employees: 74 / Number of Members: 45,665 (140 organizations)

WEB site

Voice of Representative

It is important to protect the habitat of the endangered Sumatran tiger and also to protect the lives of the people living in the area. I would like to find a way to establish a community where tigers and humans can live together as local residents.