The Mitsui & Co. Environment Fund
Introduction to Grant Projects
INDEX="24" NAME="Constructing a rainwater capture system to provide safe drinking water and sanitation" TYPE="活動助成," YEAR="2018年度," AREA="アジア," KIND="NPO," ORG="Ikaw Ako (NPO)"
Ikaw Ako (NPO)
Constructing a rainwater capture system to provide safe drinking water and sanitation
Activity grant
Project Description

Safe drinking water is not easy to come by on the islands and in the mountains of Bohol State in the Philippines. Wells along the coast and remote islands are mixed with seawater and are not suitable for drinking. Residents living on remote islands travel to the mainland to purchase drinking water for their daily lives. The cost and time required to secure drinking water is a big burden.
In this project, facilities will be provided to store rainwater and generate safe drinking water so that the residents of such area can easily obtain safe drinking water. Construct the tank of the appropriate size for the target area by the people themselves, introduce a manageable water purification system, and create a sustainable rainwater utilization system. [No. K18-0062]

Mitsui & Co. Environment Fund FY2018 Activity Grants List (PDF 372KB)
Fields

Resource Circulation
Grant year

FY2018 Activity Grants
Grant term

3 years (April 2019 - March 2022)
Grant amount

¥6,800,000
Activity region

Bohol Island, Philippines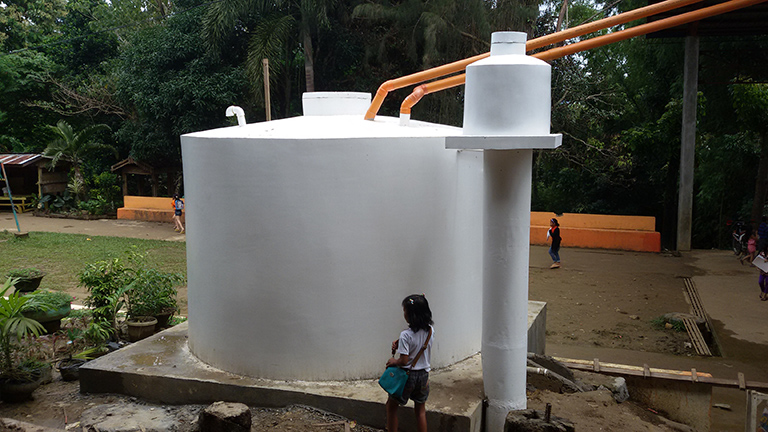 Overview of the Organization

Project organization

Ikaw Ako (NPO)

Representative

Director: Yorihisa Goto

Establishment

1997

Establishment Purpose

Former militaryman Junichiro Doi, who was working to support Japanese people residing in the Philippines after the war, wanted to launch activities that would benefit the Philippines as well. He called upon current organization head Yorihisa Goto, and in 1997 they decided to commence environmental activities that would benefit both peoples. The motto of Ikaw Ako is to deepen neighborly relations between Japanese and Filipino people through activities such as mangrove planting, and to foster environmental awareness with friendship.

Recent Activities

Mangrove tree planting activities, which began in 1997 in the City of Silay, are spreading throughout the islands of Bohol and Negros. The scope of activities (which includes tree planting in the mountains, environmental education, ecotourism, fair trade, organic farming, support for livelihood improvement of residents via garbage reduction, and youth development) is expanding as well, and it is all in line with a policy of "Japanese and Filipinos continuing their activities to protect the environment."

Staff

Number of Full-time employees: 13 / Number of Part timers: 5 / Number of Members: 375 (4 organizations)

WEB site

Voice of Representative

Due to a reduction in the spread of infectious diseases and improvements in sanitation, the expected impact is an improvement in the health of the local population. In addition, an improvement in hygiene is thought to contribute to improvements in education, and lead to children being able to concentrate on their learning without suffering from serious health problems.