The Mitsui & Co. Environment Fund
Introduction to Grant Projects
INDEX="41" NAME="Project to conserve World Heritage terraced rice paddies using a new local afforestation technique using date palm called Niwakatpun Tanuman" TYPE="活動助成," YEAR="2017年度," AREA="アジア," KIND="NPO," ORG="NEKKO (NPO)"
NEKKO (NPO)
Project to conserve World Heritage terraced rice paddies using a new local afforestation technique using date palm called Niwakatpun Tanuman
Activity grant
Project Description

Ifuago province in the Philippines is home to large World Heritage status terraced rice fields. The influence of sudden modernization has resulted in young people migrating to cities to work, and maintenance and management of the rice fields is becoming extremely difficult. This initiative aims to conserve the rice fields through a new technique of planting trees in locations which seem on the verge of collapse. The trees will be phoenix dactylifera (date palm), which fills the role of a debris/slide protection wall as the roots become deeply intertwined. Known as the "Niwakatpun Tanuman" technique, this is the only method which does not impair the landscape and can be done by the elderly or women on a small budget. The way to raise the plans and produce phoenix dactylifera seedlings will also be conveyed, meaning the efforts can be maintained by residents. [No. K17-0046]
Fields

Global Environment
Grant year

FY2017 Activity Grants
Grant term

Three years (From October 2017 to September 2020)
Grant amount

5.5 million yen
Activity region

Ifuago province in the Philippines, Uhaj village in the Municipality of Banaue and surrounding areas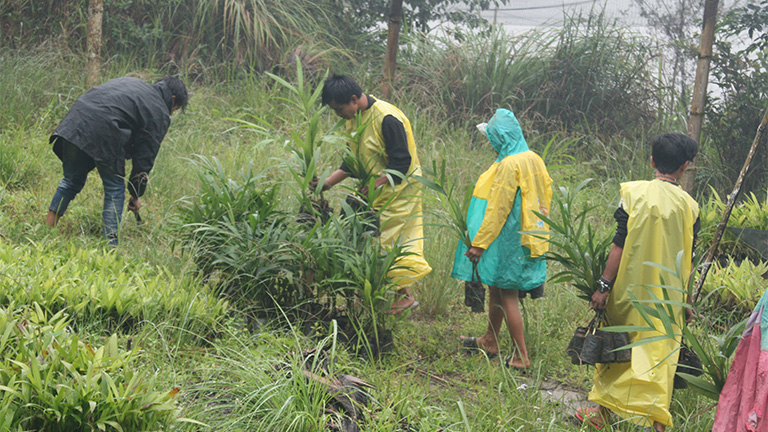 Overview of the Organization

Project organization

NEKKO (NPO)

Representative

Executive Director: Kazuya Tomita

Establishment

1993

Establishment Purpose

In areas suffering from environmental ruin, natural disasters, and poverty, etc., international cooperation projects such as medical support, daily life guidance, and intellectual support will be carried out, alongside the practice and planning of afforestation projects. As well as contributing to environmental conservation and restoration and raising levels of public interest of the general public, projects aim to promote town planning within Japan.

Recent Activities

December 1993 - NGO "International arrowroot green operation sannan" established
December 2000 - Award received from the Ministry of the Environment of the Government of Japan
2002 - Began afforestation activities related to preservation of World Heritage rice paddies in Ifuago province in collaboration with JICA
2014 - NPO renamed "NEKKO", developed activities as many volunteers accepted from Japan with the aim of fulfilling afforestation and livelihood improvement projects.

Staff

Number of Full-time employees: 4 / Number of Part timers: 2 / Number of Members: 900

WEB site

Voice of Representative

Population outflow due to sudden environmental changes means that World Heritage terraced rice fields are in danger of collapsing. There is a lack of manpower among the remaining elderly residents to manage the rice fields and miscellanies as Ifugao's young people have left to go to cities. The activities must be continued in order to protect the rice terraces, and in this project, a new afforestation technique is deployed which can preserve rice terraces even with just the elderly, so it can be carried out little by little with just a small amount of man power. First we wish to get the ball rolling.