The Mitsui & Co. Environment Fund
Introduction to Grant Projects
INDEX="311" NAME="Restoring primary forest in the area around Yguazu Lake" TYPE="活動助成," YEAR="2010年度," AREA="中南米," KIND="海外の団体," ORG="Asociación Japonesa de Yguazú (Paraguayan NGO - recommended by the Mitsui & Co. Americas BU)"
Asociación Japonesa de Yguazú (Paraguayan NGO - recommended by the Mitsui & Co. Americas BU)
Restoring primary forest in the area around Yguazu Lake
Activity grant
Project Description

Japanese emigrants developed agriculture in Paraguay by bringing modern facilities to the area around Yguazu Lake, and contributed to the economy by clearing primary forest and turning the region into the country's primary food production area. However, excessive forest clearing has led to reduced rainfall, soil erosion during heavy rains, soil degradation, and other effects that hinder agricultural productivity. This project aims to create a collective of local farmer's associations, regional revitalization councils, local governments, and others, in order to conduct planting activity in cleared areas around the lake and restore primary forests. Specific actions will include procuring seeds from primary forest reserves owned by farmer's associations and expand planting areas to enable the cultivation of 250,000 saplings per year. It will also research and organise candidate tree species and plant 50ha in the first year and 75ha in the second. It will distribute saplings of fast-growing trees that can be used for fuel to local people and encourage their planting, and provide environmental education through planting activities.
Fields

Preservation of surface soil and forests
Grant year

FY2010 Activity Grants
Grant term

3 years
October 2010 - September 2013
Grant amount

17,111,915 yen
Activity region

The Yguazu Lake area, Paraguay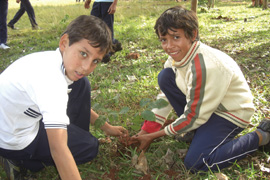 Overview of the Organization

Representative

Ichiro Fukui, Chairman

Establishment

1967

Establishment purpose

The Yguazu Japanese immigrant colony in Paraguay was established by the Japanese Emigration Promotion Agency, the predecessor of the Japan International Cooperation Agency (JICA), with the first wave of colonists arriving in 1961. Committees to oversee the needs of the community, such as roads, education and public order, were gradually established and in 1967 a local government was formed, making the colony autonomous. In 1980, it received approval to become the Asociación Japonesa de Yguazú, its current form. It is responsible activities that support and encourage the living environment, education, governance, culture, business, and agriculture of Japanese colonists and all other peoples in the region.

Main area of activity

Yguazu Lake, Paraguay

Staff

45 full-time staff members, 193 full members

Annual operating budget

11.70 million yen in 2009

WEB site

Recent activities

(1) Embassy-related work (processing family register documents, residency permits, etc.)
(2) Handling post
(3) Operating Japanese schools in Yguazu (kindergarten, elementary, junior high, and high schools)
(4) Managing the Yguazu Japanese Craft Center
(5) Managing public parks
(6) Operating clinics in Yguazu (including the Yguazu Recuperation Center)
(7) Working with the police to maintain public order
(8) Welfare for seniors
(9) Waterworks
(10) Road management
(11) Planting initiatives, etc.