The Mitsui & Co. Environment Fund
Introduction to Grant Projects
INDEX="359" NAME="Regional improvement project in Bangladesh" TYPE="活動助成," YEAR="2009年度," AREA="アジア," KIND="NPO," ORG="AloAsha Project Japan"
AloAsha Project Japan
Regional improvement project in Bangladesh
Activity grant
Project Description

Topographical factors such as a repetetive cycle of droughts and floods, in addition to long years of environmentally destructive agricultural methods dependent on chemical fertilizers and pesticides, are leading to agricultural attrition in Bangladesh and reducing the productivity of the land. Low incomes are also leading young people to abandon farming and there are concerns about future food supply. The energy situation is unstable to the point that even urban areas suffer power shortages, and there are regions with no electricity at all, which hinders effective agricultural production. This project will tackle this situation by establishing a 'regional improvement center' aiming to build regional recycling-based societies and promote solar power generation in areas with power insufficiencies. The center will introduce low-cost solar power systems and encourage their use by providing training in creating operation and maintenance structures. It will also provide instruction on farming techniques and establish a microcredit framework.
Fields

Energy problem
Grant year

FY2009 Activity Grants
Grant term

3 years
October 2009 - September 2012
Grant amount

14,659,000 yen
Activity region

Bangladesh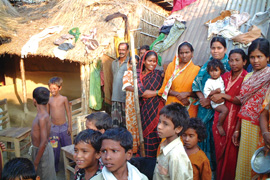 Overview of the Organization

Representative

Masami Saito, Representative Director

Establishment

1995

Establishment purpose

The group provides an educational environment for the children of Bangladesh that strengthens the bedrock of the country over time and will allow these children to create the future. It also aims to revitalize regional areas by supporting farming techniques rooted in education, and aims to recruit members with various capabilities in order to create a financially independent educational environment, enabling it to provide economically-sustainable, comprehensive support to the children of Bangladesh's poorest. The group also tackles the various issues faced by the societies in which these children live by leveraging the experience, skills, and knowledge of its Japanese network, and developing awareness-raising initiatives in Japan.

Main area of activity

Bangladesh

Staff

10 full members

Annual operating budget

390,000 yen in 2006, 2.54 million yen in 2007, 7.30 million yen in 2008

Recent activities

· 2005 - Educational support: management support for AloAsha School (Rajshahi, Bangladesh)
· 2005 - Agricultural support: instruction in farming techniques (Rajshahi, Bangladesh)
· 2006 - Agricultural support: farming village development (Rajshahi, Bangladesh)
· 2006 - Cultural exchange: school exchange (Bangladesh and Japan)
· 2008 - Environmental support: Conservation project research (Rajshahi, Bangladesh)
· 2009 - Environmental support: Start of regional energy support program based on local research