The Mitsui & Co. Environment Fund
Introduction to Grant Projects
INDEX="360" NAME="A 'power-up' strategy for forest restoration and conservation" TYPE="活動助成," YEAR="2009年度," AREA="日本全国,東北," KIND="NPO," ORG="Iwate Reforestation Study Group"
Iwate Reforestation Study Group
A 'power-up' strategy for forest restoration and conservation
Activity grant
Project Description

The leaders of citizen-participation reforestation projects have a big responsibility to keep everyone safe. This project involves a year of safety training to increase the capabilities of these leaders. Specific actions for the first year of the project include holding four technical training workshops, and practical training on subjects such as tree-thinning, equipment maintenance, and forest inventory. Participants will also learn how to process waste from tree thinning into resources such as firewood, charcoal, poles, and planks, thereby reducing CO2 emissions and combating global warming.
Fields

Climate change

Preservation of surface soil and forests

Energy problem

Preservation of biodiversity and ecosystem
Grant year

FY2009 Activity Grants
Grant term

2 years
April 2010 - March 2012
Grant amount

2,450,000 yen
Activity region

Teshiromori, Morioka, Iwate Prefecture, Japan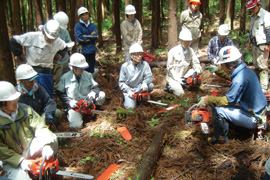 Overview of the Organization

Establishment

2003

Establishment purpose

To implement volunteer forest conservation activities and reforest wasteland. Activities are primarily focused on the conservation and maintenance of the 30-50 year old cedar forests which make up the region's most dilapidated areas. Iwate Reforestation Study Group aims to cultivate reforestation knowledge and appropriate, safe work processes to make activities more effective.

Main area of activity

Iwate Prefecture, Japan

Staff

1 full-time staff member, 21 part-time staff members, 97 full members

Annual operating budget

2.66 million yen in 2007, 4.84 million yen in 2008, 1.92 million yen in 2009

WEB site

Recent activities

(1) Cultivating personnel that possess reforestation knowledge and abilities - established the 'Forest Volunteer Course' to provide forestry training
(2) Re-use of tree-thinning waste - assessing the resource potential of waste produced through tree-thinning activities. Creating firewood and charcoal for fuel, poles and planks for construction, stumps for mushroom cultivation, etc.
(3) Lecturer dispatch - dispatching lecturers to training sessions around the region, increasing the group's reforestation network.