The Mitsui & Co. Environment Fund
Introduction to Grant Projects
INDEX="358" NAME="The Asaza Project - using the environment to revitalize regional communities" TYPE="活動助成," YEAR="2009年度," AREA="日本全国,関東," KIND="NPO," ORG="NPO Asaza Fund"
NPO Asaza Fund
The Asaza Project - using the environment to revitalize regional communities
Activity grant
Project Description

To find solutions to global environmental problems, rather than working on seperate individual initiatives, there is a need for problem solving systems that can be applied to entire regional communities and societies. The Asaza Fund is a citizen-led public enterprise rooted in the local community, and over the 14 years since 1995 it has advanced the creation of various models through the Asaza Project. Now the project wants to further advance the models it has created up til now by developing initiatives that will involve even more diverse segments of society. Specifically, this will involve: (1) developing and improving environmental education in elementary schools around the lake to increase awareness of sustainable town development, and (2) proposing uses for regional resources that will invigorate local industries that possess recycling and conservation functions. The sale of 'lake-friendly vegetables' - vegetables grown using fish meal from invasive species as fertilizer - is already underway, and the project will look to increase the number and types of products created through this kind of initiative. It will also recommend policy and build consensus for reviving 'Tennen Eel', a local brand with a powerful appeal.
Fields

Climate change

Marine resources/food

Preservation of surface soil and forests

Energy problem

Preservation of biodiversity and ecosystem
Grant year

FY2009 Activity Grants
Grant term

3 years
October 2009 - September 2012
Grant amount

18,500,000 yen
Activity region

The Kitaura section of Lake Kasumigaura, Japan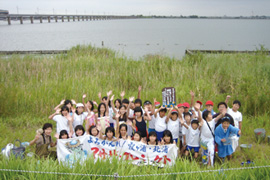 Overview of the Organization

Representative

Hiroshi Iijima, Director General

Establishment

1998

Establishment purpose

Established to carry out conservation and restoration activities to revive the nature and culture of the Kasumigaura and Kitaura Basin, and build connections between people and nature, and people with each other, in order to create an abundant environment and harmonious culture for people of the entire region.

Main area of activity

Kasumigaura and Kitaura Basin

Staff

11 full-time staff members, 1 part-time staff member, 10 full members

Annual operating budget

35.91 million yen in 2006, 57.34 million yen in 2007, 46.91 million yen in 2008

WEB site

Recent activities

(1) Providing environmental education programs that aim to restore the Kasumigaura and Kitaura Basin to local elementary schools (courses, research, proposals, implementation).
(2) Creating business models that contribute to the creation of a recycling-based society (fish meal made from invasive species, sake brands that conserve water sources).
(3) Raising environmental awareness at companies through water source conservation agricultural experiences.