The Mitsui & Co. Environment Fund
Introduction to Grant Projects
INDEX="478" NAME="Reconstruction of a data search website for citizens' efficient use of PRTR data" TYPE="活動助成," YEAR="2008年度," AREA="日本全国,国際," KIND="NPO," ORG="Toxic Watch Network"
Toxic Watch Network
Reconstruction of a data search website for citizens' efficient use of PRTR data
Activity grant
Project Description

Chemical substance management is an important theme for the formation of a sustainable society and global environmental conservation. The PRTR system which estimates and discloses the emission of hazardous chemical substances from businesses within the Japan has been in operation for 7 years. This system is a system for citizens to use effectively to understand environmental risks in the region. Our organization set up a website in 2003, however by taking advantage of the reexamination of the system itself, the website will be renewed including the creation of an English version. We will strengthen cooperation and information exchange with overseas organizations by utilizing the PRTR system. Additionally, we will hold seminars for citizens to showcase how to use the new website as well as PRTR data in order to promote and popularize use of the PRTR system.
Grant year

FY2008 Activity Grants
Grant term

3 years
October 2008 - September 2011
Grant amount

9,000,000 yen
Activity region

Japan nationwide and collaboration with overseas organizations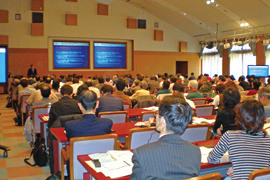 Overview of the Organization

Representative

Shigeharu Nakachi, President

Establishment

2002

Establishment purpose

By providing citizens with easy-to-understand information related to PRTR information and supporting its utilization, we will participate in the risk management of hazardous chemicals and promote risk communication between business operators and government administration. As a result, we aim to reduce the environmental risks of chemical substances, preserve the ecosystem and create a sustainable society.

Main areas of activity

Japan

Staff

3 full-time staff members, 120 full members

Annual operating budget

8.3 million yen in 2005, 7.01 million yen in 2006, 6.44 million yen in 2007

WEB site

Recent activities

(1) Provide information on chemical substance policy and PRTR on the website
(2) Symposiums, seminars and study sessions held as part of an education campaign to communicate information on chemical substance reduction and the use of PRTR by citizens. In particular, an international citizens' seminar is held every year to introduce the latest on EU REACH and NGO activities.
(3) Research survey contract from administration and industry associations
(4) Provide proposals on Japan's chemical substances policy through public comments at government administrative committees participated by the organization president.
(5) Promotion of information exchange and networks with NGO's in Europe and the US.