The Mitsui & Co. Environment Fund
Introduction to Grant Projects
INDEX="477" NAME="Creating a river with a welcoming atmosphere and protecting Lake Biwa" TYPE="活動助成," YEAR="2008年度," AREA="日本全国,近畿," KIND="NPO," ORG="Yanamune River Basin Tourist Boat"
Yanamune River Basin Tourist Boat
Creating a river with a welcoming atmosphere and protecting Lake Biwa
Activity grant
Project Description

Many rivers merge and join Lake Biwa in Yasu city, Shiga Prefecture. However, garbage from the estuary accumulates in the vicinity of the shore due to the inflow of trash and illegal dumping. In this context, this organization promotes activities to clean up rivers and lakes by visiting the watershed with a houseboat and calling attention to the current problems to teach citizens about the actual conditions in this area. Local senior citizens are cooperating as boatmen on this houseboat. The organization is seeking the introduction of additional houseboats, the installation of temporary toilets, the release of firefly larvae, and the commencement of observation sessions in order to respond to an increased demand for tour services.
Fields

Marine resources/food

Preservation of biodiversity and ecosystem
Grant year

FY2008 Activity Grants
Grant term

1 year
October 2008 - September 2009
Grant amount

1,500,000 yen
Activity region

The Yanamune River and other rivers, Yasu City, Shiga Prefecture. Lake Biwa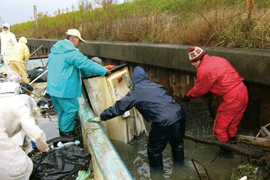 Overview of the Organization

Representative

Professor Satoyama Project Koji Nakamura,
Supervising Researcher

Establishment

2007

Establishment purpose

The organization aims to conduct projects targeting citizens and tourists related to the maintenance of mountains, forests, rice fields, rivers and Lake Biwa, in addition to the operation of sightseeing vessels. They aim to contribute to environmental preservation and town development.

Main areas of activity

Mountains, forests, rice fields, rivers of Yasu City, and Lake Biwa

Staff

1 full-time staff member, 4 part-time staff members, and 26 full members.

Annual operating budget

44 million yen in 2007

Recent activities

(1) In recognition of the pressing necessity to conserve the entirety of the natural environment: the mountains, the forests, the rice fields, the rivers and, in order to protect Lake Biwa from becoming polluted came the decision to take action. This organization will continue to carry out this project, calling on local citizens, and expanding the scale of operations.
(2) Implement activities to create a pleasing river atmosphere, by regenerating reedbelts from the Yanamune River to the shore of Lake Biwa, operate boat tours, survey living things and water quality, carry out environmental learning, organize environmental events around neighboring rivers and Lake Biwa (ecotours in the western river basin, Ayame Beach festival, etc.) run flora planting activities in regions with extremely low flora, increase riverside firefly and river trout populations.
(3) In areas where it has become harder to farm, encourage fishing and the local consumption of locally produced goods.
(4) Secure locations for locals to work towards the stimulation of the local economy.