The Mitsui & Co. Environment Fund
Introduction to Grant Projects
INDEX="479" NAME="Rain Maker Project" TYPE="活動助成," YEAR="2008年度," AREA="中東・アフリカ," KIND="NPO," ORG="Yokohama Art Project"
Yokohama Art Project
Rain Maker Project
Activity grant
Project Description

Since 2006, we began reforestation using seed balls as way to wrap seeds, and in 2007 we saw significant results with the seeding of 23 ha. To expand greening activities and networks in Kenya, we worked in cooperation with the government of Kenya and selected new implementation sites and carried out seeding twice a year before the rainy season. Also, in order for the community to survive sustainably with the forest, we launched a joint project "SATOYAMA SYSTEM" with Yokohama National University, incorporating Japanese Satoyama System, and developed a greening project combined with sowing by seed balls. In Japan, we hold public events that incorporate art to inform young people about their efforts in Kenya and urge participation.
Fields

Preservation of surface soil and forests
Grant year

FY2008 Activity Grants
Grant term

3 years
October 2008 - September 2011
Grant amount

9,952,076 yen
Activity region

Kenya (Nairobi, Kibuwezi, Nyanza and Kisumu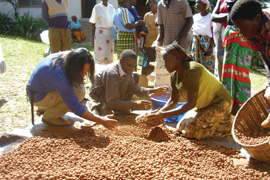 Overview of the Organization

Representative

Ryuji Enokida, Chairperson

Established

2001

Establishment purpose

In 2001,we received a request from the Yokohama City Naka Ward office for planning and operating an art program to raise the appeal of "Yokohama city port opening memorial hall" (national important cultural property) for residents. From this, the "Yokohama Art Project" was founded. Since then, to explore educational diversity for the children who will be responsible for the next generation, and to project a bright future, we have held concerts and art workshops, film festivals and other projects related to screen education. Furthermore, we are promoting activities with the aim of developing human resources and exchanges and ensuring global security through environmental conservation practices and art education such as screen, music, and plays.

Main area of activity

Japan, Kenya, China, Korea

Staff

3 full-time staff members, 17 part-time staff members, 20 full members

Annual operating income

20,750,000 yen in 2005, 30,050,000 yen in 2006, 36,390,000 yen in 2007

WEB site

Recent activities

Since 2001, we started a series of non-profit concerts called "TSUTAWARUMONO (Transmission)" mainly focusing on music, and by September 2008 had held 69 concerts. Yokohama's first student film festival "Yokohama Student Film Festival" was held in 2002, and since then, every year, it is held as a cinema festival between Japan, China, and Korea. Currently, 2009, a movie is under development for the ceremony of the 150th anniversary of the opening of Yokohama Port at the video educational institution of Japan, China, and Korea. In 2007, we held a media art exhibition "Yokohama Media Art Festival 2007" centered on iDAP, Beijing Film Academy, and Tokyo Polytechnic University. We started a project of greening activity — the Rain maker project — in Kenya in 2006. A seed ball workshop and seeding were carried out in the semi-arid Asi river, in the vicinity of Lake Victoria, near the border with Uganda, in the Nyanza District, Makueni District, Kibwezi District, Nairobi Slum Street, and Kibera Elementary School.