The Mitsui & Co. Environment Fund
Introduction to Grant Projects
INDEX="586" NAME="Creation of the Mt. Fuji Environmental Garbage Map" TYPE="活動助成," YEAR="2005年度," AREA="日本全国,中部," KIND="NPO," ORG="Fujisan Club"
Fujisan Club
Creation of the Mt. Fuji Environmental Garbage Map
Activity grant
Project Description

This organization, with the help of local volunteers, tackles the unlawful dumping of garbage on Mt. Fuji. However, the simple picking up of the garbage is not a drastic enough solution, and this organization recognizes that it is essential to first grasp the amount, type of garbage, and location of what is being unlawfully dumped in the base region of Mt. Fuji and then to work with local authorities and residents to fix the problem. Therefore, this initiative will conduct a garbage distribution study at the base of Mt. Fuji and reflect the data onto an electronic map. This data is to be used for both mountain garbage collection activities and for sharing with local authorities so that they can propose further prevention strategies and eradicate this unlawful dumping issue once and for all. Specifically, the organization aims to carry out a field investigations at the base of Mt. Fuji and gather data using a GPS phone with a built-in camera and then collate these results onto a "Mt. Fuji Environmental Trash Map", which will then be made public.
Fields

Preservation of biodiversity and ecosystem
Grant year

FY2005 Activity Grants
Grant term

2 years
January 2006 - December 2007
Grant amount

8,400,000 yen
Activity region

Base of Mt. Fuji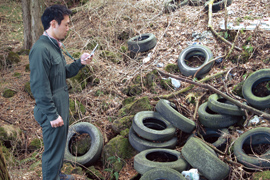 Overview of the Organization

Representative

Takayasu Okushima, Chairman

Establishment

1998

Establishment purpose

To leave a beautiful Mt. Fuji for our children by preventing destruction of the environment.

Main areas of activity

Mt. Fuji, etc.

Staff

8 full-time staff members, 1,200 full members

Annual operating budget

69.98 million yen for 2005, 67.35 million yen for 2006, 47.95 million yen for 2007

WEB site

Principal activities

As said in the organization's mission statement of "we are here to protect the water, greenery, and life gifted to us by Mt. Fuji and we will continue to work hard to leave Mt. Fuji in all its beauty to our children as the place where our hearts reside", this organization is active in the environmental preservation of Mt. Fuji, networking, and education.