The Mitsui & Co. Environment Fund
Introduction to Grant Projects
INDEX="585" NAME="Free-flowing communication project" TYPE="活動助成," YEAR="2005年度," AREA="日本全国,関東," KIND="NPO," ORG="Be Good Café"
Be Good Café
Free-flowing communication project
Activity grant
Project Description

Within modern day Japan, there is a sense of uncertainty about future prospects, and a clear vision for the future cannot be clearly drawn. Under these circumstances, government offices are seeking public participation for societal creation through public hearings. However, the disparity between the awareness of these two entities remains large. This project aims to leave a sustainable future for the next generation of children, and to create a vision for society. A large range of citizens were asked to fill out on small cards and online what sort of society they want to see in 20 years in 2025, and these were analysed by experts who compiled a report and disseminated it on the web and in seminars.
Grant year

FY2005 Activity Grants
Grant term

1 year and 3 months
January 2006 - March 2007
Grant amount

8,000,000 yen
Activity region

Tokyo and others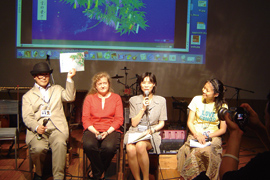 Overview of the Organization

Representative

Shikita Kiyoshi, Representative Director

Establishment

1999

Establishment purpose

The aim of this organization is to begin café style events to share wisdom and intelligence about "sustainable society and peace" with citizens, encompassing serious advancing social problems including the economy, energy, housing, agriculture and food. Events such as "Earth Day Tokyo" and "Eco-Product Exhibition" have been held, attracting hundreds of visitors each time, and NPO status has been acquired. The aim is to shift society and individuals to a more sustainable direction by carrying out events and projects that make use of the many experiences and networks to disseminate a wide range of messages.

Main areas of activity

Tokyo, Saitama Prefecture, Kanagawa Prefecture, Yamanashi Prefecture, etc.

Staff

6 full-time staff members, 2 part-time staff members, 10 full members

Annual operating budget

68.7 million yen in 2005, 23.21 million yen in 2006, 43.58 million yen in 2007

WEB site

Recent activities

A total of 99 events have been carried out over about ten years at Be Good Café Tokyo, including guest talks, workshops, live music shows, organic food sales and exhibition booths. Through managing a field and restaurant showing the whole cycle at an expo at Aichi, lodgings in Yamanashi Prefecture were established, and every theme participated in was utilized. Projects include an orange project, an agricultural experience workshop which aims to regenerate uncut citrus farms in Odawara City, Kanagawa Prefecture. In addition to hosting the "International Eco-Village Conference Tokyo" which thinks about Japan's sustainable lifestyles from a recent examples from around the world, and produced and participated in the what is said to be the largest environmental events in Japan, "Earth Day Tokyo" and "Eco-Products Exhibition." In recent years, the companies CSR support activities have also been under development.