The Mitsui & Co. Environment Fund
Introduction to Grant Projects
INDEX="587" NAME="Environmental reforestation using bio blocks" TYPE="活動助成," YEAR="2005年度," AREA="日本全国,北海道," KIND="NPO," ORG="Mizukankyo Hokkaido"
Mizukankyo Hokkaido
Environmental reforestation using bio blocks
Activity grant
Project Description

At the "Ishikari River Summit", made up of mayors from the 48 towns and villages of the Ishikari River Basin, a proposal was made to plant one tree for each of the 30 million residents as part of the "Ishikari River Basin 30 million Tree Planting Scheme", and with the cooperation of municipalities and local residents, afforestation commenced from 1995. This initiative incorporates the "bio-block method," which is based on over 10 years of experience from this organization, and aims to more effectively implement the planting of 240 saplings in the basin every year. The bio block method consists of planting a sapling into a paper-based pot made of cardboard (a kaminekkon) and planting 6 pots of different tree species in one group in the soil of a tree nursery. There's no need to dig a hole in the ground using this method, and as this doesn't damage the roots, this planting can be carried out easily by anyone.
Fields

Preservation of surface soil and forests
Grant year

FY2005 Activity Grants
Grant term

3 years
January 2006 - December 2008
Grant amount

3,450,000 yen
Activity region

Eniwa and Kitahiroshima, Hokkaido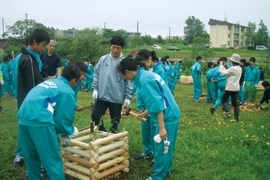 Overview of the Organization

Representative

Noboru Saeki, Chairperson

Establishment

1993

Establishment purpose

In order to preserve a healthy aquatic environment that forms the basis of human society and is the fruit of the basin's historic and cultural management, we aim to build communication networks for people who wish to preserve and improve this environment as a way to solve the wide variety of unique issues faced by the area. This organization attempts to listen to a wide range of its network's viewpoints for a more comprehensive perspective and to help to carry out activities to conserve and improve the area and contribute to the formation of a society that is both kind to and well informed about this aquatic environment.

Main areas of activity

Areas both in and outside of Hokkaido, including Eniwa, Sapporo, and Chitose

Staff

2 part-time staff members, 127 full members

Annual operating budget

14.63 million yen in 2005, 18.17 million yen in 2006, 17.94 million yen in 2007

WEB site

Recent activities

(1) Organizing the "E-Boat Exchange Project"
(2) Operating "Chitose River / Kawajuku" green and rivermaster training courses
(3) Enactment of "Chitose River welcome salmon clean river"
(4) Running the "Ishikari River Basin Fiesta"
(5) "Ishikari River Basin 3 million Tee Planting"
(6) Operating the "Secchu Snow Planting" event
(7) Runs "Ishikari River Blue Sky University"
(8) Holding many different kinds of symposiums