The Mitsui & Co. Environment Fund
Introduction to Grant Projects
INDEX="580" NAME="The Japanese translation and distribution of revised sustainability report guidelines" TYPE="活動助成," YEAR="2005年度," AREA="日本全国," KIND="NPO," ORG="Sustainability Forum Japan"
Sustainability Forum Japan
The Japanese translation and distribution of revised sustainability report guidelines
Activity grant
Project Description

This organization is collaborating with GRI (Global Reporting Initiative, based in Holland) and has contributed to the building of a sustainable society within Japan through the promotion of the exchange of opinion between its members and the public release of information pertaining to each organization's environment, society, and economic activities. The "Sustainability Guidelines" published by GRI form a framework for sustainability reports that can be applied the world over and over 300 Japanese companies have published their reports based upon it. GRI has recently revised these guidelines for a 3rd time, so this organization has simultaneously translated these guidelines into Japanese with GRI and provides the new 2006 edition to the Japanese corporations that use them. In addition, opinions from Japanese companies have been gathered via workshops and reported back to the GRI HQ. In addition to the free distribution of the translated guidelines, the organization also aims to spread this information by making it available on the internet and by holding symposiums.
Grant year

FY2005 Activity Grants
Grant term

2 years
January 2006 - December 2007
Grant amount

5,550,000 yen
Activity region

Japan nationwide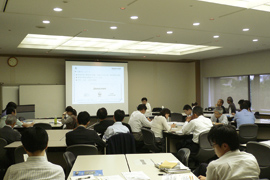 Overview of the Organization

Representative

Kou Kiuchi, Chairperson

Establishment

2002

Establishment purpose

By promoting the publicization of company environments, society, and economics, this organizations aims to contribute to the buliding of a sustainable society and the furtherance of CSR activities.

Main areas of activity

Japan nationwide

Staff

1 full-time staff member, 2 part-time staff members, 150 full members

Annual operating budget

6.64 million yen in 2005, 12.14 million yen in 2006, 8.54 million yen in 2007

WEB site

Principal activities

Studies orientated towards the building of a sustainable society, the management of seminars that educate about CSR, and the spread and public awareness of CSR guidelines.