The Mitsui & Co. Environment Fund
Introduction to Grant Projects
INDEX="579" NAME="Training courses for the preservation and management of traditional architecture" TYPE="活動助成," YEAR="2005年度," AREA="日本全国,近畿," KIND="NPO," ORG="Association for Preparing Bank of Reusing Timber"
Association for Preparing Bank of Reusing Timber
Training courses for the preservation and management of traditional architecture
Activity grant
Project Description

Wooden architecture in Japan has a lifespan of roughly only 30 years, which is very low when compared to 141 years in the UK and 96 years in the US. It also relies on timber imports for house building, and this plays a part in overseas deforestation. Conversely, Jito architecture, characterized by the 1,300 year old Horyu-ji Temple Main Hall, as well as old kominka wooden houses that have been in use for 100 years or more, also exist in Japan. In order to mitigate global warming and build sustainable societies, it is essential to drastically lengthen the lifespan of wooden architecture, including existing buildings, and to recognize and preserve wooden architecture with value. However, there is presently a shortage in the amount of people with the knowledge and abilities to achieve this. Through this initiative, this organization aims to hold a "Traditional Architecture Preservation and Utilization Manager Training Course" over 3 years to raise personnel who can recognize and maintain wooden architecture as a cultural asset, as well as restore and manage it. A graduate network will then be built, making a contribution to sustainable city and residence building throughout Japan.
Grant year

FY2005 Activity Grants
Grant term

3 years
January 2006 - December 2008
Grant amount

6,000,000 yen
Activity region

Japan nationwide, focusing on Kyoto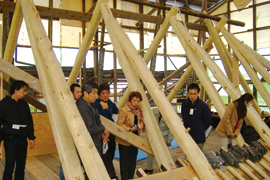 Overview of the Organization

Representative

Norio Nagai, Chairperson

Establishment

1996

Establishment purpose

This organization aims to gather all of those who feel that our historically and culturally important wooden architecture is under threat through its simple abandonment and wish to protect the wooden cultural assets that our country should be proud of. We will promote the utilization of old structures and materials and aim to develop and pass on the culture and techniques related to traditional wooden architecture to achieve sustainable society in the wooden architecture field.

Main areas of activity

Throughout Japan, focusing on Kyoto

Staff

1 full-time staff member, 20 part-time staff members, 250 full members

Annual operating budget

9.64 million yen in 2005, 9.34 million yen in 2006, 13.40 million yen in 2007

WEB site

Principal activities

This organization holds talks about old residences and old materials, studies wooden architecture, and organizes study sessions and field trips to educate people about traditional architecture and old materials in addition to running courses where people can learn the craftsmen's techniques. In 2003 the organization was awarded the "1st Kyoto Environment Award," and in 2004 was also awarded the Minister of Land, Infrastructure, and Transport Award from the 3R Suishinkyogikai. In November 2005, it was also chosen for a special recommendation at the Minsitry of the Environment's NGO/NPO Seisaku Teigen event, and proposes policy to both the country and public organizations.