The Mitsui & Co. Environment Fund
Introduction to Grant Projects
INDEX="582" NAME="Broad-leafed tree seed bed maintenance project" TYPE="活動助成," YEAR="2005年度," AREA="日本全国,東北," KIND="NPO," ORG="Shirakami Mountain Preservation Society"
Shirakami Mountain Preservation Society
Broad-leafed tree seed bed maintenance project
Activity grant
Project Description

As the debate over how the Shirakami Sanchi mountain range, a World Heritage Site, should be preserved for the next generation rages on, this organization has continued to grow saplings from Japanese beech and quercus seeds harvested from the region and plant them in the damaged forest in the area around the World Heritage Site. This initiative aims to expand on the nursery in the Hitotsumori district of Ajigasawa, Aomori Prefecture in time with the bountiful seed harvest that comes once every few years and to continue and further develop existing projects. During the implementation of this initiative they will build systems to work closely with the Aomori Prefectural Government Nature Conservation Department, the Prefectural Forestry Experiment Station, the town hall, JForest, etc.
Fields

Preservation of surface soil and forests

Preservation of biodiversity and ecosystem
Grant year

FY2005 Activity Grants
Grant term

3 years
January 2006 - December 2008
Grant amount

4,650,000 yen
Activity region

Shirakami Mountain Range and the Ajigasawa Hitotsumori District, Nishitsugaru, Aomori Prefecture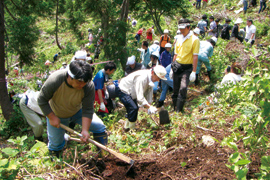 Overview of the Organization
Representative

Katsuto Nagai, Representative Director

Establishment

2003

Establishment purpose

This organization was established to repair and restore the Japanese beech forests in the Shirakami Sanchi mountain range through tree planting and ecology tours, the training of Shirakami guides, and the preservation and conservation of the range.

Principal location

Shirakami Sanchi mountain range and Ajigasawa in the Nishitsugaru district of Aomori Prefecture.

Staff

1 full-time staff member, 3 part-time staff members, 123 full members

Annual operating budget

123.57 million yen in 2005, 77.33 million yen in 2006, 83.97 million yen in 2007

WEB site

Recent activities

This organization holds the tree-planting ceremony "Shirakami Japanese Beech Tree Planting Fiesta in Akaishigawa" to find volunteers who can help to protect and conserve the Shirakami Sanchi mountain range, which is a World Heritage Site. This event carries out the afforestation at the outer edge of the buffer zone around Shirakami Sanchi, planting the Japanese beech and quercus saplings grown in the nurseries. In addition, to raise awareness of the environmental issues faced by the region, this organization collaborates with CONE to train guides in using our human resource training programs through registration to the Ministry of the Environment's human resource development groups. These guides then carry out Ecology Experience Tours and work hard to educate others about this environment at parent-child eco schools, etc.