The Mitsui & Co. Environment Fund
Introduction to Grant Projects
INDEX="583" NAME="Over 3 years 30,000 pot seedlings to be grown and planted" TYPE="活動助成," YEAR="2005年度," AREA="日本全国,関東," KIND="NPO," ORG="The Association for Fostering a Green Globe"
The Association for Fostering a Green Globe
Over 3 years 30,000 pot seedlings to be grown and planted
Activity grant
Project Description

We advocate tree planting to realize natural vegetation, implemented under the guidance of Akira Miyawaki, Emeritus Professor at Yokohama National University. For four years in Ibaraki Prefecture's Tskuba Mirai city, our organization have been creating seedling pots from acorns, concentrating on beech and oak. From the viewpoint of global warming and disaster prevention, there has been an increase in afforestation activities in various parts of the country, and the demand for potted seedlings is also growing. Therefore, this project is raising 30,000 pot seedling plants over three years on land leased from a company. In order to create a forest close to nature, the seedlings are mainly beech and oak, as these play a role in disaster prevention and are often seen in the forests of village shrines in Japan.
Fields

Climate change

Preservation of surface soil and forests
Grant year

FY2005 Activity Grants
Grant term

3 years
January 2006 - December 2008
Grant amount

6,000,000 yen
Activity region

Tskuba Mirai City, Ibaraki Prefecture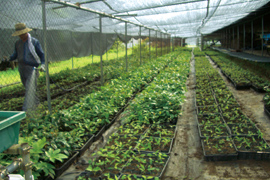 Overview of the Organization

Representative

Ayako Ishimura, Chief Director

Establishment

2001

Establishment purpose

For the regeneration and construction of the world's green environment, appropriate tree planting is essential for devastated areas, and the management of growth of pot seedlings, concentrating on beech and oak within Japan, and overseas desert planting with appropriate tree species. Further to this, these activities will be disseminated to the wider world. We aim to contribute to the enrichment of living conditions through the maintenance of a healthy body and mind of participants, helping the purpose of beautifying and disaster prevention in areas, helping to prevent global warming, and broadly aim to preserve the global environment by carrying out these practises.

Main areas of activity

Seedling nursery: Mamiana, Tsukuba Mirai City in Ibaraki Prefecture, tree planning: various locations within Japan, Inner Mongolia Autonomous Region of China, suburbs of Sili-yin youl ayimay, Xilinhot city

Staff

1 full-time staff member, 1 part-time staff member, 160 full members

Annual operation budget

26.83 million yen in 2005, 17.03 million yen in 2006, 18.55 million yen in 2007

WEB site

Recent activities

(1) Alongside the creation of a bright society with Tsuchiura Council, the cultivation of beech, laurel, and oak types of pot seedlings. We aim to produce a higher quality of seedlings suitable for planting trees, and learn a lot from failings.
(2) Organize and support tree planting activities at requesting schools, companies, University of Tsukuba, using trees bought as well as those grown as above. Rootage percentage is 95% and over.
(3) Since 2014, tree planting activities have been put into practise in a corner of a desert in the Inner Mongolia Autonomous Region of China. Although we experimented planting konara oak, poplar and elm, as well as pine had a larger root percentage.
(4) We offer tours to learn about natural environments and historical culture to places such as Silk Road.
(5) We are raising the profile of the importance of tree planting through newsletter distribution, newsletters, the creation of a homepage, and the organization of lectures.