The Mitsui & Co. Environment Fund
Introduction to Grant Projects
INDEX="562" NAME="Research on the chemical environment of wildlife on coral reefs in the Ryukyu Islands and public awareness activities" TYPE="活動助成," YEAR="2006年度," AREA="日本全国,九州・沖縄," KIND="公益法人," ORG="World Wildlife Fund (WWF) Japan"
World Wildlife Fund (WWF) Japan
Research on the chemical environment of wildlife on coral reefs in the Ryukyu Islands and public awareness activities
Activity grant
Project Description

Across the Ryukyu islands is the northern most limit of the distribution of the coral reef. There is concern about the impact on the ecosystem by environmental pollution accompanying economic development in China and East Asia. This project investigates the influence of agricultural chemicals and paint from the bottom of ships on the coral reef, and measures the amount of harmful chemical substances contained in wildlife substances collected with the cooperation of local NPOs. Based on that data, consider potential risks, wildlife protection, marine conservation, provide information to policy makers and researchers involved in chemical substance management, and promote comprehensive coral reef conservation measures.
Fields

Preservation of biodiversity and ecosystem
Grant year

FY2006 Activity Grants
Grant term

1 year and 9 months
July 2006 - March 2008
Grant amount

5,000,000 yen
Activity region

Ryukyu islands, Japan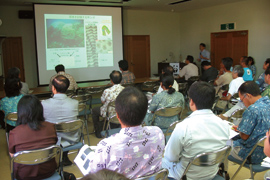 Overview of the Organization

Representative

Takayoshi Higuchi, Executive Director

Establishment

1971

Establishment purpose

We aim to contribute to the welfare of mankind through conservation of the natural environment by implementing the following projects, cooperating with conservation projects around the world, and promoting the idea of the conservation of nature. (1) Cooperation with WWF International and assistance on other nature conservation activities, (2) commissioned projects from national and local governments, (3) hosting of a liaison council with related organizations, (4) research for nature conservation, (5) disseminate education on nature conservation ideas, (6) fundraising to reach objectives, (7) and other necessary business to achieve the purposes of this organization.

Main areas of activity

Around the world

Staff

65 full-time staff members, 46,735 full members

Annual operating budget

8.83 million yen in 2005, 6.13 million yen in 2006, 1.31 million yen in 2007

WEB site

Recent activities

In addition to the activities which are aimed towards the conservation of endangered wild animals which have been implanted since the establishment of the WWF, in recent years the organization has worked on more extensive ecosystem conservation. This includes proposals for sustainable development that are key to the co-existence of humans and nature, and activities revolving around global environmental issues such as climate change. With bases in over 50 different countries with Switzerland at the centre, WWF international is developing global activities in more than 100 countries. The action principles of our activities are striving to build partnerships with governments, researchers, companies, organizations, and local communities, whilst respecting culture, avoiding unnecessary confrontation, and pursuing dialogue.