The Mitsui & Co. Environment Fund
Introduction to Grant Projects
INDEX="419" NAME="Creating and discussing a renewable energy policy platform" TYPE="活動助成," YEAR="2008年度," AREA="日本全国,北米,欧州・CIS,アジア," KIND="NPO," ORG="Institute for Sustainable Energy Policies"
Institute for Sustainable Energy Policies
Creating and discussing a renewable energy policy platform
Activity grant
Project Description

Renewable energy is the most promising solution for building a sustainable, low carbon energy culture, but with the exception of a few local governments, Japan has been trailing the world in this area and the domestic market is stagnating. A radical rethinking of renewable energy policy is needed to ctach up and increase its presence in Japanese energy policy. This project aims to create a platform for renewable energy involving natural energy business operators, local governments, financial institutions, researchers, and environmental NGOs, encouraging policy innovation in Japan and Asia. Specifically, this involves:
(1) Building a renewable energy web portal
(2) Creating a 'renewable energy 2050 vision' with relevant parties
(3) Creating regional editions of global renewable energy reports
(4) Collaborating with local governments to create a venue for renewable energy policy and increasing activity in this area
(5) Creating a venue for sustainable energy financing and increasing activity in this area
Fields

Energy problem

Preservation of biodiversity and ecosystem
Grant year

FY2008 Activity Grants
Grant term

2 years
October 2008 - September 2010
Grant amount

8,500,000 yen
Activity region

Japan, Europe, North America, Asia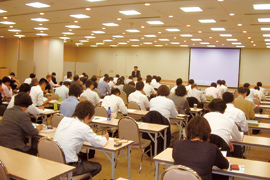 Overview of the Organization

Representative

Tetsunari Iida, Executive Director

Establishment

2001

Establishment purpose

In 2000, a group including Tetsunari Iida (current executive director) and Mika Ohbayashi (former deputy director) began preparations for establishing a research center as a third-party institution independent of government and the manufacturing industry. They gathered prominent activists and researchers engaged in the energy sector and in tackling global warming and received NPO certification in 2001. As well as aiming to realize sustainable energy policy, the institution conducts research and offers recommendations both in Japan and overseas in a wide range of fields covering global environmental issues and climate change.

Main areas of activity

Japan, Europe, North America, Asia

Staff

9 full-time staff members, 25 part-time staff members, 57 full members

Annual operating budget

49.60 million yen in 2005, 19.09 million yen in 2006, 38.91 million yen in 2007

WEB site

Recent activities

The institute is actively developing initiatives to realize a sustainable, low-carbon society together with regional governments, including in Tokyo, the most active area in terms of renewable energy, the Tokyo Metropolitan Area including Yokohama, and Kitakyushu, and working to expand the network of local governments it collaborates with over renewable energy policy. It is participating in international conferences and symposiums to receive the latest information and research from overseas, and aims to create and manage a web portal to share specialist information across the network at the earliest opportunity. Furthermore, the institute's activities are not limited to research, but also include support for existing renewable energy enterprises in places like Iida and Bizen, and advancing grassroot level initiatives such as '100 million people green power'.