The Mitsui & Co. Environment Fund
Introduction to Grant Projects
INDEX="418" NAME="Coppicing with the Kawasaki-Sendai Wood Stove Association and other resource usage" TYPE="活動助成," YEAR="2008年度," AREA="日本全国,東北," KIND="NPO," ORG="Kawasaki-machi no Shigen wo Ikasu-Kai"
Kawasaki-machi no Shigen wo Ikasu-Kai
Coppicing with the Kawasaki-Sendai Wood Stove Association and other resource usage
Activity grant
Project Description

Village forests in Japan have been regularly trimmed and coppiced for hundreds of years. The success rate of coppicing for stands that are over 60 years old is particularly low, so there is a need to clear cut and coppice as early as possible. A clear path for sunlight to the forest floor also contributes to maintaining biodiversity. This project will bring together NPOs, forestry associations, and volunteers from across the prefecture to clear cut Kawasaki's public forests and some private forests that have received authorization for clear cutting. Participants will be rewarded with 'kimochi', a local currency that can be exchanged for wood for wood-burning stoves.
Fields

Preservation of surface soil and forests

Energy problem

Preservation of biodiversity and ecosystem
Grant year

FY2008 Activity Grants
Grant term

3 years
April 2009 - March 2012
Grant amount

2,700,000 yen
Activity region

Public forests in Kawasaki, Shibata District, Miyagi Prefecture, Japan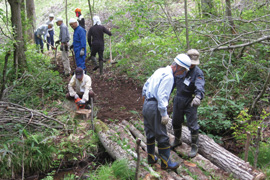 Overview of the Organization

Representative

Shigeo Kikuchi, Director

Establishment

2001

Establishment purpose

The association was established to bring together like-minded individuals and groups to create, advance, and support initiatives that leverage Kawasaki's abundant resources to facilitate sustainable, environmentally-friendly lifestyles, and contribute to the creation of a society that reuses regional resources.

Main areas of activity

Kawasaki and the area downstream of Kamafusa Dam (Natori River Basin including Sendai and Natori), Miyagi Prefecture, Japan

Staff

1 full-time staff member, 1 part-time staff member, 200 full members

Annual operating budget

1.00 million yen in 2006, 5.32 million yen in 2007, 4.27 million yen in 2008

WEB site

Recent activities

The association has been engaged in coppicing activities since its establishment, with the small parts of felled broadleaf trees being given to the Gando White Charcoal Association to be made into white charcoal, and medium-sized parts given to an association that uses them as stumps for growing mushrooms. Since 2007, large logs have been given to the Kawasaki-Sendai Wood Stove Association for use as firewood, meaning that all parts of the trees are being used. Additionally, as Kawasaki is located uptream of Kamafusa Dam, which provides water for Sendai, the Nanohana Project Group is engaged in cultivating rapeseed to improve water quality. Although these initiatives have already been implemented for five years, the association is now working with farmers to utilize unused land to expand activities.