The Mitsui & Co. Environment Fund
Introduction to Grant Projects
INDEX="420" NAME="Working with NPOs, companies, and academics to create a roadmap for an 'environmentally advanced society'" TYPE="活動助成," YEAR="2008年度," AREA="日本全国," KIND="NPO," ORG="Japan Association of Environment and Society for the 21st Century"
Japan Association of Environment and Society for the 21st Century
Working with NPOs, companies, and academics to create a roadmap for an 'environmentally advanced society'
Activity grant
Project Description

As global warming advances and economies become globalized, deepening certain social problems, the endurance of societies in Japan and abroad is increasingly being tested. Now more than ever, there is a need to strike a balance between environment, economy, and community, and build a sustainable society. However, there is currently no consensus as to the specific form this society should take and what issues and steps need to be addressed to acheive it, making it difficult for companies and citizens to find feasable measures to take. This project proposes we aim for an 'environmentally advanced society', giving it a different emphasis to a 'low-carbon society', and will work with a diverse range of participants, including academics and representatives from NPOs and companies, to come up with a concrete image of this society and the elements comprising it, as well as the measures that need to be taken to realize it. This will be done through workshops and online discussions, and specific, executable proposals will be compiled and released to the public. This process will also be evaluated as a participation-based policy formation process, looking at what kind of deliberative processes occured, what kind of results were produced, and what kind of information and methods proved effective, and the different steps of the process will be summarized to produce a proposal for a participation-based policy formation model program.
Grant year

FY2008 Activity Grants
Grant term

3 years
October 2008 - September 2011
Grant amount

24,000,000 yen
Activity region

Locations across Japan. Particularly in locations with affiliated committees such as Tokyo, Kansai, Hiroshima, Toyama, Gunma, and Koga, Ibaraki Prefecture.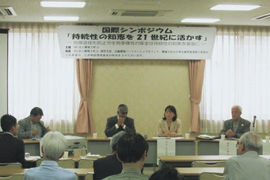 Overview of the Organization

Representative

Saburo Kato and Konoe Fujimura, joint representatives

Establishment

1993

Establishment purpose

In order to leave a healthy and abundant environment and society for coming generations, it is important to get people involved in creating a sustainable society that balances environment, economy, and community. The association was established to contribute to the formation of a sustainable society by searching for a new way of living that strikes this balance, as well as raising awareness, researching and making proposals regarding movements towards value and social systems that will help realize it.

Main areas of activity

Primarily Japan

Staff

6 full-time staff members, 4 part-time staff members, 571 full members

Annual operating budget

22.73 million yen in 2005, 25.74 million yen in 2006, 26.20 million yen in 2007

Recent activities

In order to find a new balanced way of living that differs from the 20th century model of mass production and consumption, and involve new stakeholders in shifting to social systems, values, and lifestyles that will realize this, the association conducts the folowing activities:

(1) Researching the form a sustainable society would take, including intrinsic issues that need to be addressed when forming it, such as values, economic activities, and systems.
(2) Policy recommendation activities, including creating venues for airing opinions such as public hearings, and drafting and proposing specific laws and regulations.
(3) Promoting and educating using 'critical information', including information on the current status of the environment, the latest scientific news, and cutting edge initiatives, in order to provide a basis for considering the form society should take.
(4) Networking with committees across Japan and overseas allies.