The Mitsui & Co. Environment Fund
Introduction to Grant Projects
INDEX="189" NAME="Project name: "Jumoku de Yomigaere Hisai-chi no Midori to Ikimono" (Reviving the devastated areas with tree planting and animals) (Recovery assistance where children help)" TYPE="活動助成," YEAR="2012年度," AREA="日本全国,東北,中部," KIND="NPO," ORG="Donguri Mongori"
Donguri Mongori
Project name: "Jumoku de Yomigaere Hisai-chi no Midori to Ikimono" (Reviving the devastated areas with tree planting and animals) (Recovery assistance where children help)
Activity grant
Project Description

This is a disaster recovery project that focuses on children who will grow to lead the next generation. Seeds such as acorns are gathered in the Tohoku region and stored. The children of the Tohoku region raise seedlings from these, as a "gift of greenery to aid in recovery" and then participate in a tree-planting projects, such as the Chitose Kibo Hill planting. The children gain an experience of how they too can play a part in the recovery of the regions devastated by the earthquake disaster. Local government, schools and the privte sector collaborate in this project, so that we will never forget our feelings towards the devastated areas.
Fields

Marine resources/food

Preservation of surface soil and forests

Preservation of biodiversity and ecosystem
Grant year

FY2012 Activity Grants
Grant term

3 years and 6 months
April 2012 - September 2015
Grant amount

3,440,000 yen
Activity region

Aichi Prefecture; Gifu Prefecture; Shizuoka Prefecture; Iwanuma City, Kesennuma City, Miyagi Prefecture, Japan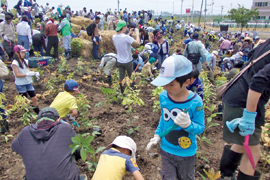 Overview of the Organization

Representative

Yasuaki Kakuwa, Director

Establishment

2005

Establishment purpose

Afforestation activities centering on children, to prevent desertification in China's Mongolia Autonomous Region and to help Japanese domestic water sources recover. This project aims to assist in the health development of the children who will become the next generation, through the study of acorn ecosystems, tree seedling raising and planting. As we say in Japan, "the sea is longing for the forest." Not only do children learn that the acorn forest ecosystem important in this project, they also learn about the effects on the entire ecosystem of rivers and the sea, so that they can develop the abilities to practically respond to global environmental problems.

Main regions of project activity

China: Mongolia Autonomous Region, Horchin Desert; Japan: Aishi Prefecture, Gifu Prefecture, Shizuoka Prefecture, Miyagi Prefecture, Iwate Prefecture

Staff

1 full-time staff member, 66 full members

Annual operating budget

6.73 million yen in 2009, 6.96 million yen in 2010, 4.93 million yen in 2011

WEB site

Affiliated organizations

Parks and Greenery Division, Department of Construction, Aichi Prefecture; Education Division, Nagakute City; Ai-Chikyuu Kinen Koen City Development Association; Touei Town Office, Donguri no Mori o Tsukurou Kai; Seto Kids Academy; Hogai Higashi Elementary School; Shinshiro Plant, Yokohama Rubber

Main activities

(1) We provide funding for educational expenses for the children of local people impoverished by desertification in the Horchin Desert in the Mongolia Autonomous Region in China, and we work with them in tree-planting to add greenery to the desert.
(2) Together with the children from areas blessed with water resources, we plant life-giving forests in water-resource regions.
(3) As part of efforts to help in the recovery following the Great East Japan Earthquake, w are gathering seeds in the Tohoku region of trees that are resistant to tsunami. Children in the Tokai region raise seedlings from these seeds as a form of "greening recovery assistance" that will ensure that the Tohoku disaster areas are never forgotten.
(4) Over 1,500 children have signed the "Acorn Walker Pledge" to learn about afforestation, raising seedlings and planting trees. These children are raising seedlings with love, at home, at school and at the Morikon Park.