The Mitsui & Co. Environment Fund
Introduction to Grant Projects
INDEX="81" NAME="SUSTAINABILITY OF TURKISH STRAIT SYSTEM" TYPE="活動助成," YEAR="2015年度," AREA="中東・アフリカ," KIND="海外の団体," ORG="Turkish Marine Environment Protection Association (recommended by overseas office)"
Turkish Marine Environment Protection Association (recommended by overseas office)
SUSTAINABILITY OF TURKISH STRAIT SYSTEM
Activity grant
Project Description

The aim of the Sustainability of Turkish Strait System project is to ensure harmony between regional industrial development and ecosystem conservation in Turkey's Dardanelles (Çanakkale Boğazı). An Education Consultancy Committee will be formed, and work will begin on the development of adult learning kits with more advanced content. We will then build a network with communities and local governments and hold seminars in preparation for the implementation of courses based on the project. The courses will be provided for local residents, local governments, university students, fishermen and fisherwomen, ships' captains, business operators, and various other groups. [No. K15-0701]
Fields

Ecosystems and the Symbiotic Society
Grant year

FY2016 Activity Grants
Grant term

3 years
From January 2016 to December 2018
Grant amount

402,822 TL
Activity region

TURKISH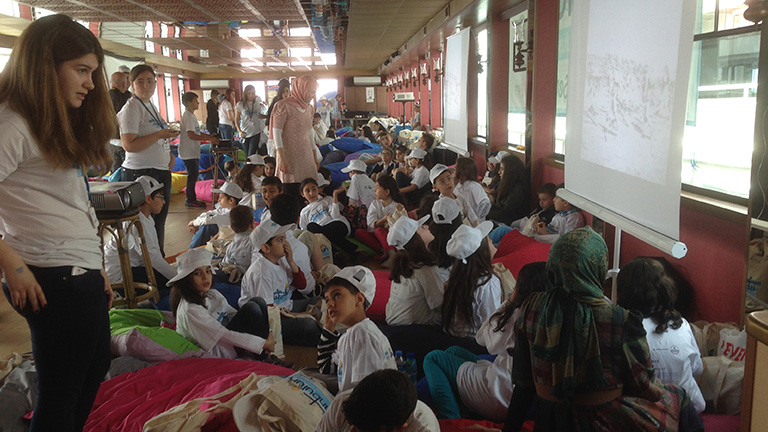 Overview of the Organization

Representative

Executive Vice President, Education and Volunteers Department: MİNE GÖKNAR
The most important aim of this project is to improve the health of ecosystems in the Turkish Straits System. To achieve that, we will promote measures to improve local communities' understanding about the importance of the ecosystems. These activities will also result in prompting to disseminate the issues to communities in other regions.

Recent Activities

Establishment of Education Consultancy Committee, start of development of adult learning kits
Networking with communities and local governments
Implementation of itinerant seminars and group seminars
Shore cleaning activities by project participants
A "Campaign of Sardine and Plankton" to lift interest in sardines
A one-week Çanakkale camp for Turkish and foreign university students
Organization of a swimming competition in collaboration with a local state-owned media organization

Establishment

1994

Staff

Number of Full-time employees: 22 / Number of Part timer: 0 / Number of Members: 933

WEB site

Voice of Representative

This is a great pleasure and honor both for my team and for TURMEPA to be chosen twice in succession to carry out educational projects with Mitsui Environment Fund. We are sure to put our name under great achievements in the Dardanelles. For the next 27 months, TURMEPA will create awareness and raise consciousness among the people of Çanakkale (the Dardanelles). The this brand new eduation set for adults, TURMEPA will acquire the most valuable data of the impact of the project. We are sincerely grateful for Mitsui CO&LTD for enabling us to reach such great achievements. Thank you very much.