The Mitsui & Co. Environment Fund
Introduction to Grant Projects
INDEX="82" NAME="Sustainable development of Messguina argan forest" TYPE="活動助成," YEAR="2015年度," AREA="中東・アフリカ," KIND="海外の団体," ORG="Association Ibn Al Baytar/AIB (recommended by overseas office)"
Association Ibn Al Baytar/AIB (recommended by overseas office)
Sustainable development of Messguina argan forest
Activity grant
Project Description

Preservation of the argan forest by reforesting, raising consciousness of the valuable argan trees among local communities, and supporting argan oil production in order to add value to the argan forest. We will conduct regeneration work (10 ha plantation and 10 ha thinning out) and organize workshops to build awareness on importance of argan trees and practical workshops of making seedling & plantation to participants. Also, the project will support women workers in cooperatives that make argan oil products by providing various training programs. [No. K15-0702]
Fields

Ecosystems and the Symbiotic Society
Grant year

FY2016 Activity Grants
Grant term

2 years
From January 2016 to December 2012
Grant amount

MAD 550,000
Activity region

Morocco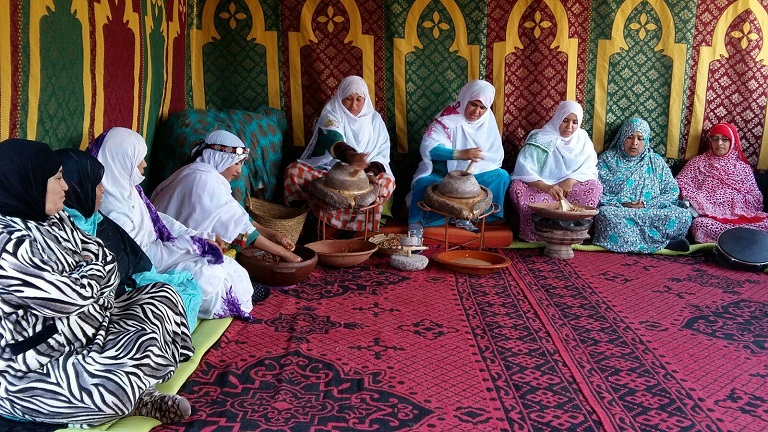 Overview of the Organization
Representative

President: Zoubida CHARROUF
The Association has been working with the Université Mohammed V, a leading university in Morocco, to protect argan forests, which are under threat of extinction. Our aims are as follows:

Regeneration of argan forests, conducting scientific research concerning argans and other medicinal plants
Raising of awareness about argan forest conservation and its benefits
Improvement of living standards in local communities through improvements in the value of argan products, and the provision of training programs

Recent Activities

We have formed working groups, joined by local residents as well, to undertake conservation activities in depleted argan forests.

Argan planting and pruning (10 hectares each)
Planning of practical workshops covering such topics as sustainable argan forest management methods, seed harvesting, and tree planting
Provision of a training program for female workers in an argan oil production cooperative

Establishment

1999

Staff

Number of Full-time employees: 3 / Number of Part timer: 18 / Number of Members: 30

WEB site

Voice of Representative

Local residents will learn how to cultivate argan saplings and plant them on their own land. Argan oil marketing support and training will enable women to quintuple their earnings and send their children to school.