Our roots
People who supported the former Mitsui & Co. (2) Reisuke Ishida
The business that Mitsui family founder Takatoshi Mitsui began at Echigo-ya grew because it recruited and trained the best people. After the Meiji Restoration, as Mitsui rearranged itself into a modern company as a zaibatsu (business conglomerate) it produced many famous businessmen. This article introduces one of them: Reisuke Ishida.
Rough and wild, but fair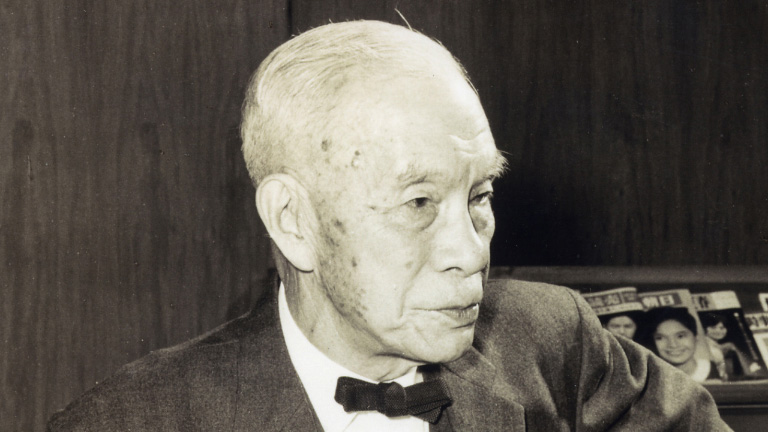 Reisuke Ishida was one of the more wellknown individuals from the former Mitsui & Co.* He loved to be on the front line of business, and of his 34 years working at the former Mitsui & Co., 27 were spent at overseas offices. After graduating from the predecessor of Hitotsubashi University, he began his career at the former Mitsui & Co. in 1907. He then went on to work at the former Mitsui & Co.'s offices in Dalian, Seattle, and Bombay (now Mumbai), before assuming the role of General Manager of the New York Office.
Here he proposed the company begin trading tin. Although the business started small, trade volume was gradually expanded. Eventually Mitsui was chosen as the sole agent of the world's largest tin manufacturer in the UK. Utilizing its position as sole agent, the former Mitsui & Co. continued to expand the business. At its peak, it handled around one quarter of all tin imports into the U.S., and famous American companies including U.S. Steel, General Motors, Ford and American Can Company, all became key clients of the former Mitsui & Co.
Reisuke Ishida became a managing director in 1936, and then progressed to representative director in 1939. In the autumn of 1941 when relations between Japan and the U.S. had reached breaking point, he joined together with leading figures in the financial world to try to convince the Japanese government to avoid conflict with the U.S. However his efforts proved unsuccessful. He left the former Mitsui & Co. soon after the war began.
Like a young soldier
Reisuke Ishida reappeared in the spotlight once again in 1963. At age 77, he became the fifth president of Japanese National Railways (now the privately owned JR). Ishida was chosen for this role because then-Prime Minister Hayato Ikeda wanted a financier to lead the nation's struggling railway network. When journalists questioned Ishida about his ability to lead the organization at his age, he told them, "I feel like a young soldier."
The first time he attended parliament, he introduced himself by saying, "Although I'm frank and informal in my expressions on many occasions, I don't think my ideas are undignified." This later became the title of his biography, written by Saburo Shiroyama.
During his 6 years as president of Japanese National Railways, he was successful in increasing government support as well as developing new railroad ferries.
* Legally speaking, there has been no continuation between the former Mitsui & Co. and the current Mitsui & Co.