Our roots
People who supported the former Mitsui & Co. (1) Eiichi Shibusawa
The business that Mitsui family founder Takatoshi Mitsui began at Echigo-ya grew because it recruited and trained the best people. After the Meiji Restoration, as Mitsui rearranged itself into a modern company as a zaibatsu (business conglomerate) it produced many famous businessmen. This article introduces one of them: Eiichi Shibusawa.
Helping to establish many of the Mitsui-affiliated companies that still exist today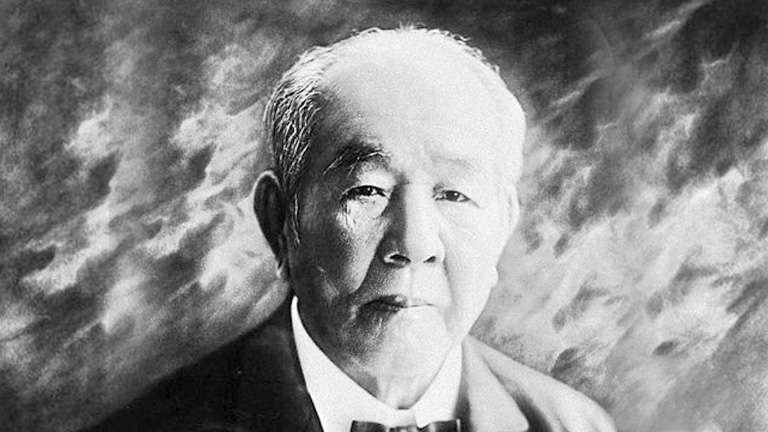 Eiichi Shibusawa was not essentially a "Mitsui person," but he established and directed several companies that were the predecessors of Mitsui-affiliated companies. He was a highly influential figure in his time, and considered one of the greatest contributors to Mitsui & Co. and the Mitsui Group.
Eiichi Shibusawa joined the Ministry of Finance in 1869, and after holding a number of important posts, he left the ministry after failing to agree with the ideas and opinions of other members. From there he began his career in the business world. At the same time, Kaoru Inoue, and the former Mitsui & Co.'s* first President, Takashi Masuda, also left the ministry. Eichi Shibusawa and Takashi Masuda were close partners, both personally and in business, and Masuda wrote the following words about Shibusawa in his autobiography: "Following the establishment of Mitsui Bussan Kaisha we would meet very often. In fact, there were very few days that I didn't see him," and "When I was thinking of launching a business, he was the first person I went to for advice."
Shibusawa joined forces with the Mitsui-gumi for the 1876 launch of Mitsui Bank (now Sumitomo Mitsui Banking Corporation), Japan's first private bank, and was later involved in the establishment of several other Mitsui-affiliated companies, including Oji Paper Co., Ltd., Nippon Paper Industries Co., Ltd., Denki Kagaku Kogyo K.K., Taiheiyo Cement Corporation, Sapporo Breweries Limited, Mitsui Sugar Co., Ltd., IHI Corporation, and many more (all current names).
He also had a strong passion for contributing to society. In 1876 he became secretary general (and later director) of the Tokyo-fu Yoikuin Orphanage, and was involved in the establishment of the Tokyo Benevolent Society, the Japan Red Cross Society and the Leprosy Prevention Association. In 1902 he became the first chairman of the St. Luke's International Hospital, and was the Japan representative of the YMCA Pacific Rim Liaison Conference. He also established the Japan International Goodwill Association for Children, and worked to strengthen international ties through the exchange of Japanese dolls and American dolls (blue-eyed dolls). As a result of such efforts, particularly his work in strengthening U.S.-Japan ties, he was nominated for a Nobel Peace Prize in 1926 and 1927.
In 1916 he wrote "Rongo (Analects of Confucius) and Soroban (abacus)" and developed 'a philosophy of the union of morality and economy.' Using Rongo as a foundation, he was an advocate of the idea that good ethics and business should be in harmony, and that the economy should be developed not for the enrichment of individuals but for the betterment of society as a whole.
* Legally speaking, there has been no continuation between the former Mitsui & Co. and the current Mitsui & Co.