Main Contents
Mitsui & Co., Ltd. ("Mitsui", Head Office: Tokyo; President and CEO: Kenichi Hori) and Mitsui Fudosan Co., Ltd. ("Mitsui Fudosan", Head Office: Tokyo; President and CEO: Masanobu Komoda) are pleased to announce the scheduled opening of Otemachi One Garden, a large urban green space in the area, at Otemachi One on Friday, December 16, 2022. The opening of Otemachi One Garden will complete the Otemachi One integrated development project undertaken by Mitsui & Co. and Mitsui Fudosan.
Otemachi One Garden is located in Otemachi, one of Japan's most prestigious office areas, in front of the Imperial Palace. The garden's continuity with the vast greenery of the Imperial Palace will contribute to the formation of a green network and the creation of a lush urban green space in Otemachi. It is also expected to have a positive impact on the environment by establishing a refreshing space in the city center, aiding efforts to achieve carbon neutrality, and promoting biodiversity.
Of the 6,000m2 of green space, approximately 3,000m2 of mainly lawn space will be a rare space available for use as an event venue in the Otemachi area.
The addition of Otemachi One Garden to the advanced facilities — offices, halls, conference venues, a hotel, restaurants, and a convenient running station — of Otemachi One, which was completed in February 2020, creates a place for relaxation, enrichment, getting together, working, and contemplation in the heart of the city, while also giving people the chance to connect with nature. The garden will contribute to the realization of a sustainable society in not only Otemachi but Tokyo itself, by providing an enriching and more innovative place for office workers and other users, and a sustainable urban green space for the local community.
To celebrate the opening, special events collectively called Winter Bloom will be held from Friday, December 16 to Sunday, December 25. The event will feature a live performance by world-renowned floral artist Nicolai Bergmann, as well as illuminations and other adornments to decorate the space, centered on a special flower display prepared in conjunction with the opening.
Otemachi One/Otemachi One Garden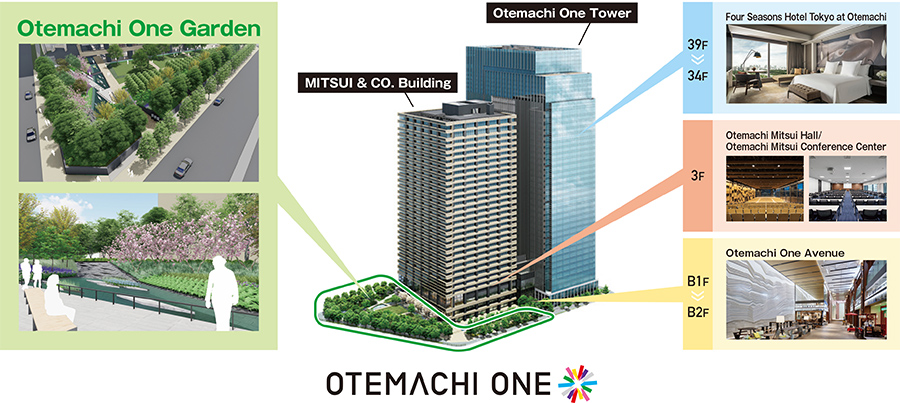 Attachment
The initiatives outlined in this press release will contribute to the following four Sustainable Development Goals (SDGs).
---
GOAL 7 Affordable and Clean Energy
---
GOAL 9 Industry, Innovation and Infrastructure
---
GOAL 11 Sustainable Cities and Communities
---
GOAL 15 Life on Land
---

---
Mitsui's Materiality
"Build brighter futures, everywhere" as our corporate mission, and to gain the trust and expectations of our stakeholders to realize a better tomorrow for earth and for people around the world, we have identified five material issues ("Materiality") for Mitsui's sustainable growth. We anticipate this particular project/ business to contribute especially to the realization of "Secure sustainable supply of essential products" and "Enhance quality of life" and "Create an eco-friendly society" and "Develop talent leading to value creation"
Secure sustainable supply of essential products

Enhance quality of life

Create an eco-friendly society

Develop talent leading to value creation

Build an organization with integrity