Otemachi One, the biggest integrated development in the Otemachi area, was completed on Sunday, February 23.
The grand opening for the Otemachi One Avenue commercial area will be held on Tuesday, May 12, 2020.
— This development will transform Otemachi 1-chome into a focus for diversity and the creation of new value. —
---
Mitsui & Co., Ltd.
Mitsui Fudosan Co., Ltd.
---
Main Contents
To prevent further spread of COVID19, the grand opening of Otemachi One has been postponed. It will be partially opened from June 17th.
Mitsui & Co., Ltd. ("Mitsui", Head Office: Tokyo, President and CEO: Tatsuo Yasunaga) and Mitsui Fudosan Co., Ltd. ("Mitsui Fudosan", Head Office: Tokyo, President and CEO: Masanobu Komoda) are pleased to announce the completion of Otemachi One, an integrated development project in the No. 2 Section of the Otemachi 1-chome District. Construction was completed on Sunday, February 23. Thirty commercial outlets will be opened in the new development, mainly in the Otemachi One Avenue commercial area, and the grand opening will be held on Tuesday, May 12, 2020. (Please note that some retail outlets will commence trading after the grand opening.)
Otemachi One is a large-scale integrated development scheme combining the knowledge and achievements of Mitsui & Co., as a global creator of diverse business initiatives, and Mitsui Fudosan, as an urban development innovator. In addition to advanced facilities, including offices, halls, conference venues, commercial outlets, and a hotel, as well as a large green space, it is one of the biggest developments ever undertaken in the Otemachi area.
Otemachi One is also linked directly to Otemachi subway station. The area will feature numerous restaurants, especially in the Otemachi One Avenue underground commercial area, offering lunches, takeout and dinner venues. In addition, the 30 outlets will include service facilities, such as a convenient running station for those using the Imperial Palace running course, and a clinic mall.
The Otemachi Mitsui Hall, which offers views of the Imperial Palace, will be opened on Friday, May 15, as a multipurpose venue for events ranging from international conferences to concerts. Other features will include the Four Seasons Tokyo Otemachi Hotel, which will open in July, and the Otemachi One Garden, scheduled for completion at the end of 2022, with the biggest green space in the Otemachi district at approximately 6,000m2 in size. This major development will meet the need for greater diversity in the day-to-day environment for office workers, while also helping to heighten the international competitiveness of Otemachi and Tokyo.
The construction of these properties was used as an opportunity to update district cooling and heating systems and improve disaster-preparedness in the Otemachi district. The buildings feature the most effective seismic damping structures available, and offer the highest standard of safety and security in Japan. For example, the buildings are equipped with dual-fuel emergency generators capable of operating on both medium-pressure gas and oil to provide greater electric power self-sufficiency in the event of a disaster, as well as enhanced provision for the accommodation of people unable to reach their homes in disasters.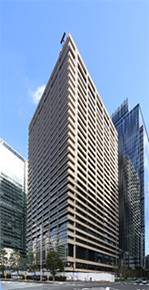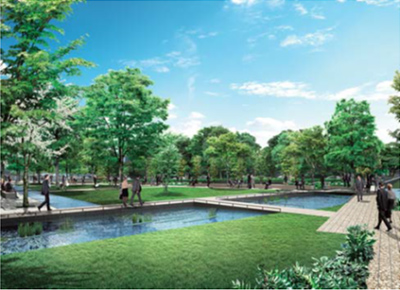 Outline of attached files.