Main Contents
Mitsui & Co., Ltd. ("Mitsui", Head Office: Tokyo, President and CEO: Tatsuo Yasunaga) entered into a new share subscription agreement with Hampton Creek ., Inc. ("HC"), a U.S. venture company, and recently completed a US$15 million (approx. ¥1.8 billion) equity investment in HC, which is working in the field of food technology to create delicious, affordable and sustainable products.
The growth of world population and the middle-income population is expected to drive a continual increase in demand for animal protein, including eggs and dairy products. At the same time, there are limits to the amount of land and water resources available to produce grain to feed the livestock needed to produce animal protein. This means that there is growing demand for new sources of food that the world provides naturally through plants.
Recently honored by the World Economic Forum as a technology pioneer, HC is building the world's largest database classifying plant proteins based on its functional and molecular characteristics (*1). HC's extensive plant research will be used in a wide range of food applications in the future, making them suitable as a food ingredient that can be used in place of chicken eggs in mayonnaise and other products.
HC is engaged in the development, manufacture, and sale of food products that are currently sold in many major retail stores in the U.S., including Whole Foods, Target, Walmart, Kroger and many others. HC also supplies mayonnaise ingredients to the 7-Eleven convenience store chain in the U.S. for use in sandwiches. In addition, it has entered into a major agreement with the British Compass Group, the world's biggest food service provider, which is supplying HC products to its customers.
Mitsui, through its equity participation in HC, will contribute to increased food production and the supply of safe, dependable food through participation in the use of nutritional science, which is a brand new concept, by producing plant proteins that can be used as alternatives to animal proteins. The animal proteins used in various foodstuffs, such as egg proteins and dairy proteins, are the results of a process that includes grain production, livestock raising, and the manufacture of livestock products. HC's technology bypasses this process and therefore reduces environmental burden.
Mitsui also aims to increase HC's corporate value in the U.S. by using its networks in Japan and overseas to develop a plant protein business in Asia, including Japan, in partnership with food manufacturers and other companies.
This is the first project created through activities based on the Karugamo Works program, which was launched in August 2014 with the aim of promoting open innovation within the Mitsui organization. Under the program, 44 people from multiple business units are able to spend 20% of their working time on activities other than their normal duties in order to create next generation business, using Business Innovation Project (*2).
*1 Plant protein database: Different types of protein offer different functional properties, such as viscosity, foaming, and emulsification capacity. They also differ in terms of molecular characteristics, such as solubility and aggregation. HC possesses a large database containing digitized data about the functional and molecular characteristics of plant proteins from a vast range of existing plant species.
*2 Business Innovation Project: "Business Innovation Project" is Mitsui's new framework defined as business endeavors aimed at creating business for the next generation with high profit generating potential from a long-term business perspective. The new framework enables business units to pursue relevant, long-term business opportunities, without being subject to some of the strict criteria for investment and certain exit benchmarks stipulated in Mitsui's regulations.
Profile of HC
| | |
| --- | --- |
| Name of company | Hampton Creek., Inc. |
| Head Office | San Francisco, California, USA |
| Establishment | 16 November 2012 |
| Representative | Josh Tetrick, Chief Executive Officer |
| Capital | US$120million |
| Shareholders | Temasek, Khosla Ventures, Horizon Ventures etc. |
| Business Activities | Food technology including plant proteins |
Products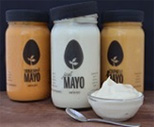 'Just Mayo' made of plant proteins
'Just Cookies' made of plant proteins
Notice:
This announcement contains forward-looking statements. These forward-looking statements are based on Mitsui's current assumptions, expectations and beliefs in light of the information currently possessed by it and involve known and unknown risks, uncertainties and other factors. Such risks, uncertainties and other factors may cause Mitsui's actual results, financial position or cash flows to be materially different from any future results, financial position or cash flows expressed or implied by these forward-looking statements. These risks, uncertainties and other factors referred to above include, but are not limited to, those contained in Mitsui's latest Annual Securities Report and Quarterly Securities Report, and Mitsui undertakes no obligation to publicly update or revise any forward-looking statements.
This announcement is published in order to publicly announce specific facts stated above, and does not constitute a solicitation of investments or any similar act inside or outside of Japan, regarding the shares, bonds or other securities issued by us.